Licensed in 1969 as WN3MVQ. CW has been my favorite mode. I have also enjoyed RTTY and other digital modes. Volunteerd at local clubs for teaching classes. Enjoyed building and fixing radios. Also had an interest in antique radios. I have been a VE since early 70s.
Running following equipment: new Flex 6500 running 100 Watts. This radio really hears well for cw and everything else.
I had a Gap Titan DX up for the past 5 years but it was bent during a freak early snow storm in 2011 with very high winds and heavy wet snow on the antenna. I repaired the antenna in 2011 and again in 2012 when Hurricane Sandy visited the same damage resulted from sustained winds of 60-70 mph. Hmmph, I am beginning to see a pattern. Oh well, the antenna was still working even though it was bent so I decided to replace the antenna with a loop. I always wanted to try a loop antenna but we removed the trees on the property for an addition to the house so I had to do the loop the hard way by installing two 30 foot towers. The antenna is a SuperLoop 40 design which is a delta loop for 40-10 meters including the WARC bands. The antenna is up approximately 35-36 feet. The antenna went up during July 2013 and I was on the air with it 7/24/2013. Here is a photo of the installation: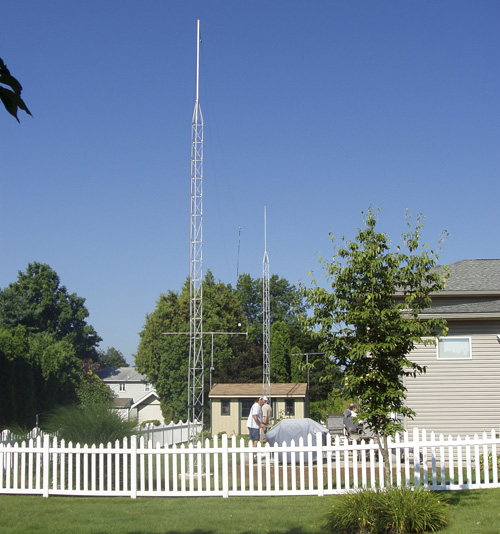 The antenna has performed better than I expected. Signals on all bands very strong. S9-40db over S9 on 40 and 20. I have easily logged contacts into Europe without breaking into a sweat. I have worked New Zealand stations of 40 and 30. Japan on 20, 17 and 15. Hong Kong on 17. I seem to have a pipeline to Florida and into the mid-west which is what I was looking for. I also have a pipeline into South America. As time goes on I'll post more about how it works out during the quieter Winter months.
I worked in printing/advertising for the past 40 years and in data processing for 3 years before I started into the printing career.
I am semi-retired these days. Back in 1995 I started my own business doing design/printing/consulting. My intention was to have something to do for my retirement years which has worked out very well. I retired from the printing plant in 2009 and I work from my home now doing design and printing for my retirement business. The business has worked out well for me, I no longer have to fight the traffic to get to work and I don't have to travel in the snow during winter. I now only have to work a few hours a day compared to 8-17 hours a day. When I am in between jobs I can play radio. What a great job I have and what a great boss I work for.
I hope to chat with you on HF or VHF. 40 meters is my favorite band.
73s
Glade