son M.D. V ->
Drone Family photo in Fla. - Also 2017 Lake House hamshack
I always go by M.D. or just MD. Got Ham license in 1961 while attending the University of Alabama. We recently celebrated 50 year anniversary of W4UAL 1962 to 2012 on the quad in the shadow of Denny Chimes with an all day "Field Day" with several founding operators and members and alumni of the club.
MY 1964 QSL When I Moved To Huntsville - -  My Father's QSL In 1964 (Silent Key 1985) - - My Son Dee (M.D. V) picked up my father's SK call in 2014. I am proud of him.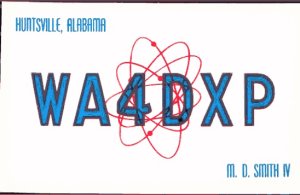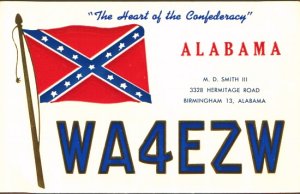 N1A, Number ONE Alabama, Crimson Tide Special Event. If you worked our station Nov.1-2, then go here for QSL.     http://www.31alumni.com/ham/n1a-special-event.pdf   73, M.D. ,  WA4DXP
Below are two photos of me in January & February 2013 with my mobile at hamfests. One was the "FreezeFest" in Locust Fork, AL and the other was the "BirmingHAMfest" in Birmingham, AL.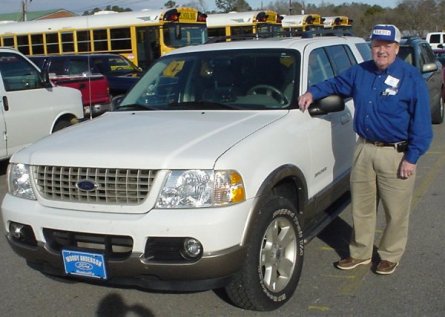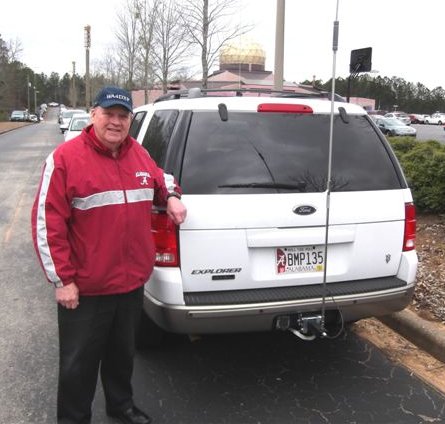 Got to post at least one photo of the current Hamshack which is in my basement, co-located in my workshop and a wire runs to the ceiling and out next to AC pipes to ground level outside. From there to antenna. Not the best solution, but about the only one. I also have a single Co-Ax going to a 4 way remote switch, so I do have room to expand to multiple co-ax fed antennas, but the single wire windom is still doing an amazing job. The Carolina Windom is better coax fed and not as much RF in the shack.
I use the small laptop primarily for RTTY and for PSK31 which is a wonderful mode. I did RTTY back in the 60's with a Model 15 KSR and a Model 14TD and a home built Terminal Unit.
 My main station with TS-2000 and laptop, and then the side table adding a used FLEX 3000 in my workshop/hamshack in June 2014. 
I operate primarily 80 & 40 meters and have 2 meter rigs in car and home. I also operate CW to keep familiar, but speed is usually below 13 WPM. I do return QSL cards 100% and often send them out even if I don't get a reply back, if the QSO was memorable in some way. I certainly still enjoy RTTY from the old days and love the new PSK31 where 25 watts works the world.  JT-65 and JT-9 added in 2015 and it's a more amazing mode to dig out weak signals. Feld Hell is a funny little mode (I'm #5336) that reminds me of the old RTTY printed tapes of yesteryear. 
I have enjoyed the higher bands even on my all purpose, Carolina Windom. Have made nice contacts SSB on 20, 17, 15, 12 and 10. Have made good RTTY contacts along with PSK31 &JT-65/9 which is amazing on low power and poor band conditions.
All the new radio activity this past several years made me want to get an upgrade and after quite a number of hours of study and a lot of practice exams taken, I successfully completed the EXTRA Class exam on 2-2-2013, Groundhog Day. I hope that signifies 6 weeks of great band conditions.
Feel free to email me since I can reply sooner than any other way. mdsmith at HiWAAY.net 
By the way, I also have an extensive site on reloading ammo at  http://www.reloadammo.com 
And here's my father's ham shack in 1980. All Hallicrafters with a HT-32B Xmtr, SX-115 Rcvr, HT-33 Linear, Johnson Match box, A Hallicrafter TO Keyer and a Heath Monitor Scope.  I built a linear in a Hallicrafters cabinet with a pair of 4-400s in it and it made the cover story of CQ Magazine in October of 1963.
What you see below are some of the Photos from the first of my Radio days working summers as a FCC First Phone Engineer doing combo work for the WAAY-Radio directional array and DJ shift. I also worked at The student Radio Station WUVA at the University of Virginia for my first year in college. At WAAY, it was midnight to dawn. My air name was DEE SCOTT and the photo is one clipped from the weekly Family Top 40 Survey. I worked summers from 1956 through 1963 when I graduated from U of A. Then our family got into the TV business with WAAY-TV, Channel 31 the ABC affiliate. Nice having both my father and me as hams with all the engineer hams at the stations to help us with mobile installations and radio repair in those days. Although I started a UVA, I transferred to the University of Alabama in 1960 to major in Broadcasting. Worked summers at WAAY in Huntsville and WNUE in Ft. Walton, FL as a First Phone DJ.  That FCC First Phone let me work the directional AM array stations at night. Taught me a lot about schematics and how radios worked.
Then the TV years starting in 1963 Although I stayed involved with WAAY-AM, my father MDS III did most radio management and I was full time WAAY-TV management. We went from a staff of 17 in 1963 to a max of 175 in early 90's competing tooth and nail with Channel 19, WHNT as you can tell from this article below with photo of the GM's of both station and the "News Wars."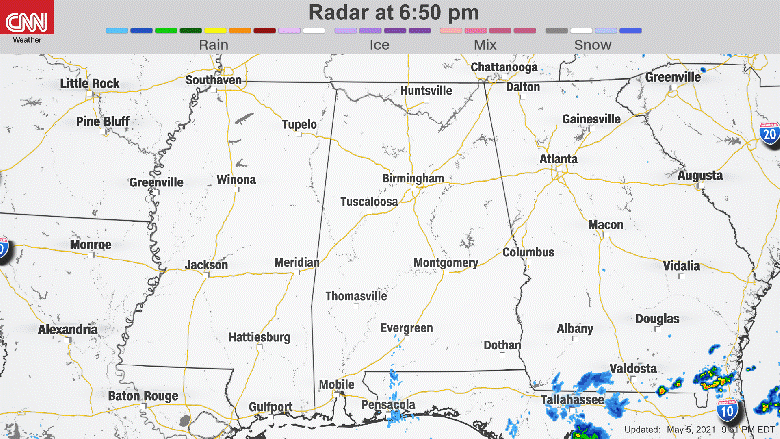 Thanks for reading my QRZ web page down to the bottom.  73 from M.D.  WA4DXP