Hello and welcome to my page here on QRZ!
If we've worked, thanks so much for the QSO. If not, I sure look forward to it!
And a bit about me ... Licensed since 1962, I've operated almost exclusively CW and enjoy chasing DX, contesting, QRP, antenna design, rag chewing, and designing, sending and receiving QSL cards.  I'd be honored to swap cards with you!
Current equipment is a venerable Icom IC-735, or Kenwood TS-430 to a 40 Meter dipole @ 30'. (Thanks to my brother Paul, NZ1M, for the loan of the 430.)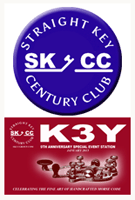 I especially enjoy sending code by hand, and have a variety of keys including Lionel and Bunnell hand keys, Naval keys and Nye keys, vintage Vibroplex bugs, several excellent VizKeys, an old Japanese Skillman (coffin bug), a yet-to-be-mastered VizKey Cootie (Sideswiper) and a standard electronic keyer as well, but you're most likely to catch me sending entirely by hand. I'm a member of the Straight Key Century Club - SKCC (#11062S) and am thoroughly enjoying the camaraderie of my fellow brass pounders. The Straight Key Century Club is free to join and embraces the art of manual, mechanical keying ... doing it the old fashioned way with a bug, straight key or Cootie (Sideswiper). SKCC offers numerous on-air events for both the veteran and newcomer and their members share my passion for CW. If you also love CW, you owe it to yourself to check these folks out.
I'm a former President and lifetime member of the Birmingham Amateur Radio Club and curate their Facebook presence here: https://facebook.com/w4cue. I also maintain a burgeoning personal blog where I write about our wonderful hobby and its many joys, surprises and amazements. http://wa4fat.com
I've been in the web business since 1994 and am always happy to provide free services to Amateur Radio organizations and groups whenever possible. If you're interested in that, drop me an email: cahaba@cahaba.com
I have many interests in addition to Amateur Radio, including music, language, photography, nurturing my beautiful and brilliant granddaughters Maddie and Mary Oakley, walks and ball sessions with the dogs, and sharing quality time with my sweet XYL Mary, KD4AQA.
Life is good for me, and I sincerely wish the same for you. And may we all be thankful for our many, many blessings.
Here's hoping to catch you on the air soon!
73/72/DX, Bill ... dit dit