FISTS  14408         SKCC  13847          EPC  25677          30MDG   7504
I received my Novice call sign WN2NVR on May 25, 1964. My first rig was a used Heathkit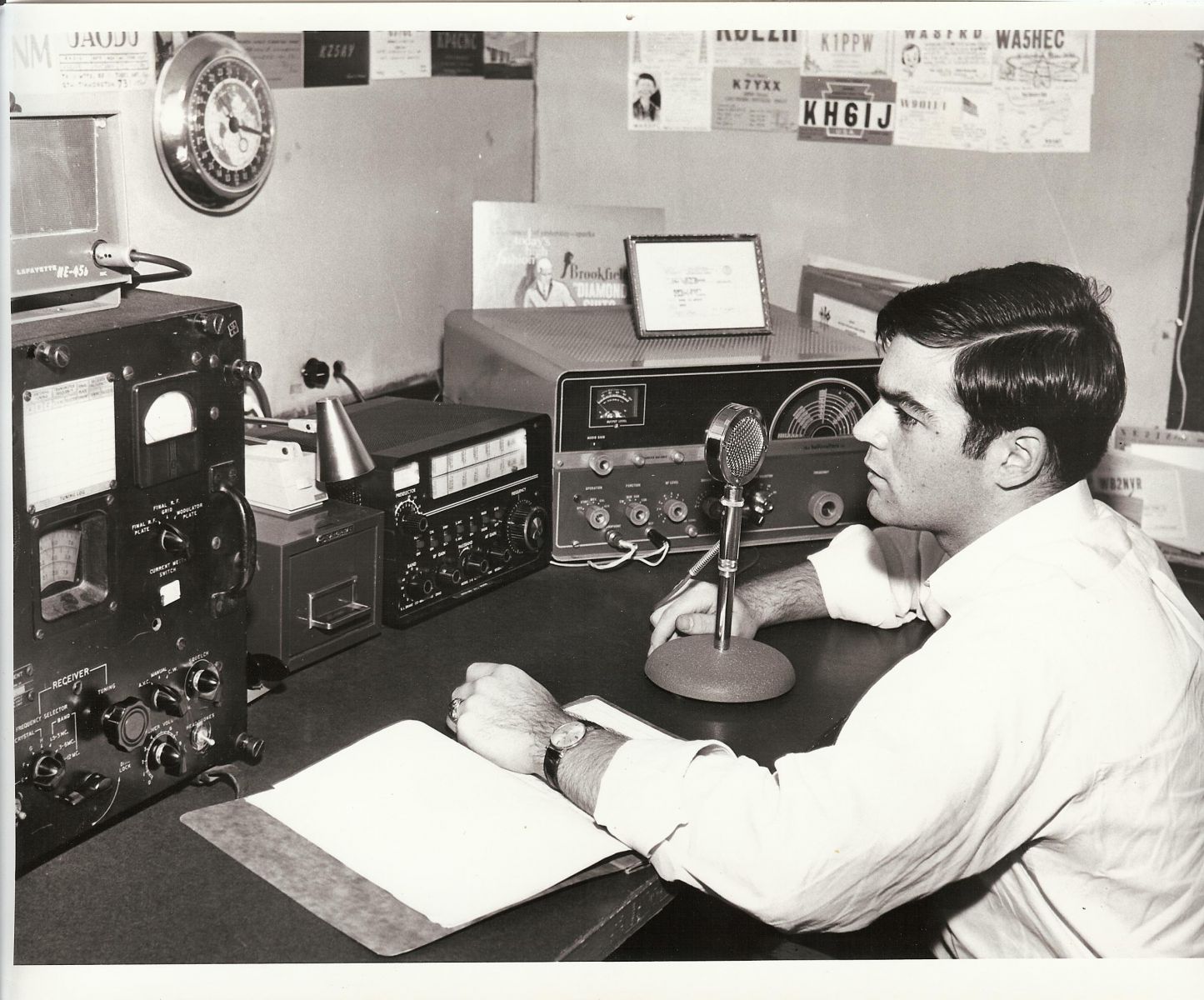 DX-20 and a used Hallicrafters SX-99. When I got my General, my equipment was upgraded to a Drake 2B and Hallicrafters HT-37. I graduated high school in 1967, and went to the New York University School of Engineering in the Bronx, NY. I was active in the NYU Amateur Radio Society, W2DSC, and I'm currently serving as the QSL manager for the club. After graduating with an electrical engineering degree, my ham radio hobby took a back seat to earning an MBA (also from NYU), and raising a family.
My station in 1967------------------------------------------------------------------------------------>
I was able to seriously get back into ham radio when I started my own systems integration company, RZS Solutions. We have a club station at the office (W2RZS), and have arranged to go on a few DXPeditions with other club members: VP5RZS, 6Y2RZ, J75RZ, and TO5RZ. We try to participate in all of the major contests, and are active on 80 - 6 using CW, SSB, RTTY, SSTV, PSK, JT65 and JT-9. The main rig is a Kenwood TS-990, and our DXPedition/portable rig is an Icom IC7000. Station accessories include an AT-AutoTuner, LP-100 Wattmeter, microHam microKeyer II interface, Heil Goldline mic, and a QRO Technologies HF-2500DX linear. All QSOs are uploaded to LOTW and ClubLog.
On occasion I'll operate mobile from my truck using a Yaesu FT-857D transceiver with an ATAS-100 antenna.
My other hobby is stamp collecting. I collect used postage stamps from all over the world. If you'd like to arrange a stamp trade, please email me!
---
.
The Cormac Propadex - Current Ionospheric Conditions:
Propadex is updated four times per hour
Eight hours of history is shown on the graph.
When the Propadex is high, it means the F2 maximum useable frequency is higher than average for this time of day.

Technical Details:
The Cormac Propadex is based entirely on the latest government reports for f0F2. This is the maximum useable frequency for the F2 ionosphere layer. Some government stations are updating this value 4 to 6 times per hour.
The Propadex value is the DIFFERENCE between the latest reported f0F2 value and the 60 day average FOR THIS SAME TIME OF DAY.
For example, if the Propadex shows as +110 at time 1700 Z, it means means the government monitoring station is reporting a maximum usable frequency 1.10 MHz higher than the 60 day average for this exact same time of day.

Currently, we are obtaining data from the U.S. Air Force Radio Solar Telescope Network (RSTN) site at Wallops Island, Virginia. This site appears to be updating data several times per hour.