Currently using Vibroplex Blue Racer but have aVibroplex Original Deluxe nearby.  For slow speed nets I use a Navy Flame Proof Type MT-11B straight key (like it alot).   Started off back in 1979 with straight key. Soon after purchased  Bencher paddle but wired it as a cootie. Rarely use a keyer.  Active in the SKCC ranks. My SKCC Number is 8920T. Since Jan 2014 K3Y activity I have taken an interest in straight key/cootie/bug QRP.  I picked up an AlexLoop that I am surprised works so well sitting at arms length; especially on the receive side. Can only run 10 watts max so usually I just run QRP/5 watts.
Recently moved into Asbury Methodist Village independent living apartment which poses a challenge getting on HF.  Lo! I have managed 80 meters using parts from my Buddipole.  Fairly active on traffic nets such as MSN, MDD, & RRIE.   Still a bit nervous using bug on the nets but have the straight key to turn to albeit a bit slower. I welcome any QTC for Gaithersburg, Montgomery Village, Rockville.
Have D-Star capability.  Rarely PSK31 & other Digital modes but have the capability.
Latest interest is vintage landline telegraphy  Bought some sounders, relays and old keys and literally pounding brass. Friends Bruce K3BAB & Bob WM1E are involed.  Bruce built me a MorseKOB interface.  Clicking and clacking.
Involved in Christian Carmelite  based activities, Daily prayer includes the Divine Office morning and evening prayer and at least 30 minutes quiet prayer each day.
Navy veteran having served in the US Submarine Service 1962-1966 aboard USS Argonaut SS475 and USS Becuna SS319. The "Becuna" still physically exists as part of the Maritime Museum at Penn Landing in Phily, Try to attend reunions when I can.
Like naval history of all countries and battles. Favorite is Battle of Midway.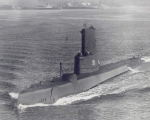 USS BECUNA SS-319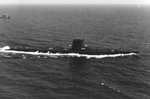 USS Argonaut SS-475