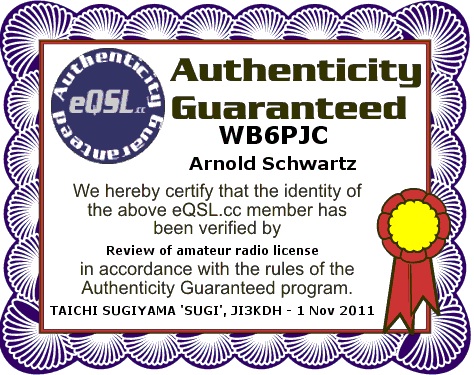 Novice License WV6RAD 1961-1962. General License WB6PJC 1965 to 2012. Extra License from 2/15/2012 to present.
I like to operate both CW and SSB on the HF bands. I am on 10/15/20/40 meter bands most of the time. 2011 was my 50th year anniversary as a Ham Radio Operator. I have received the following ARRL awards: WAS, DXCC for Mixed, CW, Phone, 10/15/20 meters, Diamond DXCC Challenge and the ARRL W1AW Centenial Challenge award. My QTH is 1,050 feet above sea level and I have a clear north easterly shot to Europe.
I am a former U.S. Navy Communications Technician, U.S. Coast Guard Reserve Radioman and a former member of the U..S. Naval Surface Reserve Force, Merchant Marine Training Unit. I taught Industrial Arts for the Los Angeles Unified School District from 1972 to 2002. Additionally, I sailed as a Civilian Merchant Marine Radio Officer durring my summer vacations off from LAUSD and worked on 38 different merchant ships from 1968 to 1998. I gave up all my jobs in 2002 and I am now enjoying my Ham Radio Hobby, collecting/restoring 1923 Atwater Kent Breadboard Radios and restoring/riding mid century lightweight 3 speed bicycles in retirement.
I hold the following FCC Commercial licenses: 1st class RadioTelegraph, GROL, GMDSS (operator & maintainer). All my commercial licenses have the Radar endorcement. I am also a Volunteer Examiner with both W5YI and the Greater Los Angeles Amateur Radio Group. Additionally, I am the appointed ARRL WAS card checker for the San Fernando Valley, CA area.
Current Ham equipment consists of: Kenwood TS-2000 HF transceiver with MC-90 Microphone, PS-52 Power Supply & SP-31 Speaker, Kenwood TS-480HX 6 thru 160 meter Transceiver with voice guide, 500Hz CW filter & 1.8KHz SSB filter, Heathkit SB-220 Linear Amplifier with a Drake WH7 wattmeter, Cushcraft A3S Three element 10-15-20-40 Meter Beam Antenna with the 40 meter add-on and a BN-86 Balun, Cushcraft A3WS 12-17-30 Meter Beam Antenna with the 30 meter add-on and a BN-86 Balun, Hy-Gain Ham IV Rotator with the control box, Create CR-18 six foot roof top mounted tower with a Yaesu GS-065 thrust bearing. I also use a home made 40 meter inverted V Dipole, that is 29 feet off the ground and and is attached to my chiminey. I have a Yaesu MT-2500M 2 meter transceiver with a Diamond X50A antenna that is mounted above my two stacked Cushcraft beam antennas. I use three Morse Code keys; a 1956 Vibroplex Blue Racer Standard with 2 1/2 ounces of weights, a Bencher Iambic and a J-38 straight key.
Current computer equipment consists of; Dell 24" XPS One with a Core 2 Quad Q8200 processor running at 2.33GHz, a Dell Studio XPS 435mt that has an I7 quad core 920 processor that runs at 2.67GHz, Dell SP2208WFP Monitor with a Dell add on speaker, HP-8300 Scanjet and a Brother HL-5140 Printer.
Member of the ARRL, U.S. Naval Cryptologic Veterans Association, Coast Guard Radio Amateur Club, SKCC #8254 and OMISS #8184.
I QSL 100% using both Logbook of the World (LOTW) and eQSL and appreciate receiving QSL's the same way! Please support and use Log Book of the World (LOTW), It is an inexpensive way to send and receive QSL's for those who do not need a paper QSL. LOTW QSL's are good for all ARRL Awards and Certificates and some CQ magazine awards. If you need a paper QSL card from me, include a SASE for my return QSL card.