What a great hobby!   Licensed in 1977, with guidance from Dad: W7WIA
QTH: Have moved to a new home QTH: Tucson, AZ.  Grid: DM42nc     Back on air as of: 6/23/17
QSL: LoTW, eQSL, Bureau, or Direct snail-mail.

Main Rig:                                                         
-Flex6300 SDR & Elecraft W2 Watt/SWR Meter

Secondary Rig:                                                
-PeaBerry SDR XCVR (designed by: AE9RB.com)
-Toyko High Power HL-45b - 45watt Amplifier
- Having a lot of fun with this little SDR rig!!
- My SDR Interest started by building some of KB9YIG's SDR Rig's: SDRv9.0 RX., & Softrock Ensemble RXTX.
Antenna:                                                           
-Currently borrowing W7WIA's Outbacker Outreach & Outpost antenna setup.
CW Paddles (favorite):                                     
-N0SA TP4 Paddles #094
-Begali Adventure Paddles #253

Mobile Rig:                                                       
-Icom706mkii
-Antenna: 3' tall Mini-Hamsticks
-Byonics Micro-Trak AIO  APRS
-If You made a QSO with My Mini-Mobile.... Thank You!  I'm always amazed how well it works.

Main Pix Note: In the background corner is my GREAT-Grandpa's Philco Radio (Model: 40-190XF - year:1939)
Hope to catch you down the logbook!!
-73, Dave - WB7QMR
Antenna: (Hamstick's)    *note: this picture is from old QTH in Hollywood, CA.  will update when I get the chance.                                                                                  
My home QTH station is ready to go at a moments notice.
(THP Amplifier is for the PeaBerry XCVR - which is mounted inside)
The Gator Case (below) has an extendable handle and wheels)
Mini Cooper Mobile: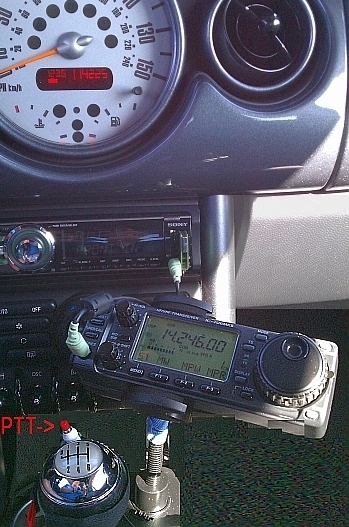 _____________________________________________________________________________________________
_____________________________________________________________________________________________