New Vanity call - WT0DX... hope to work you soon!
I have been a ham radio operator since the late 1960's with call letters WN8AVH, WB8AVH, WB6FGR and WB9KPT. I have operated from Ohio, Indiana, California, Illinois, Colorado, Florida, Oklahoma, Pennsylvania and now Colorado again. I am a life member of the ARRL. Check out a series of articles I co-authored for QST "Meet the Microprocessor" August-October 1976.  I recently upgraded to Extra after many years as an Advanced Class operator.
I'm currently operating with an ICOM IC-7600, Elecraft KPA500 amplifier, Elecraft KAT-500 antenna tuner and the following antennas: S9 31' vertical, Alpha Delta 40/80 dipole, 80 Inverted V, K4KIO Hexbeam and M2 Six Meter beam. I operate mostly on SSB and digital modes where I use Log4OM and N1MM.  I'm also active on the weak signal digital modes using WSJT-X with JTAlert software, operating FT8 and MSK144.
I also collect antique radios. I have over 50 radios with a special focus on Zenith models. Radios from the 30's to the 60's, including tube and transistor types. I also have a few antique ham radios including a Drake 2B, my favorite ham radio receiver.
To pay for all the toys, I am Senior Vice President Technology for TiVo in Denver, CO.
I graduated with a MSEE degree from Purdue University in 1975. As part of my job, I have over 125 patents in the areas of electronic program guides, teletext, digital television, television ghost canceling, commercial monitoring and audience research systems. I also have memberships in IEEE and SCTE.
View from my back porch looking West...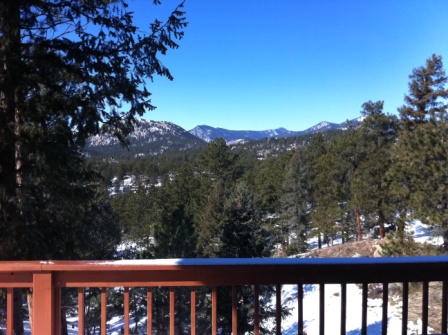 My K4KIO Hexbeam and M2 Six Meter beam...
From my Davis Vantage Vue weather station...