DX Alert... Where to next?
January 2016 VP8STI South Sandwich Island #3 most wanted and VP8SGI South Georgia Island #7 most wanted
Pacific DX Trip 2013: KH6/WD5COV KH8/WD5COV 5W0OV 3D2OV 3D2R 3D2RI
ALL DIRECT CARDS RECEIVED HAVE BEEN SENT OUT
I was active during Nov 12 - Dec 1 from Hawaii, American Samoa, Samoa, Fiji, and Rotuma Island. I am QSL manager for all the above callsigns. Please NA stations SASE and DX stations SAE and return postage (greenstamp) would be appreciated.
Our primary mission of this trip was to rebuild the station on Rotuma Island and train new operators. Look for 3D2RI on the air. We also participated in the CQWW DX CW contest making nearly 4000 Q's.
I was licensed in 1977 (age 14) as a Novice and received the call WD5COV which I have held for the past 37 years. I upgraded to general in 1980 just after winning the 1980 ARRL Novice Roundup. Then in 1987 I earned both my advanced and extra class license.
After 20 plus years in the industrial hose and fitting business, I sold my company "Hydraflex Inc." located in Denver Colorado. We fabricated a varity of pneumatic, hydraulic, and industrial hose assemblies. We serviced many industries including the petroleum, car wash, food and beverage, agriculture, construction, and chemical to name a few.
DXing is my #1 passion.
My Antenna Farm includes:
160 Meters: 4 Square Array - Verticals are 129ft of Rohn 25 tower insulated at the base with 60 ground radials per vertical.
80 Meters: 4 Square Array - Verticals are 63ft of Rohn 25 tower insulated at the base with 60 ground radials per vertical.
Rotating tower #1 (155ft) Holds: 20M 4/4, 17M 5/5, and 15M 6/6
Rotating tower #2 (155ft) Holds: 40M 4/4, 12M 4/4, and 20M 4/4
Rotating tower #3 (180ft) Holds: 80M 3 EL on top and 10M 7/7, 30M 3/3, and 6M 11/11
Tower#4 (100ft) Holds: 2M H Frame with four 18 EL Yagis, and 28 EL 440 Yagi
Tower #5(100ft) Holds: 6M H Frame with four 9 EL Yagis
Tower #6 (60ft) Holds: TH7, 2 EL 40M, 5 EL 6M, and various VHF antennas
60 Meters: 5 sloping dipoles in a parasitic array located on 100ft tower # 5.
Beverage receive antennas: Five 800 ft beverages pointed to Europe, Africa, South America, VK/ZL, and Asia.
3D2R Rotuma Island 2011 (Team Member) #32 DXCC most wanted list. Total QSO 59,448 in 6 days operating.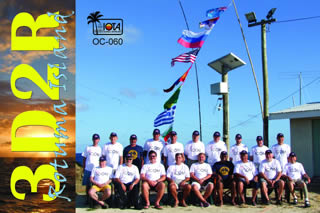 7O6T Yemen 2012 (Team Member) #5 DXCC most wanted list. Total QSO's 162,029. Only U.S. OP for entire duration of the DXpedition 4/30/12 to 5/15/12.
3D2C Conway Reef 2012 (team member) #35 DXCC most wanted list we managed 71,693 QSo's in 6 days operating.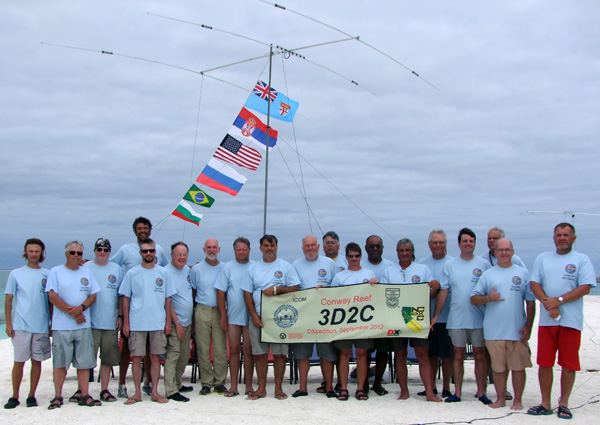 Life member: ARRL and INDEXA.
Intrepid DX Group - Treasurer
Member: Araucaria DX Group
Supporter: NCDXF
Founder: Mimbres Valley Radio Club (2010)
Member: Arizona Outlaws Contest Club. (AOCC)
QSL Policy:
I QSL 100%
For DX stations needing to confirm our QSO, please include SAE and  $2 greenstamps. ( NO IRC"S )
For U.S. stations please include SASE.
I do not E-QSL.
My Dad WA5IPS is now a SK (Dec 3rd 2011). He was an avid DXer. The time we spent DXing together or fishing at our favorite fishing hole "Grindstone Lake" will be lasting memories. He was a master in the art of homebrewing, building 100's of pieces of gear during his 55 plus years in ham radio. He was a great elmer and will always be my best friend. RIP Dad.
73 and cu in the pile-ups Dave WD5COV
160 Meter 4 Square
80 Meter 4 Square
Shack:
155ft Tower 1: 20M 4/4, 15M 6/6, 17M 5/5
155ft Tower 2: 20M 4/4, 40M 4/4, and 12M 4/4
180ft Tower 3: 80M 3 EL, 30M 3/3, 10M 7/7, and 6M 11/11
Tower 3: with rainbow
160M four Square with rainbow