USE ADDRESS LISTED BELOW FOR DIRECT QSL WITH SASE.
Please QSL with SASE or SAE with $2 USD *NO IRC's* To:
Gary J. Phillips
649 Amicalola Woods Road
Dawsonville, GA 30534
MAP OF VISITORS TO WO4DX ON QRZ.COM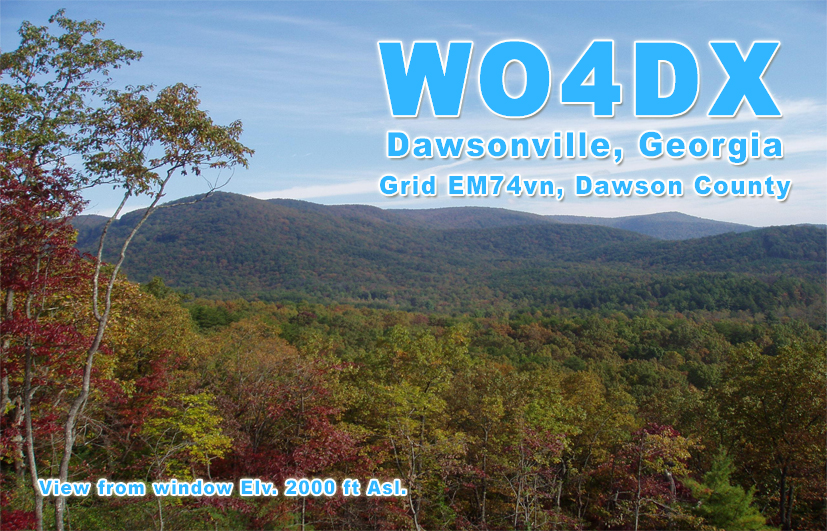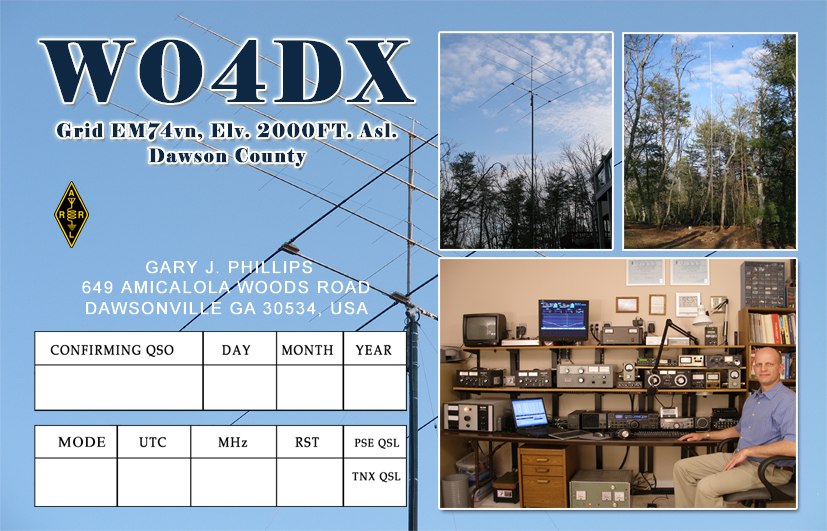 CURRENT MOUNTAIN QTH QSL CARD VERSION 1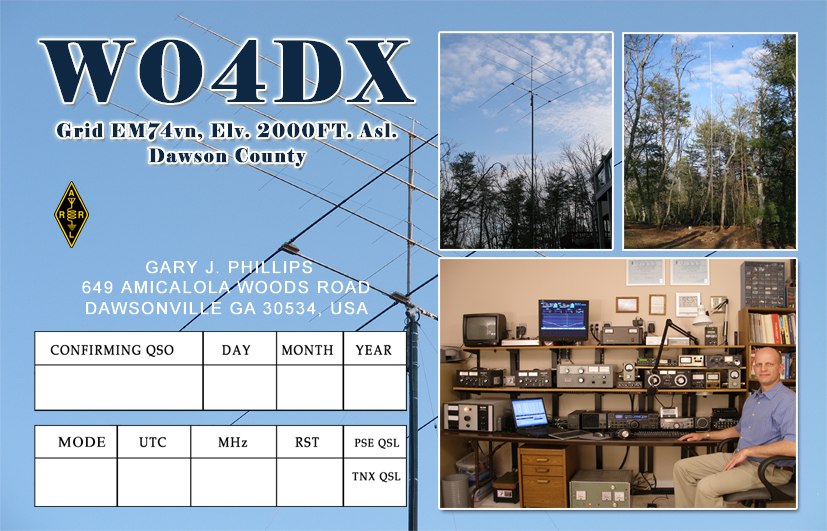 CURRENT MOUNTAIN QTH QSL CARD VERSION 2
MOBILE QSL CARD
75M 1/4 WAVE VERTICAL (65FT TALL) 100 1/4 WL RADIALS AB-577 MILITARY SURPLUS TOWER 55 FT. TALL
3EL STEPP IR @ 57 FT., COMMANDER HF-2500 1500 WATTS
160M DIPOLE @ 70 FT. EAST-WEST, 450 OHM TWIN LEAD
160M SHORTENED DIPOLE @ 70 FT. NORTH-SOUTH, 450 OHM TWIN LEAD
STEPP IR 4EL ON 6M @ 57 FT., LUNAR LINK LA-62 1500 WATTS
17 EL 2M M2 @ 62 FT, LUNAR LINK LA-22 1500 WATTS
23 EL 1.25M M2 @ 67 FT, HENRY 2002A 800 WATTS
38 EL 70CM M2 @ 72 FT, HOME BREW TU-23B 1500 WATTS
ANTENNAS ON AB-577 TOWER @ 2000 FT ASL VIEW FROM SHACK WINDOW LOOKING NORTHEAST
A view of the shack. Th HF station is comprised of a Yaesu FT-2000 transceiver, Command Technologies HF-2500 amplifer (2 x 3CX800A7) 1500 watts 160M-10M,Nye Viking MB-VB tuner, MFJ-989 tuner, MFJ-1279 sound card interface, W2IHY 8 band equalizer & EQ Plus and Heil Gold Line microphone. The 6 Meter station uses the Yaesu FT-2000, Lunar Link LA-62 amplifier (2 x 3CPX800A7) 1500 watts and Advanced Receiver Research Gasfet preamp. The 2 Meter station uses a Kenwood TS-2000, Lunar Link LA-22 (2 x 3CPX800A7) 1500 watts and a Advanced Receiver Research Gasfet preamp. The 1.25 Meter station uses the TS-2000 for the IF, Down East Microwaves transverter,Down East Microwaves solid state amplifier, Henry 2002A amplifier (1 x 3CPX800A7) 800 watts and Advanced Receiver Research Gasfet preamp. The 70CM station uses the TS-2000, Home Brew amplifier ( Russian 1 x TU-23B) 1500 watts and SSB Gasfet preamp. All preamps are shack mounted due to the high incidence of near by lighting strikes at this elevation. The same audio processing and microphone are used on the Kenwood TS-2000. A MFJ-1279 sound card interface is used for the VHF/UHF stations as well. My station is located on top of a narrow mountain ridge in the North Georgia Mountains at 2000 feet (610 meters )above sea level.
I travel extensively for business and I spend a lot of time driving so I have put together a nice mobile station to keep me occupied for my 30k-35k miles I spend on the road for business each year. I get a chance to operate from many rare grids on the VHF/UHF bands on SSB and meteor scatter. I also travel a lot by air and have operated from various countries in Europe,Canada,Hawaii ect. Please when you work me in a grid, state,county or country you need please qsl with an SASE (I get a lot of cards)this makes my life a lot easier getting cards back to you. Also note where (grid,state,country) you worked me on your card. I have a very demanding career and I'm not a professional Ham and have many obligations that take precedence over Amateur Radio,remember It is a hobby. The mobile station is a 2003 Ford Explorer Sport. The rig is a Icom IC-706IIG,Hf antenna is a Tar Heel MT-1000 Srewdriver 10-80 Meters.The bottom section is 4 ft (1.2m), coil is 3 in DIA ( 76.2mm), 1ft (.3 m) above the coil there is a 8 radial 24 in DIA (.6m) capacitance hat and a 6 ft (1.82 m)whip above that. I have a home brew add on coil that will allow me to operate the entire 160 meter band as well. The amplifier for the HF bands is a SGC-500 Smart Cube 600 watts output.The six meter antenna is a single M2 loop or hamstick, TE Systems amplifier 0552G 400 watts output with gasfet preamp.On 2 meters The antenna is a stacked pair of M2 loops, 2 meter amplifier is a TE Systems 1452g 400 watts output with gasfet preamp. The 1.25 meter antenna is a stacked pair of M2 loops,Down East Microwaves transverter and solid state amplifier 150 watts with gasfet preamp. On70 cm the antenna is a stacked pair of M2 loops, TE Systems 4410G 100 watts output with Gasfet preamp. I use a Heil Traveler head set while driving. The computer is an IBM Think Pad with a MFJ-1275 sound card interface.All VHF/UHF antennas are magnetically mounted. The HF antenna is mounted to the trailer hitch, no holes in the vehicle's body.Original charging system, Optima gel cell battery (no extra battery) 4 ga wire to HF amp, 2 Farad capacitor,dual 8 ga toVHF/UHF amps. Modes that have been worked while mobile are SSB,FM,AM,CW,SSTV analog & digital,WSJT meteor scatter, JT-65 weak signal tropo,PSK-31 & RTTY. I enjoy low band DXing from the mobile you can often find me in the 75 meter DX window. I curently have 130 countries worked from the mobile on 75 meter SSB. I spend a lot of time on 60 meters dxing as well.
The picture above left is the operating position. Top left is a Comet remote sensing watt meter, top right is the MFJ programable screwdriver controller,middle right my cell phone,botom center is my GPS for 6 digitgrid square display & elevation, bottom left is the Icom 706IIG. To the right is the IBM Think Pad for digital modes ect.The sound card interface has been relocated to the rear. All equipment is mounted using RAM Mounting Systems components.
The picture above right is the rf deck mounted in the cargo area. Top deck back left is the remote sensorfor the watt meter, middle left top is the 1KW LDG auto tuner, middle right in the MFJ-1279 sound card interface,terminal bocks for power behind sound card, to the right of that back is the IC-706IIG, in front of the radio in a DEMI relay interface for hard keying the amplifiers and far left a 2 farad capacitor across the power terminals of the HF amp to help reduce voltage drop (HF amp draws 90A on key down). The bottom deck far left is the 70 cm amp,2 m amp, 6 m amp and HF amp on far right. All amps have external cooling fanson heat sinks toallow full output at high duty cyles for metor scatter,SSTV ect.
CURRENT OH8/WO4DX OPERATION KAJAANI, FINLAND 3/14/10-3/19/10
OPERATING POSITION HOTEL DESK MFJ-1625 ANT FOURTH FLOOR WINDOW
WINDOW VIEW OF MFJ-1625 INSIDEHOTEL KAJAANI, FINLAND