I was first licensed in about 1971 as WN6TNM. I got my general in 72 and was issued WB6TNM.  I stayed with that licence and call until the 80s.  Up in Seattle I got back into the hobby, built my own gear and upgraded to extra. 
When WS7M was assigned to me it was listed in QST as the last 7 section callsign for the month.  It also was a fitting call:
"Washington State 7 Mark" was what a few of my friends used.
I'm a software engineer by trade so I've always been attracted to the digital modes and feel that CW is really the first digital mode. I wrote packet software and participated for several years in the HF packet exchange for BBS systems during the 80s.  I hosted a packet BBS that I wrote the software for and during the big NorCal earthquake my station and BBS passed critical emergency traffic for that event.  My station and amplifier were on 24/7 and the message rate was amazing.
A life change moved me to California, back to the original city I was licensed in, Santa Barbara, CA.  I was in/out of the hobby due to being very busy.  Another life change brought me to Fort Collins, CO in 2004.  I sold everything I owned and concentrated on life and work for a number of years.
I came back to Ham Radio in 2015.  I had a few more up and downs but I remain active with a Flex-6500 and SPE-2K FA amp and 80 meter loop antenna.
 The cat shown on the upper monitor is my shop/shack cat Haley.  She is a character and loves to play with the keyer paddles.  So if you happen to hear "CQ CAT CQ CAT" on the bands sometime you can have a mental image of who is at the controls!  :-)
You may notice no radio gear on the desk.  That is by design.  My Flex-6500 resides in a cabinet to the right about 8 feet.  My SPE amp and tuner are in a mechanical room next to the shed.  This is a good place for them as the antenna feed line comes into the same room.  
I live in an HOA with massive restrictions.  So I'm always strugging with trying to get a good antenna up.  My new experiment as of September 2017 is an 80 meter loop.  This consists of 280 feet of 14ga FlexWeave wire strung between trees at the back of my property.
The top view looks like this: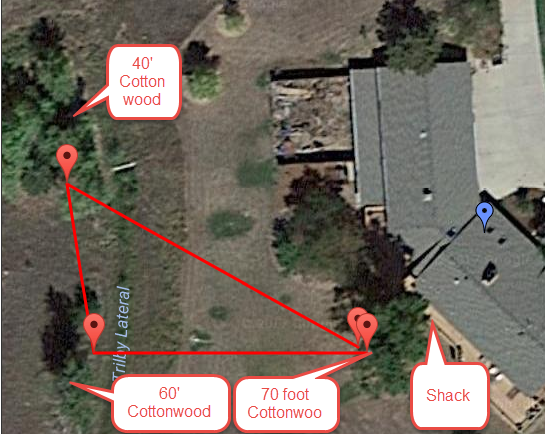 From the side the issue is that the two trees to the west while fairly tall are down hill from the house.  So the loop slopes down towards the west:
I am hoping to perhaps raise those points slightly by putting some poles next to the trees and elevating the wire supports on the poles.  For now however this will have to do.
My initial tests are good.  It hears well and on WSPR it seems to get out pretty well.  The proof will be in the future contacts.
I think over the years I've tried just about all parts of Ham radio from DX, contests, moon bounce, amsats and just general chatting.  I also did message passing and emergency services.  I think I just like the general idea that I can tap a few characters on a key and someone a long ways away can hear and reply.
Yes I can do the same on the internet but it just isn't the same.  I'll never forget as a novice working 40 meters and hearing F9RM (sk) come back to a CQ I called.  I was of course limited to novice power and not in a great location so to actually work France was a treat.
Anyway if you hear me on, give me a shout.  We can probably find something interesting to chat about. I play golf, ski, I love to shoot but don't get the chance much these days.  I love building things, electronics, antennas etc.  
Shack current equipment:
Flex 6500
SPE 2K-FA Amplifier
Palstar HF Auto tuner
In the car I have an Icom 7100 however the HF antenna sucks so I mostly use it for 440.  I will be trying to improve the HF antenna during the Winter.
Current build plans:
A remote controlled balanced L tuner.
This will allow me to feed the loop with balanced line.  I want to remote control it because it will either be mounted in my shed, near my amp or even mounted in the tree.  I will post progress pictures here.   
This is the basic plan and block diagram:
Not shown will be a large RF relay to switch the variable cap between the front and end of the roller inductors.
Roller inductors are 28 uh.  Cap is a 23-550pf 5.6kv.  The motors are intelligent smart motors.
Here is the initial layout, some parts missing: