Note : Recently , There is a pirate operator started Using My call sign his name is HASSAN ( the big PIRATE in IRAQ , pse see: www.qrz.com/db/yi1h also see : www.qrz.com/db/yi1irq) and unfortunately there is no LAW in Iraq to stop him so ignore him and save ur time and ur Money , i do not have any ham Radio Activity since 2013 .
Also this PIRATE Operator started using my call sign as a spotter for his PIRATE call sign , please do not believe that is me , he is utilizing my call sign as a spotter , what can i do ? Nothing because there is no Law in IRAQ to stop him so please accept my apology about that .
Also this PIRATE operator started using my call sign as TA7/YI1RZ since 24-APR-2016 , again i would like to tell the ham Radio Community i do not have any ham Radio Activity since 2013 and also i do not have Turkish License here in Turkey so save ur Time and your Money , still no LAW in IRAQ to stop this stupid Man .
Consequently , i would like to give my apology to the Turkish Authorities about these abuses by this foolish person and i would like to tell them " This person does not represent IRAQ , but represents only himself ".
ملاحظة الى الاخوة الهواة العرب 
تحية طيبة , هنالك شخص يستعمل رمز النداء الخاص بي وينتحل شخصيتي ويعمل اتصالات برمز ندائي , هذا الشخص اسمه حسن وهو اكبر بايرت في العراق وكل المعلومات الخاصة به موجودة في الرابط التالي
  www.qrz.com/db/yi1h  or  www.qrz.com/db/yi1irq
هذا الشخص مفصول ومطرود من ما يسمى بجمعية العراق لهواة اللاسلكي منذ سنة 2004 ولكن للأسف لايوجد قانون حقيقي في العراق لايقاف هذا الشخص ولايقاف خروقاته ,  لذلك اخوتي الافاضل لاتضيعوا وقتكم مع هذا الشخص ويرجى عدم عمل اي اتصال  معه ويرجى نشره في الكلاستر كبايرت وشخص غير مرخص , انا تركت العراق منذ سنة 2013 ومقيم في تركيا وليس لدي اي   مشروع للعودة الى العراق في المستقبل القريب 
تقبلوا خالص تحياتي
YI1RZ
 In 1-Nov-2015 i have visited  the Amature Radio Club in Istanbul City YM1KD and i have met also some Hams there , they were very nice people and we spent very nice time and i did some SSB QSO's from their Station . Thanks for all the members there 

 .
In 14-June-2015 i have visited the Amature Radio Club in Trabzon city / Turkey YM7KA and i have met also very nice people there and i did some SSB and CW QSO's from their station .
Please Follow me on HamSphere as 

TA / YI1RZ 
Also you can follow me on Echolink as YI1RZ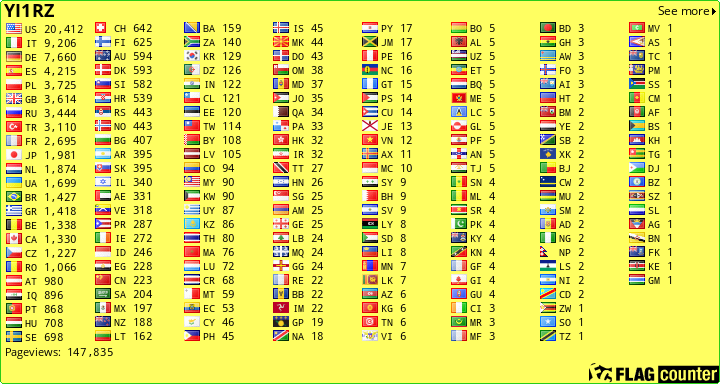 Large Visitor Globe
Hello Everybody
My name is Razi , i was born in Baghdad in 1974 , i have grew up in a family that believes and respects science where my father was a doctor and he finished his studies in medicine in Germany and my mother was a teacher of English language in junior high school .
My story with the Radio started in 1984 , at that time and during the war between Iraq and Iran my father every night was trying to receive the signals of London Broadcasting or Voice of America on very good Radio from Japan model : SANYO Radio & Cassette IC-8800 RP-8800 .

Sometime my father could get these signals on this radio and listening to the news of the war because the Iraqi media at that time doesn't publish accurate news about the war . One day while my father was trying to search for the Voice of America station i heard intermittent unclear and incomprehensible signals , so i asked my father immediately what is that sound ? he said : Son this is called MORSE CODE , BooooooooooooooM , This was the first incentive to me made me interested in the subject of radio and broadcasting signals . 
After this incident , I started looking for these signals and stations when my father in work time , i have discovered that the sensitivity of the device to the reception changed when touch the antenna of this device with my hand so i added a piece of wire to the original antenna of the device to increase the length of the antenna , i have found that the sensetivity of the reception increased and the Radio can now get more signals and stations , that was the 2nd incentive to me made me more interested with the Radio and the antenna . 
I did dozens of experiments on this topic and my father was helping me to get more information about this object , Unfortunately at that time in my country there was no real  interest in these subjects and there was no encouragement for such interests or hobbies, especially for young children.
Passed a long period of time that I was able to become a licensed amateur radio , i got my first License in 2005 and my call sign was YI1RAZ class B , in 2009 i became class A YI1RZ . 
I started my activity in HF 20 and 40m Band with Just 10 Watts at that time ( QRP Radio TS-130V ) with Multiband Antenna from Fritzil GPA-50 .
My QTH is Baghdad and my home Locator is :  LM23EF , i did most my QSO's from this location .
The below pictures of some equipments that I have in my shack .
My Antennas 
1- Homemade 4 - ele Yagi for 6m Band 
2- Homemade 2- ele beam for 20m Band
3 - Half Delta Loop Antenna 
4- Two Half Delta loop Antenna
5 - Inverted M Antenns for 40m Band
6 - Half Vertical Loop Antenna
7 - Two Half Vertical Loop Antenna
8- Dual Band Vertical Antenna for 40 & 80m Band
9 - Multi Band Vertical Antenna from Fritzil GPA - 50
10 - Triangle Antenna 
11- Folded Two Half Vertical Loop Antenna 
12- L/4 Vertical Antenna with ground plane for 17m Band
And Below some photos frim Dx Watch website for my HF Activity in many bands and many modes.
Radio Astronomy 
I'm also interested in one of the branches of ِAstronomy , it is called Radio Astronomy ,  This science studying the properties of celestial bodies rather than through the visible light spectrum, but through the radio spectrum , the radio spectrum give us more information about the physical Behavior of these bodies , and to study this science you need special equipments .
My Interest in this science began at the end of 1999 , during one day in this year when i was trying to find some books about the Radio science in one of the public libraries in Baghdad i found a very useful and very interesting book in Arabic language it is : THE RADIO UNIVERSE , By: J.S.Hey , this book show you how do you look up to the sky, but through the radio spectrum and not through the light spectrum . I very much enjoyed the valuable information contained in this book and began to try to apply the some of the experiences in this book .
The closest celestial bodies to our planet , which is considered one of the most radiant orbs of the radio spectrum are the Sun and Jupiter , this book tell you , you can receive these signals ( Radio spectrum ) for Sun and Jupiter on HF bands specially on 18.7 MHz for Jupiter and 20.1 MHz for the Sun . 
First , i tried to receive these signals on AM Radio o, SW bands by using good type 4 Bands AM , FM Radio and i did small modification on its antenna , i have added external wire about 10m to the roof of my house , at the beginning i failed to receive the Decametric emissions from the Jupiter because it is weak and i do not know exactly the positions of the Jupiter at that time .
Then , i tried to receive the Radio Bursts from the Sun on 20.1 MHz , and after several attempts , i got it , i could receive the spike signals burst from the Sun as mentioned in the RADIO UNIVERSE book , It was a great moment for me at that time but Unfortunately I did not know how do i record these emissions and how i measure or what units are measured.
In 2005 when i became Ham radio and got my transceivers , i started look again at this field ( RADIO ASTRONOMY ) but with look deeper specially when i found more details about this object in NASA website : http://radiojove.gsfc.nasa.gov/ . i have found more detials about the Decametric emission and solar bursts also about how you can build your own radio astronomy telescope by simple dipole antenna . i started using RACAL Receiver ( 100 KHz to 30 MHz ) with simple in phase two dipole array @ 20.1 MHz . 
I have spent long time when i could receive first radio bursts from the Sun also i could record it as mp3 file also uploaded to my youtube account . below you will see my first antenna for radio astronomy it is called : 2- ele Horizontal Dipole in Phase Array , this array is suitable to receive the Decametric emission from the Jupiter and the Solar Bursts from the Sun .
And Below you can hear some solar Bursts received by this antenna and the RACAL Receiver .
In 2011 i have got a very good receiver has multi functions , it is : JRC NRD-545 DSP Receiver from 100KHZ to 2 GHz all moeds with variable bandwidth , i could listen to the solar activity on several frequencies .
      My Echolink Station : IC-2100 , 
10 Watts ,
Vertical Omnidirectional Antenna 3dbi
Membership
My QSL Cards 


Awards 
My other Hobby 
Best regards for all ham radio around the world.
See you on the air... de Razi / YI1RZ
73