My Dunax Yagi!
Located in Sfantu Gheorghe (St. George), Covasna county - in the center area of Romania.
https://en.wikipedia.org/wiki/Sf%C3%A2ntu_Gheorghe
Licensed in 1976 as YO6BVY, YO6BV but my new call sign YO6ZS since November 2011.
Enjoy "chasing DX" and some contesting.
QRV almost 99% CW, occasionally operate on RTTY, PSK31 and phone.
QSL via LotW much prefered - I usually upload same day.
Also upload to eQSL.CC. If you need confirmation in LotW or eQSL and it's not showing, drop me an email.
If you want, I send you QSLs attached to emails. You can print the QSL. Just email me with the log info and I will attach a qsl to the return email.
QSL direct or via bureau. Responses through the bureau are likely to take some time.
Good DX!
73!
Zsolt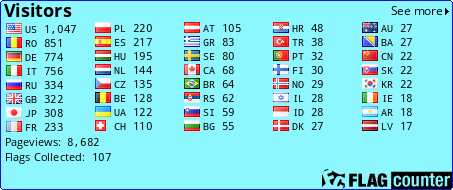 Large Visitor Globe