Please Note: I am NOT the QSL manager for ZD7FT - all requests must go direct to him.
Pictured above is a photograph taken by me a few years ago of the Spanish Longliner NUEVO GOLDLONDRINA seeking emergency medical attention for a crewmember who had chopped off two fingers. 
LCM from the French Amphibious Assault Ship - MISTRAL.
Looking down from Putty Hill at the Briars (foreground) and Jamestown to the North.
The 78m Malaysian registered ocean going landing craft the N.P. GLORY 4 chartered by the South African construction company Basil Read contracted to build an airstrip on St. Helena Island due for completion in 2016.  This ship shuttles between Walvis Bay and the Island bringing all necessary equipment.  Seen here making history as being the first ship to ever dock at Island, in this case at the Sheers in Ruperts to a makeshift jetty extending a little way from the shore.  Loaded with 30 & 40 Ton Volvo articulated dump trucks, Caterpillar D9 & D6 Bulldozers, the likes of which have never been seen before and more thank likely we'll never see again.
The correct mailing address:
Bruce R. Salt
PO Box 5
Jamestown
St. Helena Island
South Atlantic Ocean
(VIA GREAT BRITAIN)
When mailing please remember to include a self addressed envelope and 2 US Dollars or Sterling/Euro Notes.   No IRC's - thank you.  (please do not use stamps on your envelope from the country that you are mailing from)
Strictly NO eQSL, LOTW or  QRZ LOGGING - DIRECT ONLY
If I disappear from the air suddenly while in QSO or running a pileup it is because there has been a powercut.  The Island's powerhouse (2 x 1 MW generators) is always dogged with problems.
Antennas: Force 12 C-4E & most recently (2014) a pair of 4 Element LFA Yagis for 6m from InnovAntennas www.InnovAntennas.com  e mail: Justin G0KSC justin@innovantennas.com
LOGGING SOFTWARE:
Since October 2014 the logging software has been Log4OM, www.log4om.com  after 16 years of using logging software by Tom Dandrea - N3EQF, firstly the DOS based version LogEQF and later when it was upgraded to the Windows based version WinEQF.  It was a struggle initially to use Log4OM as I had become so accustomed to WinEQF.
My QSL cards are printed by the best in the QSL printing industry Tipolitografia dei F.lli Bonanno A. e V. A. snc www.printed.it   e mail:  Alfio Bonnano it9ejw@printed.it since 2001 when I discovered that he had sponsored the QSL Cards for the ZD7K & ZD8K Dx-pedition in 2001 by the Barry Amateur Radio Club - UK, absolute works of art everytime resulting in impressive QSL cards printed on quality card stock.
A big fan of Cubical Quad antennas, I've been working a number of stations in recent times using some of these fine performing antennas, PKW Cubical Quad Antennas of Italy http://www.antennepkw.com   Also Cubex Cubical Quad Antennas of the USA http://www.cubex.com 
St. Helena Island is a very tiny & remote Island in the South Atlantic Ocean without any aircraft not even a resident helicopter, so please be patient when mailing your letter as everything is brought to the Island by the supply ship ST. HELENA the last Royal Mail ship left in the world apparently and it is not unusual for a letter to take 3 months from the time it is dispatched to the time that you receive it back.  I do QSL 100% and process the cards as rapidly as possible but always have to await the return of the supply ship.
St. Helena Island is very remote and is often considered to be behind the rest of the world by 20 years and still living in the post Colonial era.  Our internet is via Satellite with very limited bandwidth and the speed of a dial-up connection for an astromonical monthly fee.  We regularly run short of essential food commodities and are no longer self sufficient, in earlier years the Island would supply up to 1,000 visiting ships now one ship the ST. HELENA (pictured above) supplies the Island.
Here is a worthwhile read: http://www.cntraveler.com/stories/2015-12-30/why-st-helena-one-of-the-worlds-most-remote-islands-may-be-overrun-in-2016
Flag of Saint Helena
The Flag of Saint Helena was adopted on October 4, 1984. It is a defaced Blue Ensign, i.e., blue with the flag of the UK in the upper hoist-side quadrant and the Saint Helena shield centred on the outer half of the flag. The coat of arms of Saint Helena features a rocky coastline and three-masted sailing ship, with a Saint Helena Plover atop. Prior to the adoption of the current coat of arms and flag in 1984, the flag and shield showed the ship and coastal scene taken from the colonial seal of the colony.
Ships registered in Saint Helena fly the Red Ensign; there is no defaced variant for the territory.
The coat of arms of Saint Helena was authorised on 30 January 1984.
The arms feature a shield, with the top third showing the national bird, the Saint Helena Plover Charadrius sanctaehelenae, known locally as the Wirebird – stylized, but with its unmistakable head pattern. The bottom two thirds depict a coastal scene of the island, a three-masted sailing ship with the mountainous island to the left. The coastal scene is taken from the colonial seal of the colony and shows the flag of England flying from the ship (when the shield was first introduced in 1874 the flag was a White Ensign).
The motto is Loyal and unshakable. The full coat of arms features, above the shield, a woman holding a cross and a flower. This represents Helena of Constantinople, also known as Saint Helena, after whom the island is named. The cross is shown as Helena is credited with finding the relics of the True Cross (cross upon which Jesus was crucified).
The local two pound coin has the full coat of arms on its reverse.
Embossed envelopes:
Most if not all letters leaving the shack of ZD7VC will be embossed, a feature that has been unique to the station of ZD7VC since 2013.  This creates a one off and as I live on a very remote island in the South Atlantic Ocean I wanted to create a special envelope (and QSL card) that would be cherished for years to come by Amateur Radio Operators and Short Wave Listeners world wide. 
This, in conjunction with a good array of stamps (please don't write your address in the upper left hand corner of the envelope as this is where my embossed return address if undelivered will go - also please leave enough space for stamps - thank you!) makes for a rather official looking envelope which I hope you will like.  If you have any ideas how this can be improved the just drop me an e mail or tell me on the air.
---
It's intriguing to see which countries visit my page and all I can say is thank you for visiting and look forward to working you on the air sometime either on 6m or HF.  I am an avid 6m DX-er and previously ran a beacon on 50.007mhz courtesy of Dave N3DB, this beacon has broken and no longer is operational since mid 2016.  ZD7VC/b was the first in a series of 50 MHZ beacons (to remote locations around the world) that Dave had deployed and was hosted by me that ran for 12-14 years before it stopped working  I also have a keen interest in 2m SSB & FM which I need to develop upon.   http://www.qsl.net/n3db/
I am also chasing US Counties, a quest that I began in 2011, in addition to this I am also chasing IOTA (Islands on the Air) numbers despite the fact that I live on a tiny & very remote Island myself which is AF-022.
At this point I should mention KX2A - Jan who in more ways than one and through his generosity has enabled the five operational ZD7 stations to remain on the air at times of difficulty through the geograpical location of the Island.  He is a small man with a BIG HEART!!!!!!!!!! 
ISLAND LIFE IS ALL ABOUT ADAPTATION & IMPROVISATION - THAT'S HOW WE GET BY.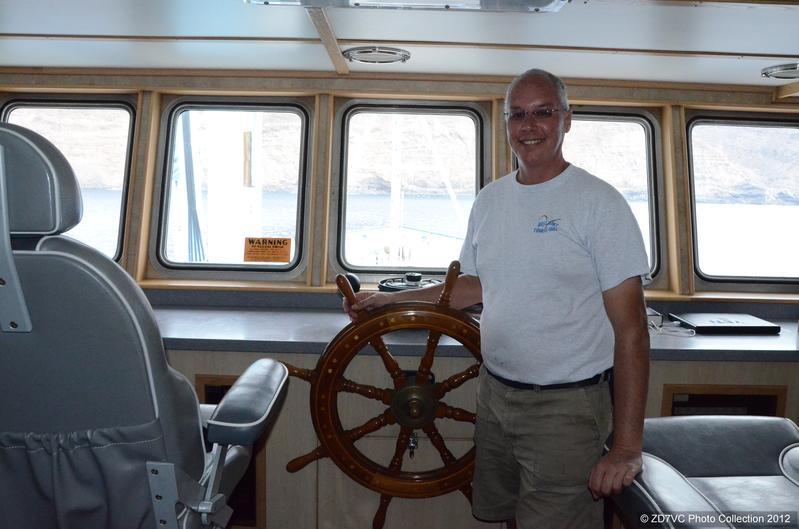 ZD7VC is his element, aboard the visiting Shark Research vessel OCEARCH.
This is my 40' somewhat homebrew tower.  The first section is static and guyed.  The hinge is at 12' in the air to which a Lever Arm  was fabricated from whatever angle iron could be found on the island, a bit here and a bit there so to speak!  The hinge was fabricated from the 200' antenna towers that were used on Deadwood Plain and Prosperous Bay Plain in the 1960's/1970's by the Diplomatic Wireless Relay Service (DWRS) as was some of the angle iron used in the fabrication of the Lever Arm.  To the bottom of the lever arm another small plate with an eye was welded to enable a hook to be accommodated to which the wire rope from the winch is attached, but to ease the friction a cheaply made snatch block was sacrificed and welded in place on the same level as the winch plate.  All this grinding & welding is a haven for future rust and many years have elapsed since and it's neigh on impossible to keep the rust at bay.
The tower when hinged over points to the North.  The settlement of Half Tree Hollow where My XYL - ZD7A and I reside lies above and adjacent to Jamestown and to the West and has the highest population compared to the other settlements, perhaps it's because of the lovely sea view or maybe it's one of the warmest places on the island it is also arid & extremely with little in the way of natural soil & vegetation.  In the pictures you will see some fruit trees growing in soil brought from other parts of the island.  Rain water is harvested in a 7,000 gallon concrete tank lined with an EPDM liner and to keep the mosquito's at bay by populating the with Talipia of the African variety I think.  Paw Paw trees do very well here and we could grow more if it weren't for the lack of soil depth.
A typical country road in the rural part of the island, out here it's wonderfully quiet with less than five vehicles seen in a day.  Notice the New Zealand Flax (Phormium Tenax) covering the hill and aiding in the retention of soil on the steep hills.  Of course it's primary reason for being grown in the 1950's & 60's was it's use in the Flax industry, it was harvested by the islanders, milled and bailed and sent to the UK to be manufactured into Rope.  Nowadays the islanders use it for small amount of craft work but it's primary use has always been for tying stuff up, like bundles of wood and animal feed.  Flax is very hard to get rid off and once cut off from the stump requires that the tubers be taken out using a grubbing axe or another description for this tool seems to be a Mattock.  If anyone from New Zealand is reading this and has seen or used a device/tool for shredding flax please drop me an e mail - thanks.  With a few acres of land in the picture above, there is plenty of Flax seed to be had, it's a shame that it can't be made use of.
ST. HELENA COFFEE
Green Tipped Bourbon Arabica Coffee Beans/or processed coffee is ranking No.1 in the world as the finest coffee, unfortunately less than half a ton is produced annually which makes it a highly sought after product among the coffee connoisseurs of the world.  Coffee can be purchased on the Island as well but Harrods of London sell it too.
ST. HELENA ISLAND  - COFFEE
Some 280 years ago, on 10th February 1733, Captain Phillips of the ship Houghton dropped anchor in James Bay. He arrived with Arabica coffee seeds he had brought from the Red Sea port of Mocha, on the orders of Governor Pyke.  His Excellency surely could not have imagined in the 18th Century that in the 21st, the result of his initiative would be sending coffee drinkers into raptures.
For dealer Mark Galloway, selling to connoisseurs across America, the extremely rare and pure product that resulted from Houghton's delivery is the most desirable on the planet.  He says he is ecstatic to have secured a small lot of the island's Green Tipped Bourbon Arabica.   But had a London dealer not worked with Solomon's to revive the island estates in 2010, he might not have been able to buy any at all.
The island coffee was just about the only thing that Napoleon liked about St Helena during his exile at Longwood.   His public praise did not harm to its reputation abroad.  In 1839, the London coffee merchants William Burnie & Co pronounced it to be of very superior quality, and by 1845 it had become the most expensive and exclusive in the world.   It received an honourable mention at the Great Exhibition in London in 1851, but from that point on, records are vague and as the years progressed it faded from view.
And then, in the 1990s, St. Helenian businessman David Henry began sifting through the records of the East India Company, at The Castle in Jamestown.
"I came across records stating where coffee had been planted here 250 years ago," he told the journalist Neil Rusch. "So we went off into the valleys. We discovered patches of wild coffee. It took us ages to secure the land and rejuvenate the wild trees."
A 2001 article on the Coffee International website tells how David found the trees of the 19th Century Alexander estate still growing in a jungle of overgrowth, some of them more than 30 feet tall. In 1994,  he planted and established new trees, either from the same pure seedlings, unsullied by cross-pollination with other strains, or grown from cuttings of the wild trees.
He fought a long battle to have St Helena recognised as a coffee exporting nation, in order to be able to sell abroad.   His efforts were backed by government departments in London and by the United Nations – and it still took two years!
In time, production rose to six tons a year – compared with the thousand tons a year of the equally revered Jamaican Blue Mountain beans.
Success lasted for a time, then came demise for David's Napoleon Estate enterprise. But that led his former partner, St Helena Trading (UK) Ltd, to set up a joint venture with the local Solomon and Company to resuscitate production.
Its first crop was produced in March the following year.
Production remains small, and the industry is still hampered by the longer-than-usual growing season, and the limited amount of harvestable land on high ground. But the expected completion of the island's airport in 2016, bringing tourists with money, should create new commercial opportunities.  Completed the airport might be, but open for commercial traffic it is not and as of the 18th January 2017 there are still no tourists arriving other than the same amount that come in on the one supply ship that services the island.
In fact, the island's geographical disadvantages may also account for the supreme quality of its coffee.  They boast is that its extreme remoteness, in the path of the Southeast Trade Winds, and its lack of pollution, make it one of the purest environments in the world.   The purity of the trees themselves reflects their descent from a single batch of seeds, with isolation preventing them being genetically sullied by other strains.
Trees are fertilized with seabird guano that is as rich as the island's volcanic soil, and the coffee is processed with spring water from The Peaks.
Coffee drinkers in Jamestown may not quite reach the lyrical heights of the cogniscenti when it comes to describing the delights of St Helena coffee.
Back in 2001, Neil Rusch said it had a "full and complex aroma with a balance of ripe fruit including blueberries and dark chocolate".
Pictured above is Coffee producer Bill Bolton of Rosemary Gate Coffee.
And Mark Galloway's Blacksmith Coffee Roastery in Kansas describes it thus:
With a delicate, muted aroma featuring cedar, molasses, orange, and pipe tobacco. The cup is sweet, with a lime-like citrusy quality. Wonderfully balanced with a bittersweet acidity and a mouthfeel that morphs from full-bodied to thin-bodied as it saturates the palate.  It finishes rich and sweet.
"The proof is in the cup," says Galloway. "Of all the exotic coffees we import, the St Helena is the Crown Jewel of them all.
"Most of our customers who purchase a bag of St Helena coffee for the first time experience a kind of sensory enlightenment. Very few don't order a second bag after that."
Even at $80 for a half-pound bag. 
For addicts, it might be cheaper to get on the ship and drink the stuff in Jamestown.  Be weary of this, it's expensive getting to the island and off it again – ZD7VC.
http://blacksmithcoffee.com/products/st-helena-sandy-bay-estate
https://www.seaislandcoffee.com/learn-st-helena-coffee
 http://dailycoffeenews.com/2016/08/30/starbucks-selling-truly-rare-st-helena-coffee-for-about-145-per-pound/

Aside from work my primary interests/hobbies are:
Ship Photography (Maritime Enthusiast)

Amateur Radio - of course

Growing Pineapples/Fruit Trees
would love to know more about small scale aquaculture.......so many interests and so little time!
I'm very interested in Metal Detecting which goes hand-in-hand with another passion which is currency collecting, coins & notes from everywhere in the world both old & new.    It sure would be nice to hear from anyone that enjoys metal detecting.
A strange trend has begun developing over the past six months and that is that a number of Amateur Radio Operators are sending me QSL cards for Peter -  ZD7FT, I am NOT ZD7FT's QSL manager, I just manage his QRZ web page.  Please direct all QSL cards for ZD7FT direct to him via his QSL information on QRZ.com - Thank You.
St. Helena Island is one of Britain's Overseas Territories
The qualifying territories are:
73's Bruce ZD7VC
�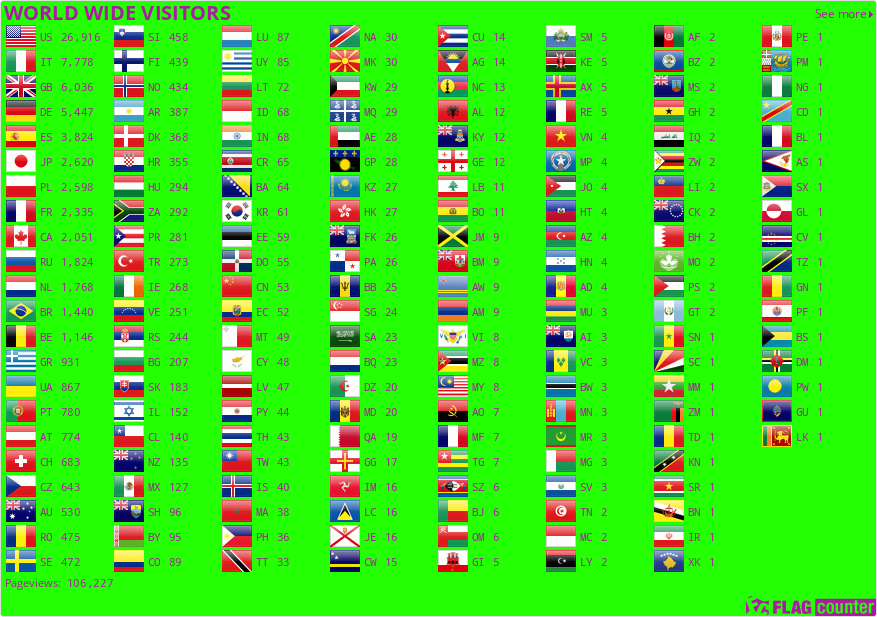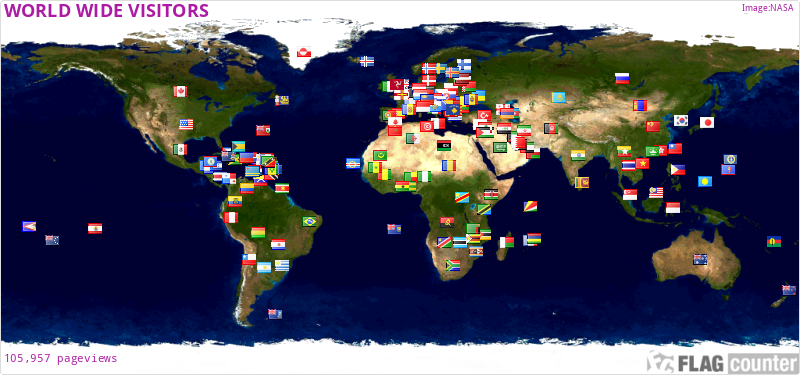 Large Visitor Globe
Large Visitor Map
Large Visitor Globe