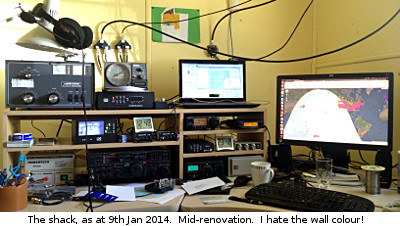 Hi-ho,
I'm a DXer, rag chewer, repeater clunker, digi mode operator, contester, CW learner, QRP portable op, antenna builder. I mostly use an FT-950 feeding a hex beam or fan dipole for 80-40-30. I use a few other rigs and antennas from time to time as I'm a bit of a fiddler at heart!
Thanks to everyone who worked ZM90DX while the KiwiDX group were QRV with the special event call sign.
Apologies if you've had a confusing QSO with me on CW. I'm getting there but occasionally send random garbage instead of well formed morse!  FYI: QRS means slow down, not speed up!  If someone is calling CQ at 15wpm, it's a safe bet they wont copy you at 45wpm!

I'm a member of the Kiwi DX group.
73 Chris.
QSL Notes:
Buro: I reply 100%, and send cards for non-dupe, non-contest Q's via the buro.  If you want a Buro card for a contest contact flick me a note, or use the free OQRS thingy on clublog.  I'm a bit behind on buro cards going out, but catching up!!! 
Direct: Please include two green stamps for postage. Sorry, no IRC's as it's getting very hard to cash them here in ZL.
LoTW: I upload regularly, once a week or so...
OQRS: Via the club-log tool on the right.
QRZ log:  Sorry, I'm not uploading to QRZ, but if you need a Q confirmed for something on here let me know and I'll sort it out. :-)
SWL reports are welcome.
---
---
Operating from the peak of Mount Herbert, RE66ih. This was on the 7th of December 2013 for a local VHF and up contest. Portable antennas for 160m through 70cm, and an awesome weekend camping trip. HF conditions were not that good but I made some nice contacts and learnt a lot about what i could leave at home next time!

I operated in the Worked All Europe portable using a Buddipole and FT-857 on 14th September 2013 for about an hour... This is what you'd call a shack with a view. :-)

Aurora Australis photos taken from home QTH on the evening of 15th July 2012. This was the weekend of the 2012 IARU world HF champs and the propagation was really weird down in ZL3 land. This explains why.