I am a retired pharmacist, married to Isobel. We have a daughter (with 2 grand-daughters), and a son. We live 12Km north of the town of Balclutha on a small block where we enjoy "the country life". From time to time I also operate from our old lakeside cottage at Lake Hawea, 250Km by road to the north-west of our usual home (Loc: RE45pj).
Born 1940, I was not licensed until 1976. I enjoy casual contesting and am very keen to work DX. I have 8-Band DXCC (80-40-30-20-17-15-12-10), and DXCC Challenge (1924 confirmed). DXCC total is 338 entities confirmed (332 current).
My log is loaded onto ClubLog several times each month. I strongly recommend you make sure you are in my log before requesting a QSL card.
Check to see if your callsign is in my log (last loaded 24 November 2017 - but you may need to check again up to 24 hours later due to ClubLog processing time) - enter your callsign and click GO:
QSL CARDS. You have 4 choices:
1. LoTW: I prefer QSLs via LoTW (Logbook of the World - http://www.arrl.org/lotw/ ) - for non-DXCC awards I may request a paper card.
2. OQRS: set up on ClubLog (http://www.clublog.org ) - costs you $US2.00 for direct, but nil via bureau (See 4. below) - your overall cost will be less   (See end of page for OQRS cards sent most recently via bureau)   Check your PayPal account to be sure it has worked - recently 1 or 2 PayPal requests have been incomplete.
3. DIRECT: with SAE + $US2.00 or 1 IRC (lowest cost airmail postage from July 1, 2016 is $NZ2.70). PLEASE NOTE: Cards received without $$ OR properly stamped and current IRC (= new Czech version and these MUST REACH ME BEFORE Dec 10 2017, otherwise only the Istanbul Version is acceptable), will go to the bureau. I always respond to direct QSL cards as quickly as possible - usually next day provided I am not away from home.
4. BUREAU: I send cards to the bureau only a few times per year (last packet sent to bureau 21June2017). Please note, if you have already asked for a QSL card using the OQRS, DO NOT send a "paper" card by the bureau. Also if we have previously exchanged QSL cards for a particular band/mode, DO NOT send or request another by the bureau - sorry but I do not need and will no longer respond to multiple requests.
E-QSL: No longer used.
QRZ Logbook: No longer used.
---
MY STATION:
My HF station is currently an Elecraft K3 (built April 2010 #4212 - since added 2nd Rx & P3 Panadapter). I have linear amps to 1Kw from 1.8 to 54 MHz.. I have Heil microphones with HC-4, HC-5, or HC-7 elements and a Goldline. My paddle is now a nice Begali so I must try to send better CW! Maybe some more Rx practice would help even more as I do struggle on reception!!
Antennas: 40m-6m: 3 element SteppIR beam (20m-6m) + 30/40m dipole, 17 metres above the ground (installed May 2007). 40m 1/4 wave vertical with 3 elevated radials all just over 2m AGL. For 30m + 80m + 160m: Wire dipoles about 15 metres up. I am planning to erect a higher wooden mast (~23m) to support something else for 80m & 160m (maybe a T or inverted-L with elevated radials). I am also experimenting with receive antennas for 160m.
At our lake house, I have only wire antennas supported by nearby trees. My radio path to the north-east is severely attenuated by mountains very nearby that rise steeply to 1500 metres above the lake (300m ASL).
I work Phone, CW and Digital and use all bands from 1.8MHz to 50MHz plus local VHF & UHF
My logging software is LOGic 9 - http://www.hosenose.com
For NZ County hunters, I live in the Bruce County #103. My home QRA Grid Locator is RE 43 vt. IOTA is OC-134 (South Island of NZ).
I am a member of NZART, secretary of Branch 35, South Otago - http://www.nzart.org.nz
Member/supporter of the Northern California DX Foundation - http://www.ncdxf.org
Member #7 of International Pharmacists Ham Group (IPHG) - http://www.malpensa.it/iphg/index.htm . My station is valid for IPHG Award.
Member of the Kiwi ZL DX'ers group - http://groups.google.co.nz/group/kiwidxlist - a good place to contact keen DX ops in ZL
Member #9691 of FISTS Club. Supporter of http://www.dx-code.org/
And for DX news I am a subscriber and a big fan of The Daily DX produced by Bernie McClenny, W3UR -  http://www.dailydx.com
PHOTO GALLERY:
Visit to Cook Islands July 2010:
   Cliff ZL4AS, Jim E51JD, Victor E51CG, Bob E51BQ                                           
                                                Frank W3LPL, Cliff ZL4AS (below):
Two of the ZL9HR team visited 22 Nov 2012: John 9M6XRO, Cliff ZL4AS and Gene K9GS:
Atsu 5W1SA, Pai and Cliff ZL4AS - visit 24 Dec 2013:
Bob VP8LP, Cliff ZL4AS & Janet VP8AIB visit Aug 2014:
Ted VK6NTE & Jenny visited via cruise ship Feb 2015 - We had a very quick visit to the Catlins area south of my QTH:
OQRS Cards sent to bureau 20 October 2017:
DL2BQV,EA5GL,FW1JG,IK3MLF,JA2JRG,KI4FUV,M0PLX/M (3),N0RQV (3),PA3FYG,PA0FVH,RU6B,SP4OLL,
SP8AJK(2),Z32ZM
OQRS Cards sent to bureau 21 September 2017:
DL2MIJ,DK4FP,EU1FQ,F5NKX,JA3FYC (2),JA0EVI,K5NOK,KB9EWG,RA3QSY,RY7G,RW3DD,SM7IUN (2),
VA3WNO,WB6EWM,YV4BCD
OQRS Cards sent to bureau 21 June 2017:
AC7AF,CE0Y/DF8AN,DJ8RS,IZ1PNT,JA2XLV,KM6CNF,RN1ON,RG4I,RZ9U,S58MU,TM3Z,UR6INY,V63AJ,VK5PAS,
WL7CXM,YU6DX,YU0TESLA
OQRS Cards sent to bureau 14 March 2017:
AE6YB,RW3AL,S57MPU,W7GF
OQRS Cards sent to bureau 10 February 2017:
GM8FXD,IU1FID,IZ2KXC,JJ1CKN,JA8BNP,JR8XXQ,KD9BOG,LU1QAH,OM5CD,OM6RM,RA4HX,RU5A,RX7T,
UR4LCB,UR5AMJ,VK2TH,9A5O
OQRS Cards sent to bureau 16 November 2016:
F4HJO,F6FTB,JL1EEI,JJ3OIX,JA0IXW,OE3HWC,UX2MF,RN2QN,RV9CX,RX9WN,UA0LUM
OQRS Cards sent to bureau 20 September 2016:
DG1VL,DJ2TI,EA5KI,IZ3KVD,R9FM,RX9FM,S51ZZ,UA3CS,UN5GM,UR3EA,UT7HA,W0AAA,YU1FE
OQRS Cards sent to bureau 22 June 2016:
DL1BWU,DL5RMM,DL5XU,ER1PB,F5MZE,JA1UTZ,JG3LGD,JO1WQX,JH3QMF,JO3AXC,JA7JND,JH7NXV,K3JJD,
KG5CIK,LU1ICX,LZ1NYK,M0BUX,OK2PMF,PD0ME,RK3SWB,RN3AOE,RZ3AR,R6NW,SP7GMI,SV1CEI,SV2/RW3AL,
SV7BIP,SY1BFI,UA3GT,US3GT,UX3IW,UR4LQ,UA6AGE,UT7HA,YO6DDF,Z35T
.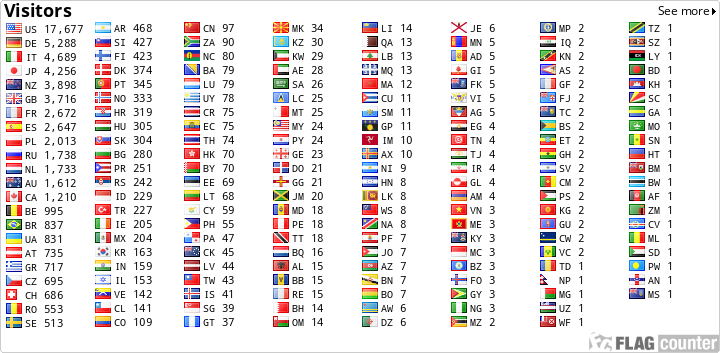 I like fly fishing
.

The largest trout I have ever caught - weight 8 pounds (3.63 Kg) - Like chasing DX, always hoping for more!
Gray Family Motto:
.
Rev: ZL4AS - Sun 02-August-2009 06:00utc