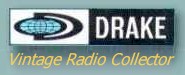 Just relocated to Kalamazoo from Florida.  Have not gotten back on the air yet.
Got a bite from the radio bug when I was about 10 years old and have never recovered.
I started out doing radio-tv-audio repair in high school.  Moved on to commercial radio when I graduated.  Stayed active in electronics and commercial a.m. and f.m. at several radio stations in PA and a few in VA until about 2002 when I relocated to Florida.
Worked for a major corproation for 20 years as an electronics technician and manufacturing engineer until their plant closed.  Worked for a German electronics company as a Sr. Manufacturing Engineer for 8 years until they closed their U.S. operation.
Served a short stint for a network before taking a job as Sr. Automation & Controls Engineer for a company in Florida until I was offered the Director of Engineering position for a component manufacturer.
Decided I spent way too long in unbearebly hot and humid Florida.  While searching to relocate back to VA I was offered a job as a Sr. Automation Engineer at an engineering company in Michigan.
When I moved to Florida and got out of broadcasting I had to do somehting to keep playing with transmitters and antennas even if they were much less powerful than broadcast transmitters and smaller antennas than multi-tower DAs. I decided it was time to get my amateur radio license.  That was 2005 and I've had a great time ever since.
I've also been in the fire service nearly 20 years serving in several capacities for several fire departments and emergency medical units.
I've been a fire, first aid, and EMT instructor as well as teaching PLC programming at VWCC and comany level basic electronics and troubleshooting.