Updated last:  Dec 325h 2017, 6:42 am UTC
For interest in our Multimode (D-Star / DMR / C4FM) activities please click here:    www.qrz.com/db/DB0EAT 
Hi, my name is Andy. Thanks for stopping by and thanks again for the QSO!
I got my ticket at the end of the 70s and work mostly 20m, 17m and 15m in SSB (love DXing) but also chatting a lot locally on 40 and 80 - I am NOT operating any contests and do NOT collect any QSLs - also not any rare countries or islands. Again, a nice Q4 or Q5 conversation is all what counts to me - no matter if you are from Berlin, Kathmandu, San Francisco, Christchurch ZL or from Guam, Nauru or Tuvalu Island. You are very welcome as long as it's not only "59 - good bye"!
My favorite DX-spots are below 14.200 KHz (US extra class segment) or 18.160 KHz (+/- QRM). Our 80m-chat room is 3.653 KHz.
Since early 2012 I also hold an US extra class "W6EAT". Whenever I'm back in the US I am also pretty active on 20m but also via D-Star (US-Trust, Reflectors 6C, 9C, 10C, 12A, 14C, 30C and during Hamvention on 38C - in addition I am running 3 Open D-Star Reflectors: XLX787, XLX747 and XRF747 ......meet us here:  http://xrf787.de or here http://xrf747.de
HF is by far my #1 activity and playground even when I´m also doing VHF/UHF D-Star (mainly mobile and portable) and sometimes even DMR or C4FM. I am still enjoying hamradio a lot - and will probably ever do. The suspended bands of swadling athmospheres and ionospheres will probably never lose their daily sexapiel for me :-)
Beginning 2012 we built our own D-Star Network in our county "Schleswig-Holstein" - today over 20 repeaters work permanently in our net (and several more joined us meanwhile)......I am owning 9 repeaters on 2m and 70cm today, hosted at 5 different locations, at my qth "DB0EAT", in Laboe near our capitol Kiel "DB0DMB", near Heide "DM0HEI", in Handewitt "DB0IR" near Flensburg and in Timmendorfer Strand "DB0MAR-B". In addition I am SysOp of 12 repeaters. Also I'm running my own reflectors since early October 2015 on XLX (XLX787 & XLX747) and on DExtra (XRF767). Especially XLX is growing fast and will see a new renaissnance.  XLX is our latest and greatest- so we are now using multiprotocol and are compliant with XRF, REF, DCS - DMR will follow soon. Watch us growing here: http://xrf787.de or here http://xrf747.de
Over the last 2 years I built several more repeaters for other locations and friends. If you are interested in some more detailed information please visit www.qrz.com/db/DB0EAT  
For more info about my US-call please wisit  www.qrz.com/db/W6EAT  In addition you'll find more information about some HF projects on my personal home page www.duessler.de
_____________________________________________________________________________________________________________________________________
Here are some pictures of "Radio Ellerhoop" as some of us call my tiny place :-)
My pretty compact Optibeam OB 9-5 does most of the jobs. It found it's home on my 70 foot (20m) motorized self supporting crankup - it's up there since nearly 15 years now. This beam replaced a KLM KT34-A and a Fritzel FB-53. I'm still very satisfied with its performance and ruggedness. There are no moving elements, no traps, no coils, no compromises and it handles any higher power with ease! In addition it has ideal spacing on each band and since its full size it has maximum possible bandwidth - band by band....all in all, not too bad! Last but not least - it's a German product with perfect support by Tom, DF2BO.
The only downside: It is an antenna made and optimized for our HAM-bands and it is only working there. It handles 5 bands but nothing in between, like SteppIRs do. But those have fixed element spacing and have lots of moving parts...they need maintanance and show weak front/back performance on the high bands.
Anyway, in our real world the take-off location, the height of the beam and certainly the ground conditions are what finally count - the brand and the technology are second!
My Playground ... and a couple more pictures for those of you who are interested:
HF: Icom: IC-7700, IC-7300, some IC-706MKIIGs, FT-817ND, Perseus SDR, some Powermaster IIs
HF Antennas: 80/40m horizontal loop, additional 40m vertical quad or loop in winter, Optibeam OB 9-5 (9 element / 5 band full size) up 20m on a 70 foot crank-up tower
PAs (HF): 2 x KSG 1300 (40 x BLW95), LV6 (GU43b), 8 x MRF157-PA (under construction), Ameritron ALS-500MX, HLA 300 Plus
PAs (VHF/UHF): 1.000W+ 2m ITB, 2 x 200W 2m Mirage, 120W 70cm Mirage, several Nokia 100W 70cm amps. 
Tuners: Some LDG AT-1000 Pros and LDG AT-200 Pros
D-Star /Multimode: Some Icom ID-5100s, Icom ID-51 plus, Icom ID-51, "blue" DV Dongle, "red" DV-AP Dongle with Pi as portable battery-powered 4G-hotspot, DV-Mega Dualband hotspot based on Pi, Blue DV with DV-Mega
D-Star mobil, Icom: Several ID-880, one in each car
C4FM: FTM-400D, FT-1D, WiRES X HRI-200-box
DMR: PD785G (Hytera), MD-390 (Tytera)
Multimode and DV-Repeaters: some DR-1XEs / several GM1200s / several FT-7800/FT7900s
VHF / UHF / SHF (FM): TM-741 w.23cm, FT-8900, FT-7800, some FT-7900s, TH-79
VHF / UHF / SHF Antennas:
Yagis horizontal:      2m FlexaYagi FX-224 
Yagis vertical:          2m FlexaYagi FX-205V  -  70cm 2 x FlexaYagi FX-7015 stack  -  23cm FlexaYagi FX-2304V
Verticals:                  2m / 70cm Procom CXL 2/70 C  -  2m Procom CXL 2/3 Cl  -  70cm Procom CXL 70/5 Cl
____________________________________________________________________________________________________
D-Star DExtra Reflectors:
* XLX747 reflector server [http://xrf747.de] based on Pi 3, model B , located in Itzehoe incl. "online double conversion" UPS
* XLX787 reflector server [http://xrf787.de] based on Pi 3, model B , located in Tellingstedt near Heide
* XRF767 reflector server [http://xrf767.de] based on Pi 2, model B , located in Ellerhoop
D-Star / Multimode Repeaters (10x): DB0IR-B; DB0IR-C; DM0HEI-B; DM0HEI-C; DB0DMB-B; DB0DMB-C; DB0MAR-B; DB0EAT-B; DB0EAT-C; DB0EAT-D 
SysOp of 12 repeaters in North Germany - Personal permanent support of 12 D-Star repeaters at 8 different locations: DB0EAT-B, DB0EAT-C, DB0EAT-D; DB0DMB-B, DB0DMB-C, DB0IR-B, DB0IR-C, DB0MAR-B, DM0HEI-B, DM0HEI-C, DB0BUX-B, DB0HCC-B and DM0BAM-C             
Repeater antennas (mostly commercial): Ellerhoop: Procom CXL 2/3 Cl, CXL 70/5 Cl, Procom CXL 2/70 C -  Laboe: Diamond X-200N  -  Handewitt: Procom CXL 70/5 CL  -  Timmendorf: Procom CXL 70/5 Cl  -  Heide: Procom CXL 70/5 Cl -  Buxtehude: Procom CXL 2/70 C  -  Neuhaus: Procom CXL 2/3 Cl, CXL 70/5 Cl  -  Bremen: Diamond X-200N
___________________________________________________________________________________________________
My most important toys - still the antennas:
The Optibeam OB 9-5, the loops and several VHF/UHF/SHF-antennas:
The Repeater antennas of  my repeaters DB0EAT-B, DB0EAT-C and DB0EAT-L are now on a new stainless steel construction on top:
My Loops:
The "DL6EAT Loop" is a dualband 40m / 80m horizontally mounted and EZ-Nec Pro optimized wire arial, the feed point is at >60 foot (18m). This antenna is my standard antenna for 40m and 80m. It performs pretty well for QSOs within Europe - not really good for DXing. Special on this design are not only some space savings but also having the rf current-maxs parallel to each other. This delivers some extra gain and low VSWR within both Ham-bands. This sounds pretty unusual as 3.650 KHz x 2 is outside our 40m hamband (7.300 KHz). 
This antenna got optimized by EZ-Nec Pro, is coax-driven and has a 1:1,4 high power home brew balun on top of the tower at it's feed point. The 2:1-bandwidth on 80m is roughly 150 KHz and on 40m about 300 KHz - so no tuning necessary. All my amps are fine working at full power and full duty cycle @ VSWR 3:1 (25% reflection) anyway.
This is my vertical 40m loop for DXing. Radiation angle is just 22 degrees - Note: Feed point is lambda/4 (10,45m) from the top:
My IC-7700 - a wonderful top performing DX hunter being many years in service now. I bought it when it came out first right after Hamvention in 2007. I am using this radio with external optional switchable pre-amp "RPA-1" made by DX Engineering. The amp has +40dBm intercept point but a better noise figure than the IC-7700. This helps a lot while working very weak signals. A friend and real DXer (he is one of the big guns in the US) gave me that valued input.
One of my other little gadgets. To be honest, I am very much enjoying the little new Icom: The Icom IC-7300 is a pretty capable radio and currently my second rig (even when I'm keen to test the new IC-7610 coming out soon). Together with my Perseus-SDR along with the software "Studio 1" I love to sweep the HF bands whenever conditions are not too bad....
Icom's remote S/W RS-BA1 controlling the IC-7700 and the IC-7300 with "live" Spectrum Scope and Waterfall:
"Studio 1" software for Perseus - a screen shot taken on 40m during day-hours.....not much QRM right now. With this S/W any HAM band can be either monitored (in any bandwidth or mode) or even recorded - maximum bandwidth is 1,8 MHz. Yes, you can record a full HAM-band and listen to all stations later - even change their mode or frequency while listening! So you could record the WWCQDX-Contest on let's say 20m and analyze it later - station by station. Have you done such crazy things before? Pretty magic......but this needs lots of disk space!
The Icom 7300 has it's own little amp - the Ameritron ALS-500MX boosts the signal a couple dB (to about +400W) whenever the big machines in my basement are sleeping. The LDG AT-1000Pro optimizes only little missmatches.
Nice option: It can also be used in my car or while portable since it is designed to run on 12 Volts:
My little RF-Lab in our basement - I love to work here :-)
The Amplifier Room also in our basement - no fan-noise or heat in my shack upstairs any longer....
On right of the picture you see 2 x KSG1300 cabinets - made by Funkwerk Köpenick, Berlin. Both are two commercial solid state amps also capable running in parallel. Originally they came from "Radio Nauen", a huge former radio station near Berlin. I was told they have had 8 of these cabinets as drivers - delivering 1 KWout @ 24x7. As you can see below driver #7 and #8 are still in business - now at "Radio Ellerhoop". The super big 81m high directional antenna below was one of four huge beams in Nauen - finally in service for "Deutsche Welle". Unfortunately I couldn't bring one of those babies home as well :-)
Both cabintes below are now equipped with 5 professional modern 1,5 KW EATON DC rectifiers each (10 in total) and could produce up to 4 KWout with 100% duty cycle in total. The purpose is a clean low IMD signal along with only 5 Watt of drive power from upstairs - very handy as there is no heat and noise in my shack any longer. The picture was taken while both doors of both cabinets are open. Both run on 3 phase 400V~ mains.
On left you see the legendary Russian LV6, a GU43b 2KW @ 100% duty cycle tube amp with home brew 3-phase 400V~ power supply underneath. This amp has 50 dB gain and delivers full output @ 20mW in......yes, 20 milliwatt! On bottom, underneath the P/S on the floor there is a prototype of a dual MRF157-Amp with build-in LDG AT-1000 Pro tuner. This is designed for 1 KW max.
My little mechanical workshop in our basement:
Currently my BIGGEST headache-project:
This new MOS-FET HF-amplifier is based on 4 modules with a total of 8 x MRF157.....The pictures below show my first 2 transistor prototype module - delivering pretty amazing IMD-values @ 800Wout. Key down Pmax is 1.25 KWout, maximum power dissipation is 2.7 KW - yes, per module! I am currently working on 4 of these modules and on the related low pass filters. Once this project is completed 4 of those amplifiers will be combined and will deliver cleanest legal limits 24x7 even in Class A. Pmax for dummy-test will be 5 KWout key down - no time limits.
This first prototype was just built for tests & measurements:
A closer look to the huge 2 x MOSFET MRF157 of my prototype module - 1,25 KWout along with 2,7 KW(max) dissipation:
The beginning: A week and several coffees later the mechanical stuff got finished....Heavy heat sinks and copper spreaders are now married, 10 fans have been mounted as well. Believe it or not - the metal of the 4 new cubes alone weights over 33 Kg (73 pounds):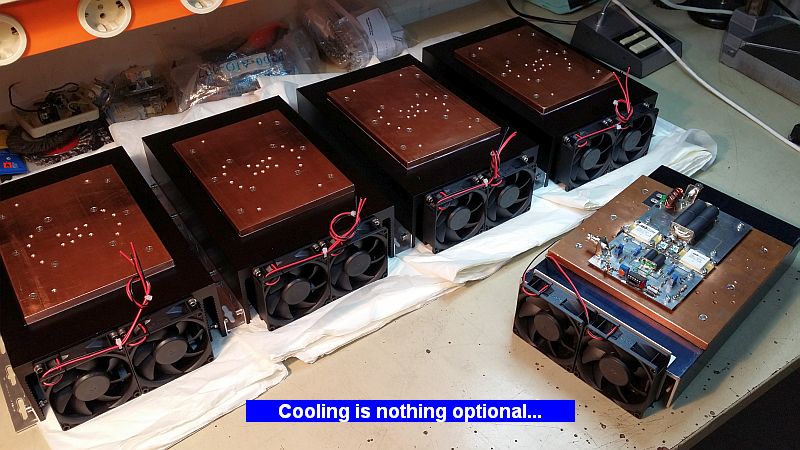 The big new heat sinks (on right - made by Fischer Elektronik) have some more meat and ripped material too in order getting rid of all the heat fast. The prototype on left looks a bit thin & lousy :-) But the prototype was not constructed for full power key down tests with no time limits.
Will be continued....check here again from time to time....
____________________________________________________________________________________________________
Certainly Hamradio is not my only hobby - there are a couple more....unfortunately my time is limited :-) I love vacationing with my family but also driving my flying brick as the Brits call my motorbike :-)
Here is my 4 cylinder BMW K1200RS - nice 1200cc with lots of torque.....I am driving this baby since 2001 and have even been on Sicily Island with my wife Sabine - all the way from North-Germany.
Below with Dirk, DL4BAM (on right). Picture taken during our last tour 2013 in Dorumersiel:
And here is our final trip in 2014 on October 4th: After visiting Jens, DK8MIL and Reinhard, DL6BC we moved on to the North Sea coast...
Dirk, DL4BAM (on left) and Chris, DL6CL (on right) in Wilhemshaven.......Banana-Boat Ice-Cream at its finest!
Ready to start our trip back home - what a great day in Schlicktown-City!
Dirk, DL4BAM (on left)   -   Christian, DL6CL (middle)   -   Andy, DL6EAT (on right)
Heading back home - here on ferry Blexen-Bremerhaven crossing the Weser river...
Hope to meet you on HF (in SSB) or on VHF/UHF (in D-Star via XLX787 or via XRF747) - or in person during one of the bigger HAM-fests like Hamvention in Dayton, HamRadio in Friedrichshafen or Interradio in Hannover! I most-likely attend the big 3...
Again - thank you for stopping by...
God bless, 
73,
Andy
DL6EAT  -  W6EAT