E31A  QRT!
The FGC Radio Team from Eritrea between 14-23 JAN 2018
Good guys!
Zorro JH1AJT and the E31A Team will commemorate the upcoming operation in memory of Dave, K3LP
Zorro JH1AJT will travel to Asmara, Eritrea with Franz DJ9ZB, Dima RA9USU, Yan RZ3FW and Champ E21EIC. They will be on CW, SSB and RTTY on 160m-6m. Main purpose of this trip is to support the Eritrea National Olympic Committee (E.N.O.C). SEISA's group will "coordinate pre-game a training camp" for the Tokyo 2020 Paralympic Games and select students for a scholarship program at the SEISA Kokusai High School and University.
QSL          :  JH1AJT
           Zorro Y. MIYAZAWA
                  P.O. Box 8 Oiso
                  Naka kanagawa 255-0003
                  Japan
 OQRS will be available at Club Log after his return to Japan.
Zorro's operation is a part of his humanitarian activities to support Eritrea and people there as explained below. 
It will be highly appreciated if you would assist him with your goodwill:
Paypal Account   :  
paypal@fgc.or.jp
The E3 is well known as one of the most rare countries. 
The entity still remains not open to Hams and DXers of the world. 
Zorro's operation is regarded as an exception. 
His permission is officially granted by the authorities of the Eritrean Government in charge, but it is not given to the person simply working for the amateur radio only. 
Looking at the background more closely, we see that Zorro has implemented lots of humanitarian aids purely for the sake of the country and its residents which have nothing to do with the amateur radio and that they are highly evaluated and appreciated by the authorities. 
Here are the latest news on Zorro's support / exchange activities during his visit to Eritrea in this May;
Mr. Zorro invited to the President' working place:
After having seen off Dako-on members at the Asmara Airport in the early morning of Friday, May 26, Mr. Miyzawa has suddenly received a phone call from the Commissioner for Culture and Sports, Abassador Mr. Zemede Tekle saying "the President wants to meet him."  In a half hour, he has been picked up by the Commissioner.  Contrary to the expectation, the car has run out to a suburb, instead of going to the President's palace in the downtowm.  They have gotten out of the car in about 40 minutes in a green area with a dam under construction.  There is a very simple small house, about 10x5m.  According to the Commissioner, the President works in the morning time here, while checking the construction of the dam and considering other significant issues.  Having warmly invited inside his working house, the President has expressed his gratitude for the cooperation made by Mr. Miyazawa so far in the area of sports and cultural exchanges.  He has continued stating that Eritrean does not expect a big investment from overseas and that Eritrea finds it significant to build up a people-to-people relationship with other countries, step by step but continuously,  and in this regards, what Mr. Miyazawa and his organization have done so far is admirable.  This has been the moment that what FGC/SEISA have aimed at so far has a universal value and has been well accepted in Eritrea, too.  The meeting has continued for more than one hour, exchanging views and opinions about various areas under a very frank atmosphere.
Having left the President's working place, Mr. Miyazawa has seen another big construction site close to the dam.  According to the Commissioner, it is an agricultural-related plant for which the dam will be used, too.  Both have quickly agreed upon to talk to the Ministry of Agriculture.  In less than one hour, Mr. Miyazawa has been welcomed by the Minister for Agriculture.  After some discussions, Mr. Miyazawa has offered a chance to train Eritrea's possible agricultural leaders in Japan, explaining the institute operated by a Christian organization for African and Asian countries.  The Minister has shown an interest, too.  Both have they have agreed upon to keep in contact in the future, too.
Zorro explaining his organization and Eritrea-related activities
Before the dam construction site
President (in the center) and Zorro warmly shaking hands
With the Minister for Agriculture in his office
Friendship between Eritrea and Japan has come to next stage !
The 3rd concert of Dako-on has been held on the evening of Thursday, May 25 at Cinema Roma which is very famous in Asmara as the historical building well maintaining the art deco style.  Today, however, it has become the mecca of Japanese culture and FGC/SEISA.  The organizer has started his opening speech, referring to Asmara's thanks to Zorro who kindly arranged the delegation of this distinguished Japanese drum team.  During the concert, the audiences have been fascinated again by Dako-on's outstanding performance and spirit.  But they have been impressed even more with the heart of Zorro ako-on Team members very eager to build up a friendship with Eritrea and its people.  Pushed by the thunderous applause, Zorro has come up to the stage in the end of the concert, and has received big hands again from the audiences.  Taking that opportunity, he has asked the Commissioner for Culture and Sports, Ambassador Mr. Zemede Tekle to come up to the stage, too, and has donated two pieces out of the Japanese drums used to him in order to commemorate Dako-on's successful visit of this time and also to thank Asmara/Eritrea for having warmly welcomed them.  He has closed his words, hoping Eritrean will become more familiar to Japanese and vice versa, and he also has reconfirmed he will continue making further efforts to realize the aim to the best of his ability.
Prior to the concert, Zorro and Dako-on members have been invited to the luncheon by the Commissioner.  He has kindly offered a coffee ceremony at a modern but traditional restaurant, and has given a present to each member from his own hand, expressing his personal thanks.
Very early morning of the day after, Dako-on Team has left Asmara with lots of memories.
Cinema Roma featuring its unique facade
3rd Concert held at Cinema Roma
Zorro donating two drums to Eritrea
Mr. Watanabe receiving a present from the Commissioner during the luncheon time
Just before leaving Asmara Aiport
Highlight of the In dependence Week:
Eritrea's Independence Week has reached the highlight with the official celebration held by the Government at the Mecca of Sports, Asmara Stadium, on Wednesday, May 24, from 16:30 through 18:30.  Our partner, the Commissioner for Culture ad Sports, Ambassador Zemede Tekle, has delivered the opening address in both Tigrinya and Arabic, followed by the speech of the President.  All SEISA delegates have been invited to the VIP seats.  Especially Zorro has been offered a seat among diplomatic delegations, which clearly shows how important the Government regards him and our FGC/SEISA.  On the turf field well maintained, a history of the country has been shown in the form of a drama; i.e. suppression in the colonial era, many years of tough war for liberation, independence, boarder conflicts, reconstruction, and so on.  This history is understood by young generations, too, however, it may be doubtful whether they really understand it as the history of their own country.  It seems the Eritrean Government tries to teach it to them repeatedlyt by taking every possible opportunity because they must bear the future of Eritrea on their own back.  The ceremony has come to the end with the scene that all the nine ethnic groups are making efforts jointly and peacefully to further develop the country toward the future.  It seems this has become a good opportunity for the young members of Dako-on Team to reconfirm their responsibility for the society,
Opening address by the Commissioner for Culture and Sports, Ambassador Mr. Zemede Tekle
Speech by President
Zorro in the VIP area of diplomatic delegation
Liberation achieved, but still hardships waiting
All the nine ethnic groups making efforts jointly and peacefully to further develop the country
Learning Asmara and Eritrea more !
Asmara/Eritrea is now in the middle of the Independence Week.  In appreciation for their contributions, Zorro and Dako-on Team are invited to various events taking place on that occasion.  
On the evening of Monday, May 22, they attended the parade held on the main street of Asmara.  When it started getting dark, they sat in the front of Cinema Asmara where Dako-on had made their 1st concert, together with leading members of Eritrean Government and ruling party including most ministers.  The parade showed the history of the liberalization continued for more than 30 years under tough and severe situation, followed by the peaceful, harmonious relationships of Eritrea's nine ethnic groups.  For all the Dako-on members who had grown in the peace, it must have become an unforgettable evening in a meaning different than the concerts.
On Tuesday, May 23, they were also invited to two community festivals, accompanied by the Commissioner for Culture and Sports.  Within Asmara there are a number of regional communities.  In each community residents get together and cerebrate on any occasion together, peacefully regardless of ethnic groups and religions.  Especially a festival for the Independence Week is celebrated in a bigger scale.  All our members had pleasant time in both the places, enjoying local foods and drinks offered.  They also enjoyed various ethnic dances.  According to the Commissioner, there were at least six ethnic groups in one place.  They really enjoyed the festival peacefully.  It is easy to say, but difficult to materialize in the real world.  It also leads to what FGC/SEISA Group have looked for and will continue looking for.
Dako-on, a traditional Japanese Drum Team in Asmara/Eritrea
Supported by FGC/SEISA Group, a traditional Japanese Drum Team, Dako-on having enjoyed a number of praises, is now on the way to Eritrea located in the horn of Africa.  The delegation consisting of eight players and one official, is headed by Zorro and is invited by the Eritrean Government to the 26th Independence Day (Wednesday, May 24).  They are scheduled to show performances at its official events.  In addition, they also plan to hold some fraternal events with children and residents.  We are confident this will be a good opportunity to make Japan more familiar to the people of Eritrea and also to further strengthen the tie between both countries.
Asmara - fascinated by Dako-on !!
On the evening of May 19 (Friday), the 1st concert of Dako-on has been held at Cinema Asmara, a historical opera house of Eritrea.  In his opening speech, the Commissioner for Culture and Sports, Ambassador Zemede Tekle, has addressed his special appreciation to Zorro, referring to the contribution made by FGC and SEISA Group.  The concert has been attended by most of the cabinet members of the Eritrean Government, including Vice President, Minister for Foreign Affairs and Minister for Finance.  In the beginning there has been incongruous atmosphere among the audience.  In the course of time, however, the entire audience has been attracted and fascinated by Dako-on's performance, which has finally led to the standing ovation of the entire hall.  It has clearly been the moment that FGC/SEISA and Japan have been well accepted in Eritrea, too !!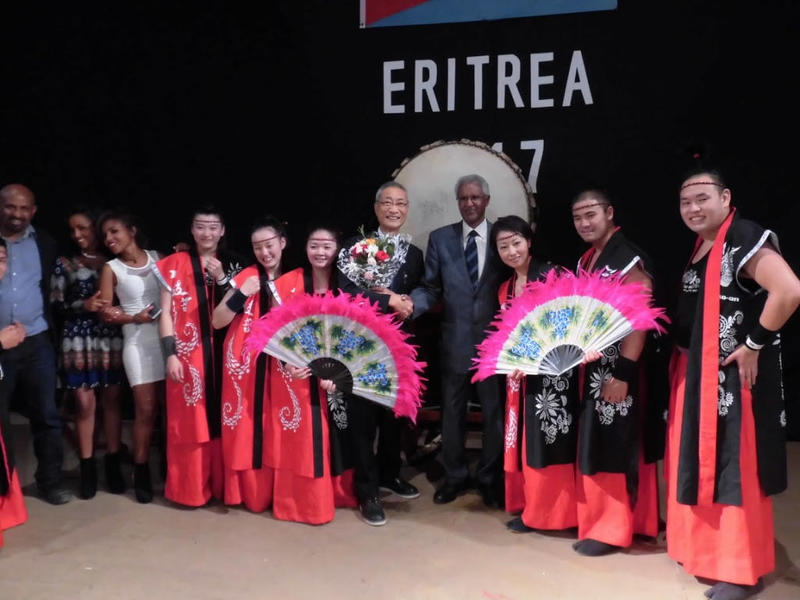 Dako-on playing for disabled veterans and their families:
In Asmara there is Denden Camp where ex-solders who got injured during the independence war and their families live.  Under the initiative of Zorro, Dako-on Team has visited the place on the afternoon of Saturday, May 20, and has shown their performances there.  The Minister for Labor and Human Welfare has also attended and enjoyed their Japanese drum play.  Especially children have been fascinated and very happy with the performances.  The drum team has also invited the children to play the drums by themselves.  In the beginning, it has been a chaos, but after some friendly and repeated instructions, they have gotten used to play together (to a certain extent !).  It seems that Dako-on members have been impressed in a different way, other than the official concert of yesterday, seeing the reality of the war.  But they have surely been encouraged by the people living with a strong mind despite difficult environments.  At the same time, they have reconfirmed their thought remaining unchanged in their SEISA spirit since the establishment, i.e. "Understand each other", "Leave nobody out", and "Make friends".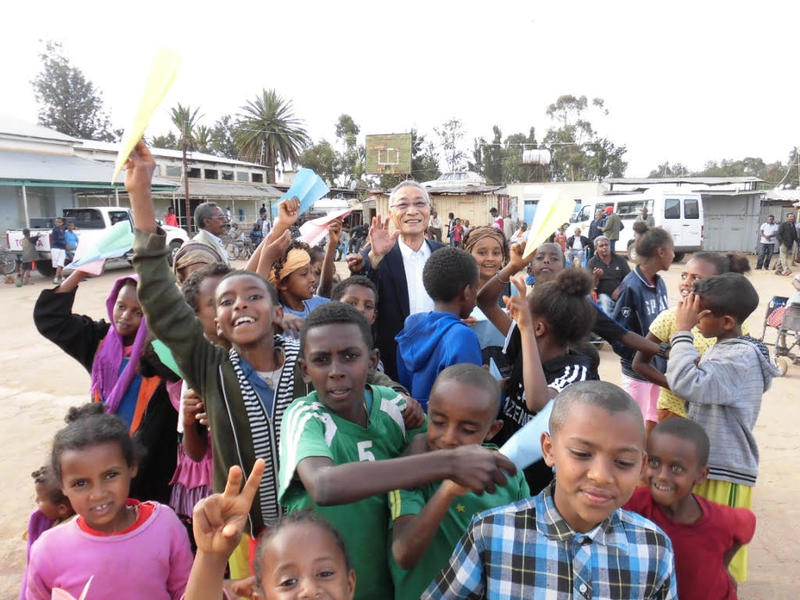 Support in the Tokyo 2020 Paralympic Games
Mr. Miyazawa, Founder of FGC/SEISA Group, has had a meeting with the board members of the Eritrean National Olympic Committee (ENOC) and the Eritrean National Paralympic Committee (ENPC) on the morning of Sunday, May 21.  Various issues have been discussed.  Then, it has been confirmed that Eritrea will participate in the Tokyo 2020 Games with a strong team, more powerful than before, and that both parties, ENOC/ENPC and FGC/SEISA, will further strengthen the cooperation.  In this conjunction, special appreciation has been addressed for the unrelenting supports made by FGC/SEISA Group for many years.  Especially, the Tokyo 2020 Games will be Eritrea's very first participation in Paralympic Games; it will be a turning point in the history of Para-sports of Eritrea.  So Zorro has confirmed his further supports, even stronger supports, and in this connection, he has made a donation to ENPC.  Following this, he stated his assistance would aim not only at the success at the Tokyo 2020 Games but also at giving a dream(s) to Eritrean children/youth regardless of having impairments or not.
ENOC Board on left side, ENPC Board an right side
Donated to ENPC Board
Japanese drum performances in the open air
Dako-on's 2nd concert has started at 7:15 on the evening of Sunday, May 21.  All the members have been on the stage tentatively built on the pedestrianized main street of Asmara.  The historical town has just started being veiled in the dusk.  The message of the "26th Anniversary of Liberation" has become visible clearly in the illumination decorating the street.  People have enjoyed walking in the quiet comfortable evening.  
Suddenly Japanese drums have sounded through the street.  Surprised at unfamiliar big sounds, people have stopped and have getting together around the stage.  In a few minutes, Dako-on has had hundreds of audiences.   Like the 1st concert, all of them have enjoyed the drum performances and the Japanese culture for one and a half hours.  It has been another evening Asmara and Eritrea have felt FGC/SEISA's activities closer through the Japanese traditional performances.
Since 1993, Zorro has developed friendship with Eritrea through various supporting activities.
Below you will see the example;
1993 - :
The country was still in utter confusion after the liberalization war of more than 30 years. 
Zorro came to Asmara as the first Japanese after the independence, and conducted radio operations with the official call sign, E31A, together with an international team.   
What he saw there was a completely exhausted poor country.  But people were motivated and encouraged to build up a new society for themselves. 
Highly impressed, he started a vocational training program, so that people, especially young people, could become independent economically, too. 
Very unfortunately, boarder conflicts with neighboring countries happened again, and consequently his activities were affected. 
But his heart remained given to the country and people there, then the time for revitalization came.
2014 - :
In 2013, the 2020 Olympic/Paralympic Games were decided to take place in Tokyo. 
In this conjunction, the Japanese Government tried to encourage more countries and more athletes to participate. 
Requested by governmental officials, Zorro resolved to support Eritrea, remembering that his previous activities had not gone through contrary to his will. 
In September 2014, he visited Asmara again after a long while to sign a MoU "Eritrea-Japan Sports Collaboration" with the Eritrian National Olympic Committee (ENOC), accompanied by the State Minister for Foreign Affairs, Mr. Kiuchi. 
Since then, he has vigorously implemented various activities as shown below:
Zorro welcomed by President.
Zorro signs MoU "Eritrea-Japan Sports Collaboration" with Eritrean National Olympic Committee in the presence of Japan's State Minister.
Zorro encourages wheel-chair basket team.
Zorro with boys/girls playing football.
Zorro arranges build-up of partnership between Eritrean National Athletics Federation and Japanese counterparts.
Zorro offers pre-games training camp at his facilities, supported by Kanagawa Prefectural Government and other municipal governments.
Zorro invites young athletes to a competition in Japan.
Ghirmay, a young Eritrean marathon runner wins at IAAF World Championships 2015.
Two Eritrean boys start learning at Zorro's high school as of January 2017.
​
Zorro receives a token of gratitude from the Commissioner for Culture and Sports of the Eritrean Government.