I live in Syracuse City near Greek Theater (east part of Sicily Isl. IOTA EU-025)
My licenze was 1993.
I have several hobbies. The most important are:
- I like radio portable activities for different award : IIA - DCI - ARLSH - IFF etc. , also Contest Activities and see magic band 6 Meter.
- I am marathon runner . I am taking part in long distance races 100 km .
Portable Activity  - Attivazioni in portatile  call  
IQ9SY
ARLHS ITA-035    WAIL SI-07
ARLHS ITA-070    WAIL SI-44     dci SR-002
            Faro Capo Santa Croce                                                                         Faro e Castello di Brucoli                              
DCI SR-18       

Mura e Porta Dionigiane                          

IIA S-025

ortigia isl.    

DCI SR-12

 Forte Giovannello
                          attivazione del 03.09.2017                        

DCI SR-013

Fortificazioni Spagnole  del 10.9.2017                                    
ARLHS ITA-03 WAIL SI-09
faro Caderini                                        
DCI SR-041
 Torre del Teatro Greco
DCI SR-78
Armenia ,
IFF-489
R.N.O. Ciane e Saline                                          attivazione del 27.08.2017
attivazione del 20.08.2017
ARLHS ITA-249  WAIL  SI - 45
  ARLHS ITA-062  WAIL SI-008   DCI SR-052
Faro Punta Giannalena 
 del 29.07.2017                                           
  Faro Dromo Giggia and Torre del Cantara del 13.08.2017 
DCI SR-040

torre della Pizzuta del 16.07.2017  in cw operation              

  ARLHS ITA-29  WAIL  SI-011  IFF-1295

 
                                                                                                                       faro Murro di Porco  del 23.07.2017
IFF - 488  riserva natur. Pantalica, Valle dell'Anapo  del 24.06.2017     IFF - 487   DCI SR-004   DLI IT9-072 e IT9-054     del 08.07.2017
IFF - 490

 riserva naturale Integrale Complesso Speleologico              

  IFF - 486

riserva naturale Cavagrande del Cassibile 17.06.2017
                Villasmundo S'Alfio 10.06.2017
IFF - 680   riserva naturale integrale Grotta Palombara 06/05/201            IFF - 689 riserva naturale integrata Grotta Monello 13/05/2017 
IFF - 489  riserva naturale fiume Ciane e Saline di Siracusa 20/05/2017    IFF - 533 riserva naturale orientata Saline di Priolo 27/05/2017
        IOTA  EU-025
Radio - Officer in the italy merchant navy
and
Augusta radio P.T. Operator
ship    Dora Baltea
ship Freccia dell'Ovest
 ship Freccia dell'Ovest                  ship Mare Equatoriale
Military
AUGUSTA RADIO P.T.   IQA
 RACE  - CORSA
Race  43 km     ETNA                                                                     Race    Il Passatore
race    Augusta                                                                                 Race   IL Passatore
race il Passatore                                                                                 race il Passatore
Race il Passatore                                                                              Riconoscimento inorc
VIDEO ULTRA MARATHON
( 100 km del Passatore 2012 from  Firenze to  Faenza )
VINCENZO  e  EMANUELE
( 100 km del Passatore 2013 from Firenze to Faenza )
VINCENZO e  RAFFAELLA
( 100 km del Passatore 2014 from  Firenze  to Faenza )
VINCENZO  e  EMANUELE
( 100 km delle Alpi 2011 from Torino to S. Vincent )
(100 km delle Alpi 2013 from Torino to  S.Vincent )
 Web Site : http://it9nva.jimdo.com/
  E-mail : it9nva@alice.it
 Facebook : Altamura Vincenzo
 Skape : it9nva
---
address : ALTAMURA VINCENZO
Via San Metodio 26
96100 SIRACUSA Sicily isl. ITALY
�
loc. JM77PB
---
---
CONTEST
Interface Home made
DXCC  6  meter
Worked 138 ---- Confirmed 107 ---- Wait 31
ALL COUNTRIES AND STATES THAT HAVE VISITED THIS PAGE SINCE 03 SEPTEMBER 2012

award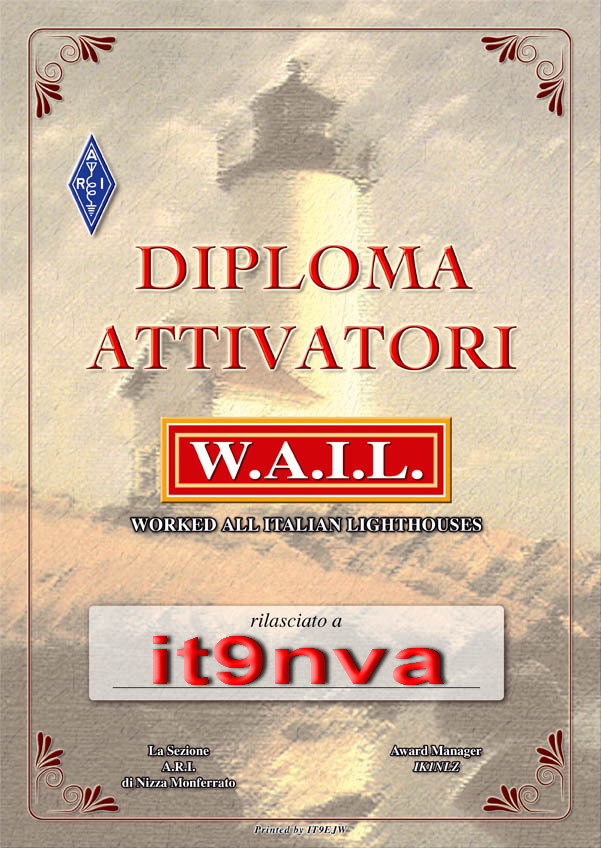 QSL