The Menasco Amateur Radio Club
Also known as Club KC5NX
 KC5NX
Menasco Manufacturing Co. was the result of it's creator, Al Menasco, aircraft engine designer and manufacturer, designing, developing, improving and manufacturing shock absorbing, retractable aircraft landing gear beginning at the start of World War 2. More than 80,000 gear sets were produced during WW2 that included such honored aircraft as the Lockheed P39 Lightning, the North American P51 Mustang, the Republic P47 Thunderbolt, and the Lockheed P80 Shooting star.
From Aircraft Engines to Landing Gear
The " Pirate C-4 and a 1934 Ryan S-T-A powered by a 125 HP Menasco engine
Shifting from Military landing gear to include also the Comericial market
Beginning about 1946 the manufacturing of landing gear was shifted to include the commercial airlines. By the end of the 1990s Menasco Aerosystems was the free world's largest producer of aircraft landing gear with plants in California, Texas and Canada. The extremely talented and disciplined work force produced gear sets for everything that flew. A few of the aircraft that gear sets were made for include the A7, F102, C141, C130, the space shuttle, F-16, F-16E, F-117, F-18, F-18E, YF-22, B-1, C5A and C5B, B52,and the KC135. Gear sets for Boeing include the 707, 727, 737, 757, and the 777. Sets were also made for the Lockheed L1011 and others. To repeat myself, if it flew, Menasco built the landing gear for it.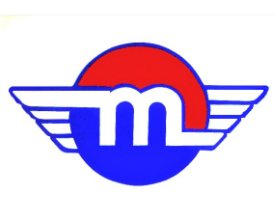 The
Menasco "Flying M" was the logo of The Menasco Manufacturing Company starting about 1936
The amateur radio club
The Menasco Amateur Radio Club was formed in 1994 at the Menasco Texas Division with 15 charter members as an employee recreational endeavor and to afford Skywarn communication capability to the local Dallas / Fort Worth, Texas area. The call sign, KC5NXA, was assigned by the FCC in April of 1995. Menasco Aerosystems bought the equipment and furnished a 28' mobile office to house the club station and its related equipment which included a full VHF station, a full HF station with tower, rotator, and beam antenna. The club had emergency D.C. power for backup and on several occasions supplied emergency communications during severe weather. We ran several Special Events on company property including a 50th anniversary of the company, an Open House at the plant and a Worked all States Effort.  The Texas plant was shut down October of 2000 and moved out of state.... "The Club" purchased all the ham related equipment from the company. The club has remained active except for brief periods for the last 23 years -
on August 16th , 2013 our call sign was changed to   KC5NX
The clubs's main purpose is now to operate as a Special Event Station ---
below is a list of our past Events.... !
Johnson County Courthouse Centenial         K5C          November 16, 2013 ---    399 QSOs
The Battleship Texas 100th Birthday            K5C         March 12, 2014 ---          847 QSOs
Veterans Day -"Thank you Veterans Day"    N5VET     November 11, 2014  ---- 480 QSOs
Battle of the Bulge 70 Year Memorial          W2B         December 16, 2014  ---- 2,155 QSOs 
The Battleship TEXAS's 101st B'Day          W5W        March 12th, 2015  ----    197 QSOs
Memorial Day 2015                                      K1A         May 25th, 2015       ------700 QSOs
Texas Independance Day                              W5T         April 21, 2016  ---------  546 QSOs
Memorial Day 2016                                      K1A         May 30th, 2016 ----------1,034 QSOs
July 4th - 2016                                               W4J         July 4th, 2016-------------  124 QSOs
Veterans Day                                                 N5VET     Nov. 11th 2016------------ 196 QSOs
128th Anniversary of the Texas Flag            K5T           Jan. 28th, 2017 ------------113 QSOs
Chisholm Trail 150th anniversary                W5A-W5G  April 25-30th 2017 ------ 1,318 QSOs
Memorial Day 2017                                      K1A           May 25th -30th 2017 ------  603 QSOs
July 4th - 2017                                              W4J           July 1st -5th   -----------  423 QSOs
Veterans Day -2017                                      N5VET   November 08 to  12th  ------- 834 QSOs
Pearl Harbor Week - 2017                           W5W      December 03 - 10th   - --------300 QSOs
Below is our most recent "Special Event" QSL cards
          Coming up next the 104th birthday of The Battleship TEXAS 
March 07th -13th 2018
operating @
https://dxwatch.com/dxsd1/dxsd1.php?f=0&c=kc5nx&t=dx
E-Mail to KC5NX.radio.club@GMAIL.COM
ARRL WAS # 57,724  Nov.21 2013
Please see below some of many wonderful landing gear manufactured...
       F16 Nose Gear                                                        F16 Main
  Boeing C5B Main Gear installed                     Space Shuttle Nose Gear outer cylinder
               SSO / fuel tank attach fitting