KL7USA
Anchorage Alaska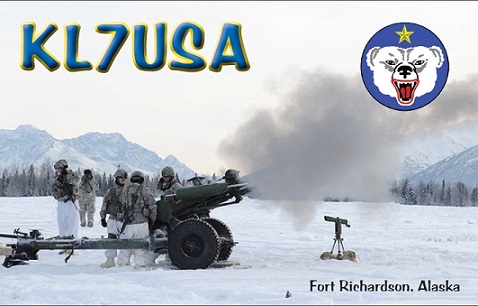 (Kilo Lima Seven United States Army)
Elmendorf Amateur Radio Society (JBER Radio Club)
See the primary website at http://kl7air.us
NOTE the mailing address is in the process of changing at the FCC.  Please send QSL Cards to this address now:
ARS KL7USA
C/O KL7YK
7702 Linda Lane
Anchorage, AK 99518
PLEASE NO IRC'S!  US POST OFFICE DOES NOT REMEMBER HOW TO REDEEM THEM THUS THEY ARE MORE TROUBLE THAN THEY ARE WORTH.
We are a two call club, one Army and one Air Force call. This is the Army call.  This call was fist assigned to Signals on Ft Richardson AK in 1953, been in use on post since.
KL7USA is a YL System member- 3656
See our primary website at "http://kl7air.us"