(in the picture at top right above - Jr Ops Snickers and Reese)
Register for the 2018 Antique Radio Charlotte Conference! 
March 22-24, 2018
Come Join Us!
-----
Sherrills Ford North Carolina is 20 miles north of the city of Charlotte, and lies along the banks of the Catawba River, now Lake Norman (the dam was built in the early 1960s). Before Lake Norman, the Sherrill family operated a ford across the Catawba river in this area. 
There is a lot of history under Lake Norman, including a recently discovered sunken single-engine floatplane!
-----
My modern station currently consists of an Icom IC-7300, MFJ Versa Tuner V, ALS-500 solid-state amp and also a Kenwood B2000 (TS-2000) as a backup rig for VHF/UHF, portable and mobile use. I also use an iMac running fldigi with the IC-7300.
Antennas are a 43' vertical and two end-fed half wave (EFHW) antennas, one 125' long for 80-10 and a 250' long one used on 160, 80, and 40.
I enjoy participating in the Old Military Radio Net (OMRN) Saturday mornings 0500 - 0700 Eastern on 3885 AM.
and the Old Friends Net Sunday afternoon 4PM local time on 3715 also AM modulated.
And last but not least nightly around 1888 @ 830 PM on SSB with Steve N4LQ, Haney K2XN, Stefan NC4ON, Gary KE4SCJ, Meir WF2U, Jon K1VVC, Jim K4DEE, Charlie W4MEC, Glenn N4AK, Reed W2CQH, and interested others.  Come join us!
-----
My latest project is a NVA or VC-used and Chinese-made X-D6 transmitter/receiver captured in Vietnam and brought home by US Army Chaplain Major Paul E. Phelps (K8PEP, SK).
Provenance here: https://drive.google.com/open?id=1iTUTEqfH2KmHE-NiGMT-J4DhvXmMBK7r
This radio tunes 2-10 Mhz CW and AM and is a copy of the American GRC-9 radio.
-----
Below are some heavy metal radios waiting
in the garage 
for warmer weather and retirement.
From L to R:
1950 Rohde & Schwarz FAA AM/CW transmitter, single 4-400 modulated by a pair of 4-125s
FRR-37 Navy HF receiver (tunes 2-32 mhz)
SRT-14 Navy transmitter, single 4-400 modulated by a pair of 4-125s, tunes 300 khz to 26 mhz
Thanks to Steve N4LQ's YouTube video skills you can hear and see the FRR-24 in operation:
Friends are what it is all about, and stories are the spice of life...!  I think that's why I like ham radio so much, it provides the opportunity to meet and interact with interesting people with common interests, different accents, and great stories.  And coming across a few interesting radios along the way doesn't hurt either.
Steve N4LQ is a true ham, always doing something new with his Icom IC-7300 or changing his antennas - and then telling us all about it to educate us. Steve likes end-fed half-wave (EFHW) antennas. Steve also makes videos and posts them on YouTube.
-----
William W4BZ (ex-W4PER) is ex-RCA and a PE in the broadcast industry and was a communication officer on the USS Barton (DD-722) during the mid-late 1950s (and did his midshipmen's cruise on the USS Wisconsin BB-64).  William loves to educate others (including me!) about RAK/RALs and RBAs, RBBs, and RBCs and the other radio gear on the Barton.
-----
Dave N4XO is a storehouse of knowlege on anything ham radio-related AND life in general... if you ever need a good story on just about any topic just ask Dave - seriously!
-----
Haney K2XN is the voice of the Rock Hill SC hamfest and was a CBS News reporter in Southeast Asia during Vietnam.  Here's a local PBS video segment about his experiences:
-----
Here are more old friends at the 2010 Shelby N.C. hamfest: Wayne KU4V, Nyles KS4S, and Tom W4JZA.
-----
John Runski K4JCR is my good friend and neighbor and is also a Vietnam Army vet so we have lots to talk about.  John is a patient and thorough restorer of stereos and speakers and boatanchor receivers and is a master at repainting, especially black wrinkle.  He especially likes "Howard" receivers which are fairly scarce in the U.S. but seemingly more common in Canada.
-----
Ron W4RON and Robert KD4HSH are "the" charter members of the Carolinas Chapter of the AWA (Antique Radio Charlotte), club website here. 
We have been friends for a long time, even before putting on the first Carolinas AWA display at the 1978 Shelby hamfest:
40+ years later, here are the three of us still discussing old radios in front of the AWA booth at the Charlotte 2014 hamfest.
-----
A "snowbird" who stops by for a yearly visit is Larry Will W3LW, a frequent contributor to Electric Radio magazine.  Larry mentors me on projects and is my motivation for writing articles for Electric Radio.
I have contributed one article so far (SSR-201 Aperiodic Receiver, August 2014 issue) and I have some ideas for others "soon" :-) including one on the WWII German Lo40K39d transmitter Larry fired up during his last visit:
-----
RADIOS:
I like oddball radios with an interesting and historic story behind them including military radios of all eras (anything with a data plate!), HROs, and other early Nationals.
I also like any vintage photograph showing radios in use.
For the radios that come my way I try and capture the history of the set - who the previous owner(s) were, and where and how the radio was used.
I also enjoy reading, doing internet research, visiting museums, and putting on displays and delivering radio-related presentations in person or via Skype.
-----
Below from left to right are two 1935 HROs sn#s D34 and D35 (first production run), a WWII Coast Guard RC-105 HRO, and a nicely marked WWII-era HRO with coils, coilbox and doghouse power supply.
On the earliest HROs the sn# is stamped in front of the antenna and ground terminals.
Here's an example:
The most historical item in the shack so far is a SSR-201 Aperiodic Receiver designed and built by the Radio Intelligence Divison (RID), part of the FCC in WWII.  It was used as "early warning" to tell if anyone in the local vicinity was transmitting (on any frequency from 60 Khz to 60 Mhz :-).
Here is a downloadable SSR-201 article from "Wireless For The Warrior" Vol 4"
Also the document below mentions the SSR-201 (K-series aperiodic receiver manufactured by Kann):
Also included is a great description of the RID (later FCC) long-range direction finding equipment
Be sure to read Dan Flanagan W3DF's amazing online history of the FCC's Radio Intelligence Division based on the writings of George Sterling, the head of the RID during WWII.
-----
WWII German and Japanese radios are all unusual, so I collect and use them in honor of everyone who served in WWII.
Below is a picture of a WW-II German HF receiver model Ln 21021, nicknamed "Schwabenland".
Three unique attributes of this very unusual recever are:
- the same "acorn" tube RV12P2000 is used throughout (in every stage)
- each tube can be checked "in-circuit" from the front panel
- any tube can be changed without taking the receiver out of it's case, through access doors on the left side of the receiver.
A great website about the "Schwabenland" rx is here,
and the "Schwabenland" manual can be read here - how's your German?
-----
This is a WWII German Telefunken E437S HF receiver nicknamed "The Breadbox". This 6-tube radio was designed in 1935 and used on Type II, VII and IX U-boats, larger Kreigsmarine warships and raiders, and also shore stations. See the manual here (also in German).
Photographs of U-boat radio rooms are hard to find.
Below are pictures of a E437S in use on WWII German U-boats:
(courtesy of http://uboat.net/men/crew/radio.htm)
U-124:
U-129: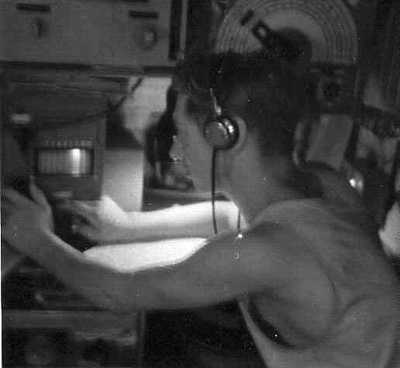 See if you can spot the E437S rx in this picture of U-889's radio room:
-----
German Naval radios were also used on Hitler's train! They were thought to be the best available at the time and were all made by Telefunken.
Below's a screenshot from "Hitler's Steel Beast", a Netflix documentary. You can also watch this documentary on youtube.com - https://ok.ru/video/356442835706
Shown are the:
381S "All-Wave" receiver (the rounded-top radio)
E437S - standard HF receiver used on U-boats and other Naval vessels (nicknamed "The Breadbox")
S406 200W transmitter (also used on U-boats and other Naval vessels)
---
This is a Japanese Model 92 Special Receiver.  This receiver was designed in 1932 for submarine (I-boat) use, and was also used throughout WWII on capital ships and shore stations.
(the right-most meter shown in the picture below had been added post-war and has been removed)
The Model 92 has two different antenna inputs, one for longwave and the other for MF/HF frequencies. The frequency coverage of this one receiver is 20 Khz - 20 Mhz or roughly equivalent to both the RAK and RAL receivers, and all three of the RBA/RBB/RBC receivers found on most WWII U.S. Navy warships.  A big difference is the Model 92 Special uses plug-in coils (lots of them :-) to change frequency:
Here is a picture of multiple Model 92s in use aboard the Japanese light cruiser ABUKUMA in WWII:
and a picture of the radioman aboard the destroyer TSUGA:
In the first seconds of the video below,  a Model 92 Special Receiver can be seen in use on a Japanese i-boat (submarine) in the Indian Ocean.  Note the pocket watch hanging from the front of the receiver.
http://www.youtube.com/watch?v=kA07thaVAmk&feature=relmfu)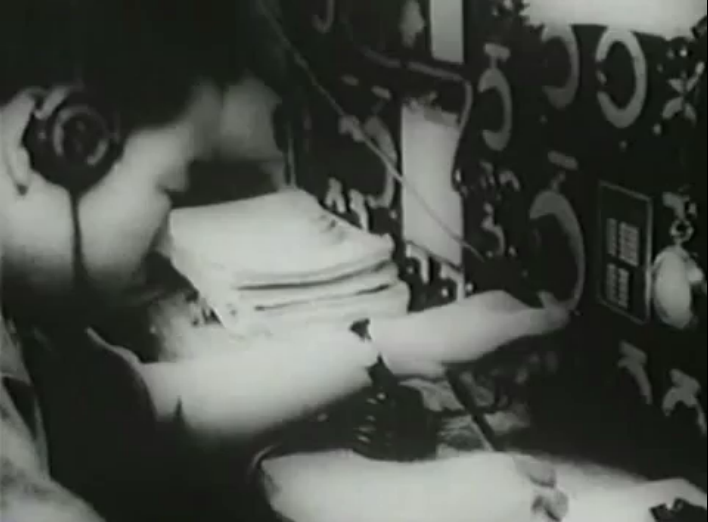 Some of the last model Model 92s were unpainted:
Below is a re-created scene of a radio room on Rabaul from the 2012 movie "Yamamoto" showing Model 92s. Some of these radios were borrowed from the
Yokohama Military Radio Museum
. Taka Doi is the curator of this fine collection.
-----
These Japanese radios were captured during the Battle of Cape Gloucester (New Britain) in 1944:
The Japanese Model 94-2 Air-Ground receiver was widely used throughout the war but very few survive (and if you find any Japanese radio don't forget to also get the plug-in coils!)
Here is a picture of a Model 94-2 receiver in use (during training):
And this training group picture also shows the matching (much larger) transmitter:
-----
Below is a Type 96 HI Mk2 aircraft receiver/transmitter
The receiver is on top and the transmitter is on bottom.
Both use (different) plug-in coils.
Here is a 96 Hi Mk2 installed in a twin-engine Army aircraft:
And in use on the ground (training):
-----
In war one goal is to capture and use the enemy's equipment against them.  To facilitate this the U.S. War Department published a series of "Technical Bulletins" throughout the war covering weapons and equipment.  These are the best source of "how to use" information (in English!).  A number cover German and Japanese radio equipment, and I'm trying to collect the entire set.  
Here are six more I just had the good luck of finding!  I'll be scanning them in shortly, let me know if you need a copy of one.
If you have any others that I can borrow and scan in, please email me. 
During the late 1960s and early 1970s, the United States Army was the largest employer in the world (even larger than Walmart). President Nixon sent me a letter one day so I did a stint in the US Army 1971-73 and though a ham prior to being drafted I ended up with an infantry MOS (11C - mortars). Being young and dumb I volunteered for Vietnam. I was with E 52 14th Infantry at Long Binh in summer - fall 1972 - pictures here.  Afterwards until the end of the "American War" I went up north to F Troop 4th Cav Air, one of the last Air Cav outfits in country - pictures here.
Here's a writeup of my tour.
And for some interesting Vietnam trivia, take a look here...
-----
If you ever need an "ice-breaker" discussion topic with another ham, just ask them about their first rx, tx, and favorite antenna. Or, "when was the best propagation"? The typical answers I've heard over the years are "1949", "1952", "1957" and "1958" - "10 meters open all night and the entire band full of signals"... Sorry I missed these openings!
Looking forward to a QSO with you sometime (and feel free to email me).
Until then best of 73s from Sherrills Ford, North Carolina.
brian
kn4r
PS - have time to kill?  Take a look at these great reference websites:
Society of Wireless Pioneers Spark Journals