Se eu estou chamando "CQ DX" e você reside na América do Sul POR FAVOR, espere para concluir com DX
Si estoy llamando "CQ DX" y Ud. reside en America del Sur POR FAVOR espere a que concluya con los DX
If I call "CQ DX" and you resides in South America PLEASE wait for the end of DX operations.
Se sto chiamando "CQ DX" e Lei risiede in America del Sud, PER CORTESIA attenda a che io finisca i DX
Si Ud. desea ver la informacion QSL sin hacer login a qrz.com:
If you want to see the qsl info without qrz.com login: FREE LU9DA's QSL INFO
Se volete vedere la informazione qsl senza fare login a qrz.com:
Si Ud. desea ver la pagina WEB de Rick:
If you want to see the Rick's WEB PAGE: LU9DA's web page
Se volete vedere la pagina WEB di Rick: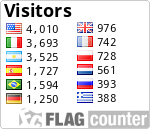 If you want the qsl card:
- Qsl bureau in Argentina works but isn't fast, I prefer qsl via direct, feel free to send your card using the bureau if you can wait long times for response...
- Direct, with SAE and minimum 4 Green Stamps OR 1 (one) NEW IRC (I'm not crazy, see below)
- You can request QSL using Paypal, user eleu9da{at}ciudad.com.ar
Please, take note: the cost to send a qsl card via Correo Argentino (Argentine Post Office) now is equal to u$s 4,62 (more than four and half dollar!) if you send qsl card without a SAE or without minimum 4 dollars or the IRC, I can't send you the qsl card, sorry
- No problem to response more of one OM qsl on the same envelope