Recent experiment: I was LIVE on the ARRL 10m Contest. Watch the last 2 hours :)
Hey, top marks to me :) ! I achieved top score for EU005 (12 hour / low power) in IOTA for 2017. Antenna here: DX Commander
---
QTH Dorridge (Birmingham) IO92CI / SP17 running a number of wire loops, dipoles and verticals, sometimes QRO.
DX Commander Aerials: I designed and market the DX Commander range of antenna products. Small - but growing and is a great boost to my hobbyl. I only build and sell antenna components that I want myself and have used and tested in the field.
LIGHTNING STRIKE: In September 2016, my shack had a lightning strike which vapourised a 10m 5/8th vertical. The pulse rippled down the coax and onto my my shack (and the rest of the house). Luckily I was insured and the total bill came to just over £25,000. This included every radio, amplifier and accessory (and all my sound gear and outboard audio processing). Every cable run, patch lead had scortch marks or flash-over evidence and has now been replaced. Massive job. However, using the lessons learned over the last 10 years, I have installed a remote coax swith for HF and hidden all my cables in trunking.
I also took the opportunity to re-decorate since this is a dual use room. I'm also a drummer so we use my shack as a rehearsal space. Foam tiles are fixed to the wall too so accoustics appear very pleasant.
Current Shack layout (2017)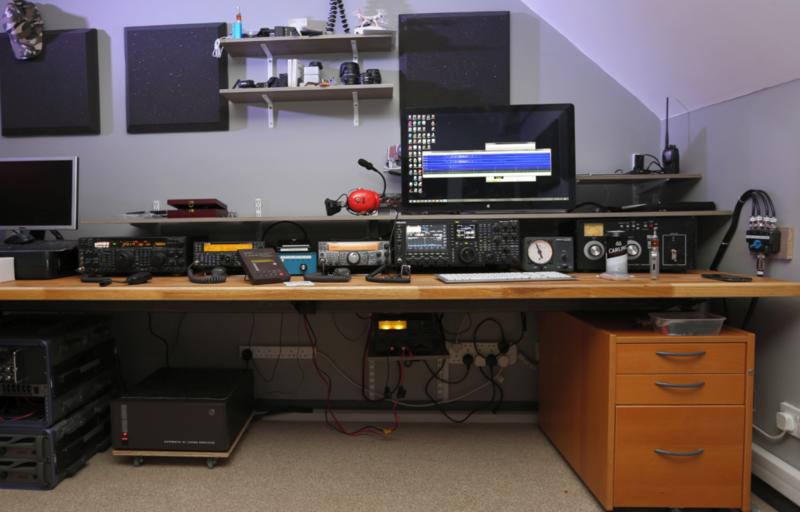 My other passion: Drumming and a 5.6 kW PA (not immune from QRO breakthough!) :)
---
QTH #2 Holiday QTH, SW England. The shack overlooks the Atlantic.
.. and yes, I really do have a crazy hairstyle ! :)