Above Picture is of the  Spiderbeam in use at P29VW, outside Port Moresby, capital of Papua New Guinea. Operation lasted from August 15 to August 25, 2008.
PLEASE SCROLL DOWN PAGE FOR RECENT MOBILE/PORTABLE OPERATIONS
Home Station: Elecraft K-Line (K3 with 2 receivers, DVR, 2m transverter; KPA500 500w SS amp; P3 panadapter; KAT500 ATU) with Heil Goldline mic. Antennas: [20m-10m Spiderbeam (14 elements on a 33' boom); down at the moment awaiting remote controlled telescoping mast], and G5RV for low bands; Backup rig, Kenwood TS-850sat.
Mobile: Elecraft KX3 + KXPA100 100w amp/tuner; Texas Bugcatcher manual multiband center-loaded coil vertical when used on my Lexus LX470 4x4.  When running mobile/portable with a rental car, I use an extended mag-mounted manual screwdriver antenna made up of Buddipole and MP-1 parts, about 13' in total height (not used while in motion!).
.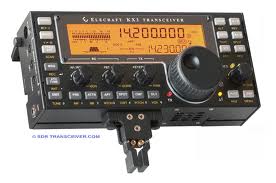 Bicycle Mobile: Elecraft KX3 on handlebars, with small Buddipole 4S1P A123 Li-ionNP4 battery, and Hamstick antennas mounted on the luggage rack at the back.  See more pictures below [scroll down].
Portable: Either Elecraft KX3 (with or without KXPA100 100w amp); or homebuilt Elecraft K2/100 + KAT100 ATU; with either a Hustler whip, magmount, or Texas Bugcatcher.  For longer stays in interesting DX locations I use the portable 5 band spiderbeam (transportable in a golfbag), a 43' Spiderbeam fiberglass telescoping mast for a vertical or Inverted L; and the always at hand Superantenna MP-1 portable screwdriver, and a Buddipole system.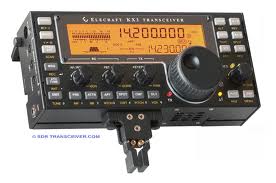 Vintage Rigs: Yaesu FTDX 401 system with FL2000B amp; [Yaesu FT301, currently with my son KD7QFS in Portland], and a good old Johnson Viking Valiant, and Harvey Wells AM/CW TX.
[Two Rohn self-supporting towers 48'/56'; TH-7DX & Hygain Quad tribanders. Not yet put up]
RECENT ACTIVITY:
1. Bicycle Mobile @ 100w.  During the first weeks of August 2017 I have been experimenting with running the KXPA100 amp along with the KX3 on the bicyle (using the same 2.5 and 4.5ah small LiOn batteries I use while running QRP).  I have had no difficulty in getting a full 100w of power for 30-45 minutes of TX use with the 2.5ah battery and 1-3 hours of TX use with the 4.5ah battery. The amp fits remarkably snugly on the luggage rack between the Hamstick antenna and the bag under the seat that holds the battery.  Along with its internal high power ATU the amp adds about 7 pounds to the bike.  I don't think I will do this often, but it is nice to see how well it works.  In the last few late afternoons I have regularly worked all over the US (from coast to coast, North to South and all between), with DX including the Caribean, Central and South America, Hawaii, and New Zealand.
2. Backpacking Trip in the High Sierras, over the 4th July 2017 extra-long weekend.   Operated portable on a 4 day (3 night) 31 mile backpacking hike in the Kings Canyon National Park (Paradise Valley Trail).  Weight is everything when you are carrying it all on your back and doing significant elevation gain.  Used the KX3 and a random wire antenna/counterpoise, plus the A123 2.5ah (4S1P) and Bioenno 4.5ah (4S2P) Lithium Ion batteries.  Was able to make contacts on 80, 40 and 20m despite being in a deep canyon gorge.  One never knows!  Was able to get news back to home twice via ham radio.  The KX3 is ideal for bicycle mobile, but the KX2 would be ideal for backpacking, where every ounce counts.  (Does anybody want to sell a used KX2 ? --- give me a call :)
3. Memorial Day, 29 May 2017, Bicycle Mobile.  Wife and I did 20 miles from Huntington Beach north along the coast track.  In places, insanely crowded!  Used the KX3 with the nice new SideKX mobile mount (along with a low profile RAM handelbar fitting).  Thanks for the QSOs.  Best DX was Tim, VK3TJK, from this exact spot (see photo). 
4. National Parks on the Air, 27 December 2016.  My final NPOA activation for the centenial year celebration took place on the 27th of December from Joshua Tree National Park (NP-32) in Southern California (some 150 miles East of LA).  While the Park is not rare by any means, I experienced pileups at most times, and was pleased to make about 113 contacts in a couple of hours of activation.  We were on a family outing and so time to operate was limited.  Most contacts were on 20m, from the Jumbo Rocks location in the park (5000f ASL).  The setup was standard mobile working conditions:  Elecraft KX3 (plus amp @ 80-90w), car battery and the Texas Bugcatcher antenna at the back of the SUV off the tow hitch.  I have uploaded all the contacts to LoTW under my normal callsign N6JW.  Thank you for all the contacts, and pleased I could provide a new entity for some folk.
5. Santa Barbara Pier, 4 December 2016.  Nice trip to Santa Barbara for a conference over the weekend December 2-4.  On Sunday afternoon operated mobile/portable from the Santa Barbara Pier for about two hours.  Log uploaded to LoTW.  Thanks for the QSOs, always nice to work while over salt water!  KX3+KXPA100 & Texas Bugcatcher antenna.
6. Trip to Ireland, September 2016.  Portable/mobile operation from various parts of the Republic of Ireland as EI/N6JW from 2 September to 17 September 2016.  Travelled from Dublin to the West Coast; Galway (and upto Clifden and the Conemara National Park); then down the 'Wild Atlantic Way' road including Blasket Islands, Ring of Kerry, Sheapshead, Skellig Islands, and then round Cork, Waterford and back to Dublin.  Log will be uploaded to LoTW as soon as I have a certificate for EI/N6JW.
7. National Parks on the Air, August 2016.  I had the opportunity to operate short stints from various national parks, monumnts and historical sites from August 24-28, 2016.  If you worked me at NP-23 Grand Teton National Park, WY on the 24th; or NP-57 Yellowstone National Park, Continental Divide, WY on the 25th; or NS-31 Golden Spike National Historical Site in UT on the 26th; or MN-37 Fossil Butte National Monument, WY on the 27th; or NP-08 Canyonlands National Park, UT on the 28th---then please note that all logs have been uploaded to LoTW under my N6JW call (and not N6JW/7 as I used on the air) since I could not make that work with LoTW.  Altogether several hundred contacts were made.  If you worked me and LoTW is not confirming the contact please re-enter my call as just N6JW; and if that does not work please contact me via email, as I did have a problem with a few contacts at NP-23 on the 24th.
Bicycle Mobile!  Using the KX3 & 20/17m Hamstick.  KISS method.  Picture below is just after a contact with Japan running 5w (8 internal AA NiMh cells) from exactly this spot---no salt-water, no altitude, just propagation and timing!
Bicycle mounting for KX3:  Initially, could not be simpler.  Used strong bungi-type rubber bands to mount rig to U type krypton bicycle lock that has a good clip-on/clip-off handlebar mount.  Using bubble wrap to protect base of the KX3.  See left picture below.  [With a Buddipole 4S1P A123 battery (fits in little pounch under seat) I can run 10-15w out for hours.  Battery only weighs a few ounces.]  UPDATE:  On a 30 mile cycle trip in Oregon, summer 2016, the U lock mount broke going over rough wooden ex-train bridges.  New mounting is even better and uses the RAM Finger Universal mount.  Holds KX3 securly.  EVEN MORE RECENT UPDATE: Now I use a low profile RAM composite swivel handlebar mount (RAP-274U) along with the molded KX3 mobile mount from Scott (SideKX).  This remains permanently mounted to the bike and the rig clips in and out.
See below: 1) 'QSL' card for what is perhaps my best bike DX to date (at least the furthest)!  2) Then below that click on the Play Button to listen to the YouTube audio of my transmission as recorded in VK6 (Western Australia), some 15,500 miles away, long path! 
Here is Mal, VK6LC's audio recording of the QSO from Western Austalia.  Click on the Run button in the YouTube below:
OTHER INTERESTING BICYCLE MOBILE CONTACTS
1. Bicycle mobile (in back yard) to /Aeronautical mobile (Bryan WW1I) on 17m.  I have worked Bryan /am many times (including running QRP on the Cruise Ship in Alaska, see below), but this was a first from the bicycle.  See below.
2. VP8LP Bob on the Falkland Islands, from the Bicycle!
On a perfect late afternoon 10mile bike ride with my wife Cheryl on the Santa Anna River Bike Trail (at Hidden Valley) I managed to break the 17m pile up calling VP8LP, Bob on the Falkland Islands from the bike (see the exact spot right after the QSO in the picture below).  After calling several times, thanks to help from Charles KK4TE who told Bob there was a 'mobile' calling him, Bob gave me a 53 report and we had a nice little chat!  Not bad for QRP and a short hamstick on a mountain bike.  That's a 7,000 mile haul to the far South Atlantic.  FUN!
3. Working CW from the Bike!
Took a short ride during CQ WW DX CW contest (Nov 2015) with the paddle attached to the KX3.  Using the built in CW keyer memories makes working the CQ WW CW as easy as two button presses.  No serial numbers, etc. with this one---made for /bicycle mobile!  Worked VE7VR, OH8A, FY5KE, OH6CT, AL9A, VE2FWW, and PY4YY in a 15 minute stint!  First time working EU from the bicycle.
NOTE PREVIOUS PORTABLE OPERATIONS:
Mobile Summer Road Trip to AZ, NM and TX:  June 29-July 15, 2015.  Used the KX3+KXPA100 amp and Texas Bugcatcher on a trip to San Antonio, TX.  On the way back, we visited the Carlsbad Caverns, Santa Fe, Los Alamos, Alberqueque, Flagstaff and the Grand Canyon.  We went on I-10 and returned on I-40.  Just missed the wildfire, destruction of 20 vehicles, and general mayhem on the I-15 in the Cajon pass by two days!  Thanks for the contacts.
Mobile Winter Road Trip to Utah and CO: December 12-23, 2014.  My wife and I, and my visiting parents from South Africa (in their late 80's) set off on a wonderful winter road trip through some of the most spectaclar scenery in the country.  We ended up visiting 6 National Parks and 5 National Monuments, did some off roading in Moab, and travelled Scenic Byway Rt 12  in UT and Rt 550 in CO.  Up over 10,000 in snow four times!  But had the right equipment:  LX470 4x4 (essentially a Land Cruiser), and the KX3 + KXPA100 amp + Texas Bugcatcher antenna.  Had a ball!  Thanks for all the contacts.
Mobile Trip to Lake Tahoe, CA:  October 6-12, 2014.  Using KX3 + KXPA100 and Texas Bugcatcher mobile.  Travelled up on east side of Sierra Nevada Mts.  Stayed at "Heavenly Village" ski resort area at 7,700ft.  Returned on west side of Mts. on scenic Rt 4.
Portable in OR & WA: August 2 to 9, 2014.  First, on the Oregon coast (Cape Lookout and environs, using KX3 and vertical antenna).  Later at Portland, OR using KX3 + KXPA100 and my son's doublet antenna up 100' in the trees.  Still later on Puget Sound (see photo below).
Alaska Cruise: July 26 to August 2, 2014, with Holland-America (ham friendly cruise line). A repeat cruise (see 2012 below), but this time it was a business trip. Call: PA/N6JW/MM with KX3 (up to 12w), and at times the matching KXPA100 amp/ATU (100w), using only Buddipole's 4S1P A123 battery (many hours at 12w and about 45 minutes at 100w), with magmount screwdriver whip antenna on observation deck. 
Above Picture: Looking down on Juneau from Mt. Roberts tramway.
Field day 2014: K3+P3 (also KX3 & K2) with inverted L 43' Spiderpole @ 7500ft in the Angeles National Forest. 1B LAX.  Used Honda i2000 generator.
Alaska Cruise, '12: August 2012, with Holland-America (ham friendly cruise line). Call: PA/N6JW/MM with KX3 using internal 8 AA cell NiMH batteries at 3-5watts SSB/CW with magmount screwdriver whip antenna on observation deck. Worked JA, VK, ZL, HI, SA/NA west & east coast. Last contact was with an /Aeronautical Mobile over Atlantic at 30k feet!
Scotland, '11: from 1 Sept, 2011 to 18 Sept, as GM/N6JW. Using Elecraft K2 & screwdriver portable vertical ant.
Lesotho, '11: Trip to Southern Africa, 16 Dec 2010 to 2 Feb 2011. Operation as ZS1WN in South Africa, and a week of operation as 7P8JW from the Maluti mountains in the country of Lesotho. There I had a multi band spider beam and an inverted L for the lower bands. I used my K3 + P3 panadapter. I am now working on QSLIng for 7P8JW, but you will have to be patient as I had to log manually as my hard drive crashed before arrival in Lesotho. It will take a long time, as I made about 3500 contacts from 7P8.
Hawaii, '09: February 2009. Maui and Oahu.
Papua New Guinea, '08: Operated as P29VW, outside Port Moresby, capital of Papua New Guinea. Operation lasted from August 15 to August 25, 2008. This trip also included casual operation as N6JW/VK and ZL/N6JW from August 5 to September 14, 2008.
Field day 2007: K2 & Spiderbeam @ 7500ft in the Angeles National Forest. 1B, QRP Battery.
Florence, Italy '07: May 2007: Portable operation, using K2/100 plus random wire in trees. See picture below:
Portland, OR: Between Christmas and New Year 06/07 portable in Portland OR. K2/100 and Spiderbeam.
Australia, New Zealand and Kenya, '06: Summer 2006: June 19 to July 21 operation from Kenya. Callsign 5Z4JX. K2/100 with Spiderbeam (5band 14element wire yagi + 35ft aluminum push-up mast; all packed & transported in a golfbag. 16 flights in all during the summer!). From Aug 3 to 29 from Australia & NZ. In Australia operated my nephew's station near Brisbane; in NZ as ZL/N6JW.
Germany, '06: 17-28 March, 2006: operating as DL/N6JW from near Magdeburg, and Berlin, Germany. Rig was K2/100 and random wire ant.
UK & Italy, '05: October 12 to November 1, 2005 operation from UK (G/N6JW; mainly from Scotland as GM/N6JW), and Italy (I5/N6JW & I/N6JW in CQ WW SSB contest), using K2/100 and wire ant.
Europe & Africa, '04: Operated summer 2004 from Europe and Africa. I was on the air running the K2 QRP from various European countries (primarily Holland, Germany and Denmark) from August 3 to 29, 2004. And operated from Kenya with the callsign 5Z4JX from August 30 to September 14, 2004.
UK and Zambia, '03: Also operated portable from UK with an Elecraft K2 QRP transceiver, Buddipole/MP-1 & wire antennas from Aug 5 to Aug 27 2003; and from Zambia (9J2 in Central Africa) from Aug 28 to Sept 18, 2003. Callsigns used were G [or GW] /N6JW and 9J2JW.
I also still hold my original ham callsign, ZS1WN, Somerset West, near Cape Town, South Africa. First licensed in 1969.
Former permanent calls:
ZS1WN, Cape Town, South Africa, from 1969-1975 and again 1980- to present; ZS5WV, Durban, from 1975-1979; N8FST, Michigan from 1982-1992; AD6YW, for one day(!) in 2001.