Welcome to the City of Gardner Office of Emergency Management, the home of W1GCD
(Scroll down for the latest images updated 1/7/12.)
W1GCD is the communications facility used by the Gardner OEM, the Community Emergency Response Team (CERT) and R.A.C.E.S. / A.R.E.S. The Gardner OEM also provides the meeting place for the Mohawk Amateur Radio Club (www.mohawkarc.org). The Gardner OEM Emergency Operations Center is used as the city's primary disaster coordination facility and provides support for other joint activities with the Mohawk ARC. The EOC is located in the South Gardner Fire Station No.1 at 61 East Broadway, Gardner, MA
As demonstrated during the December Ice Storm of 2008, amateur radio is an exceedingly important asset for emergency management and provides the community with very well trained and disciplined radio operators and communications services. As such, the Gardner OEM fully supports the amateur radio community by providing a meeting place and wide area coverage 2 meter and 70 cm repeaters. The facility is also occasionally used for ham radio public service events such as Field Day and the Boy Scouts of America Jamboree-On-The-Air.
The radio room at the EOC is equipped for all HF bands, 6m, 2m, 70cm, and WinLink e-mail( w1gcd@winlink.org ). The EOC also utilizes VHF Lo Band, VHF-Hi band and UHF radios as well as 800 MHz Mass. State Police trunked radios. The EOC also has Uniden Bearcat scanners for monitoring all surrounding communities, State Police, MURS and FRS/GMRS communications. The EOC can function as a backup dispatch center for all municipal departments. The EOC also has a Lucent PBX with five outside lines and Comcast broadband Internet capability. In the very near future we will be adding broadband fibre infrastructure. There are fifteen phone extensions and sixteen Ethernet ports plus WiFi. A full kitchen, bunkrooms, and a 20KW generator allow the facility to be run 24/7 while off the commercial mains. We are currently adding a FCC Part 90 Travelers Information Service transmitter which will operate at 1670 KHz.
With municipal funding exceedingly limited and Homeland Security grants drying up, equipping and improving the communications infrastructure is very difficult. We have a donated 1KW HF amplifier and are seeking a donated 1KW manual transmatch w/4:1 balun. If you can help with these items please contact me at Director@GardnerEOC.org. You may also call the EOC at 978-630-5434 and leave a voice mail.
Finally, if you are traveling in the area and wish a tour of the facility please contact me via e-mail. Also, our repeaters are open for general amateur radio use. W1GCD/R can be found at:
2m - 145.37 MHz, -600 KHz input w/136.5 Hz CTCSS
70cm - 442.10 MHz, +5 MHz input w/88.5 Hz CTCSS
The repeaters are IRLP equipped, use Node: 8581. The node is normally full time connected to the New England Reflector, 912 - Channel 2, the Mass. Route 2 Corridor (9122).
Both repeaters are in Gardner at 1,325 ft, AMSL, 256 ft HAAT and cover all of central Massachusetts, Southwest New Hampshire and a large portion of southern New England.
73,
Paul Topolski, W1SEX
Director, Gardner Office of Emergency Management
Gardner EOC and W1GCD Images
Gardner Emergency Operation Center
Ofice: 978-630-5434
Fax: 978-630-5438
E-mail: Director@GardnerEOC.org
Parking: Rear of building off Prospect St.
Click the address above to link to a map.
Conference/Classroom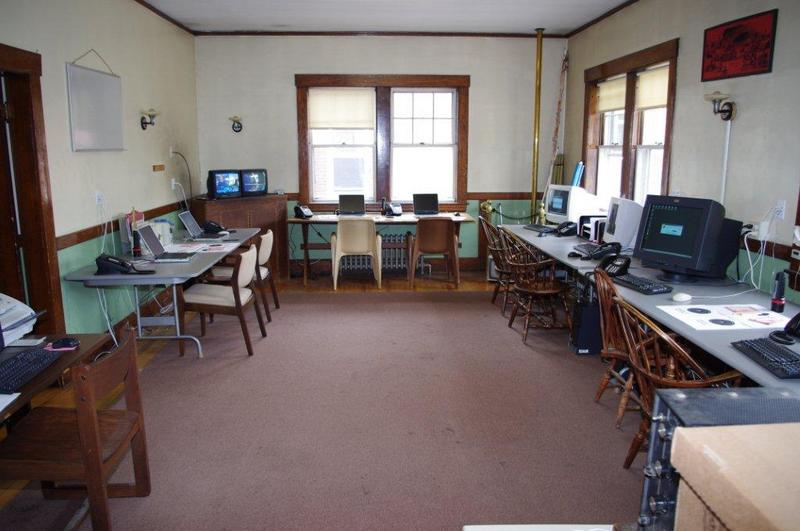 Operations Room (old)
Ops Room, Updated 1/7/12 - Note eight new laptop computers and larger TVs
The EOC is equipped with four voice and one dedicated fax telephone line. This is one of four admin phones. 1/7/12 Update.
Also included are eleven multi-function phones making a total of fifteen phones available for use in the EOC. 1/7/12 Update.
Eight ACER laptops were also purchased with a grant in 2011. The laptops replaced older units as well as several desktop machines. 1/7/12 Update
A new H/P All-In-One printer/fax/scanner/copier was added to the equipment inventory. Prior to this addition, the ink-jet printer we were using suffered from ink cartridge failure (drying out) when we went to use them. This LASER unit solves that problem. Additionally, the scanner function allows us to capture documents and upload them directly into WebEOC. 1/7/12 update.
W1GCD Radio Room (old)
Radio Room - Updated 1/7/12. Note addional shelf to accomodate new UHF radio.
Radio Room Wide View - Updated 1/7/12. Note new bank of VHF-Hi Band portables on the right.
The latest radio desk (12/28/13) With new Kenwood TS-2000 purchased though a MEMA and DHS Emergency Managment Performance Grant.
Again, through a MEMA/DHS grant the EOC is now equipped with twenty four VHF-Hi Band portable radios.
Purchased with a grant in 2011 are fourteen Icom IC-F3001 VHF-Hi Band portables.These radios are programmed in house and cover 136-172 MHz. These are commercial grade not ham radios. 1/7/12 Update.
The new Kenwood TS-2000 with a SignaLink interface for sound card digital modes. This new equipment will allow us the handel long-haul text messages and also utilize MARS capabilities. The radio is appropriately modified and the antenna system seems to be happy working the MARS frequencies.
Another grant purchase, this is one of two UHF commercial radios. The EOC is now 100% interoperable with Federal, State and Local public safety agencies. Additionally, two VHF-Hi Band mobiles were purchased. 1/7/12 Update.
Interoperable communications in a box. Icom F-5021 and F-6021 commercial radios with 13AHr AGM batteries, Samlex power supply and battery isolator as well as cigarette lighter for vehicle operations. A MFJ duplexer is used so only one antenna is required which simplifies setup for the uninitiated, aka cop proof. This is a demo project but will be added as a permanent part of the EOC inventory.
All local operating channels as well as interoperable channels are programmed into the radios. These commercial grade radios are also capable of ham radio frequencies though never the two shall meet. This project was completed for less than $1,000.
The latest project is a portable interoperable communications cross-band repeater. An active shooter drill held in the fall of 2013 showed that we needed to set up a command net for police/fire/EMS/hospital officials but found that half the agancies were on VHF and the other on UHF. Waiting for state, county, or regional communications resources to provide interoperability was not an option for a thirty minute operation. Having our own capabilities at minimal cost such as this is a smart idea.
On loan from the Gardner Board of Health are four Motorola CP200 UHF portables. Update 1/7/12.
Purchased in 2009 was a Davis Vantage PRO 2 weather station.
With the 2011 grant we purchsed the Davis data logger and software.
The previous image is historical data and this is live data. 1/7/12 Update.
The final addition for 2011 was a Traveler Information System, 10 Watt AM broadcast band transmitter. This unit operates on 1670 KHz and provides emergency and official information during disasters, traffic information during public activities and gatherings. The system was obtained through a grant to the Central Region Department of Public Health. In 2012 we expect to expand the system and allow updating information via a direct connection to the Internet.
W1GCD Antenna Farm plus 75 meter dipole (not shown).
Norm, N1JYW and Alan, KB1QCE during Field Day.
Field Day breakfast with Marty, KB1QCB
Brian, KB1KLQ and his harmonic, Erin
JOTA 2010 at the EOC