W7FED
---
NOTICE: I am not selling anything in the QRZ or QTH classifieds right now. If you see someone selling something or someone contacts you to sell something using my name, callsign, or a "SIMILAR" email address, IT IS NOT ME! - IT IS A SCAM!
Do NOT send them any money, and report THEM to the QRZ forum/classified admins
---
HISTORY  (This isn't a resume', but just some interesting highlights....)
I have been a ham since 1972 in El Paso, Texas with first call of WN5JXY (Novice), Vince Sparacino taught me morse code with an old paper tape code generator at Ft Bliss, TX then after a few years, I upgraded to TECH with morse code & call WA5JXY.
I have been continuosly active in ham radio since 1972!
I currently hold a FCC General Class license as W7FED in Seattle, WA.
Somewhere around 1969-70, I started tinkering with electronics, CB radios, old stereos, tube amplifiers and anything I could get my hands on. All self-study, no technical school. I learned about electronics from catalogs and magazines like Lafayette Electronics, and Olson Electronics, early Radio Shack and Popular Electronics. I received all kinds of advertising brochures and catalogs in the mail and read every one of them MANY, MANY times! I didn't know what the specs of each part meant, but I read every item description until I learned that speakers and resistors were measured in OHMS, batteies and power supplies were mesaured in VOLTS and CURRENT. Those are the basics of electronics. I blew up plenty of things as I learned. I was also successful building and repairing a few. I joined a CB radio club (El Paso Communications Organization - EPCO) and had a great time and met some great people at our "Eyeball QSO's". I learned about antennas and how to install and tune them. I learned how to "properly" install electronics whether it was with a power supply, battery, or in a car. Back then, I had to use a 6 volt to 12 volt inverter to power my 12 volt CB rig from my 1951 Olds 88. I had dual 102" stainless steel whips on it !
I held the official FCC CB callsign of KDW-9402 and the "CB handle" of "Pioneer" that I took from the back of an old speaker. My first CB was a E.F. Johnson "Whiteface" crystal controlled tube radio and a Turner +2 desk mic. I used to leave it on all day so it would stay "stable" and on frequency. During the day, the skip would roll in and the speaker would open up above the squelch level. No big deal you say. Well, we had a parrot and it had a cage right outside my bedroom door. For years we couldn't figure out what the dang bird was saying. He kinda mumbled then he would SCREECH and WHISTLE real loud. Then we figured it out. He was repeating all the skip noise and guys whistling that he heard during the day! Hilarious, I know. My parents were not amused.
I tore everything apart and "sometimes" got them back together. Friends would give me broken stuff (including an all-tube color TV set kit from Heathkit which I NEVER got working!) and I'd try to fix them. I got pretty good at it and then I would sell or trade the fixed stuff for some new radio or electronic gadget. I installed car stereo's (8-track, and later, cassette) in my car(s) and for my friends and even custom built speaker boxes as needed. In the mid 70's I built one heck of a home stereo system for myself with two 12" and two 15" guitar speakers and an old Dynaco tube amp that someone gave me and I fixed. The 4 speakers I built were so heavy I could barely lift them! (3/4" particle board). My room was 8x12 so you can only imagine how it sounded (kinda like sitting INSIDE headphones). My dad was not amused so I sold them to a friend and the first day he cracked the plaster ceiling in his house. His parents were not amused either. Most of my friends can attest that I am an audiophile in addition to all my other interests.
I have been building / installing / swapping electronics my entire life. I have been to hundreds of ham radio and electronics swap-meets over the years and it is "usually" a fun time. I enjoy meeting up with people I have talked to on the radio (locally or from other states). Back in the CB days, I would add the "funny channels" to CB's that allowed them to talk "outside" the official CB 23 channels where it was real quiet. Someone told me it was illegal and that it actually was "Ham Radio" frequencies that I was infringing on, and suggested that if I was to continue that path, to get my ham licence to stay legal. I studied morse code and theory in the evenings at  Fort Bliss Texas and earned my novice ham license in 1972.
In 1974 (and again later), I worked at Autotronic Controls Corporation in El Paso (see pic below). They invented the MSD electronic ignition system. I was employee #10
https://en.wikipedia.org/wiki/MSD_Ignition
Here is a picture of me in 1975 working in the electronics shop of an El Paso hospital, fixing all-tube MOTOROLA color TV's. (NO, I will NOT fix your TV!......)
In 1977-80, I worked at a startup computer company called Alpha Microsystems in Irvine California. I built Altair and IMSAI computers we utilized to test our Alphamicrosystems 16-bit S100 buss systems. Thats a SOROC terminal I'm typing on. I also worked on CDC HAWK 10Meg Hard drives (the size of a washing machine!). You can see them in thefar right background in this pic.
Amazingly enough, I was employee #10.
https://en.wikipedia.org/wiki/Alpha_Microsystems
Here I am in my old hamshack in El Paso, Texas sometime around 1990. Behind me is my old Ten-Tec Corsair II HF rig, power supplies, cables, and parts, parts and more parts. I'm always building SOMETHING!;
Here I am in Seattle at my home "hamshack" in 2017, replacing electrolytic capacitors on an old Apple MacIntosh motherboard for a friend. Still working on electroncs and I love it!
I remember sitting on top of the Franklin mountains in El Paso, Texas about 25 years ago. I was playing "briefcase packet" from the top of the mountain (4692 feet ASL) with my Radio Shack Model 100 and a GLB-PK1L packet node controller I built into a briefcase with a rechargeable battery pack. You can see three states (Texas, New Mexico, and Chihuahua Mexico) and two countries (US, Mexico) from up there! I flew to Albuquerque one time and took the briefcase on the plane. This was years before the security we have now otherwise it never would have been allowed. Even then, they wouldn't let me keep it at my seat and stored it up front. I hadn't really thought about what someone who wasn't into electronics, computers, or ham radio might think the stuff in the briefcase was for. It was straight out of Mission Impossible....
I was one of the first in the country (especially El Paso) to get on PACKET RADIO. (Waaaaay before the internet. Actually pre-Compuserve and 300 baud dial-up modem!) Packet radio isn't as popular as it used to be (except for APRS and some new digital messaging modes), but I sure enjoyed building one of the FIRST PACKET Bulletin Board System (Xerox 820 CP/M - W0RLI software). I also helped build the FIRST DIGIPEATER in El Paso with a home-built TAPR TNC (with Dave W5DBC-SK) and the FIRST Modem/Packet BBS cross-link and the ELPWX Packet-Based "WeatherNode".
I enjoy working "Field Day" (where hams practice emergency preparedness off the grid) when I can. Here I am back in the 80's in El Paso with my Commodore-64 and AEA-64 enjoying digital packet radio over HF.
I have worked with many modes of Amateur radio over the years including RTTY, AMTOR, Packet, AM, SSB, FM, and Satellite.
Lately, I have been experimenting with C4FM (DV4MINI on a RaspberryPi3), DMR, WSPR (on a RaspberryPi2), and digital modes such as JT65, and FT8 using WSJT-X. So much fun when you log a QSO on low power (QRP) to Japan!
I also run a SharkRF "OpenSpot" for portable DMR (Digital Mobile Radio). Motorola calls it MOTOTRBO.
Here is a picture of my CURRENT hamshack (2017)
RIGS/EQUIPMENT:
I think I have owned most every rig ever made. Most of my friends can attest to that!
HF:
TEN-TEC CORSAIR II (sold to OK2GG Jarda)
KENWOOD TS-520, and TS-830 (sold both - should have kept the TS-520!)
KENWOOD TS-570DG - (current rig #1)
YAESU FT-900 (sold)
YAESU FT-991 (Current rig #2 - My first BRAND NEW Rig since 1972!)
VHF/UHF:
ICOM IC-820H Satellite Rig (Sold but really should have kept it!)
KENWOOD TM-V7R Dual-Band Mobile (I have two, one in the shack, and one in my mobile)
CONNECT SYSTEMS, INC (CSI) CS750 DMR HT, CS800 DMR Mobile (in my truck).
YAESU VX-7R Tri-Band+ Handheld (Still have it!. Still working GREAT! (although I JUST had to replace the original battery which was over 10 years old and still working (about 95%). Amazing!
ICOM IC-2/3/4AT Handheld. The BEST Radio and Quality made by anyone to date. (Sold years ago)
RADIO SHACK HTX-202 Handy Talkie. The 1% of product that RS sold that worked OK. (Still have it!)
RECEIVERS:
STEWART-WARNER R-390A (Sold but another radio I wish I had NOT sold!)
HALLICRAFTERS S-20R Sky Champion Sold - Glad I did - It shocked the HELL out of me one day!
NATIONAL NC-300 Sold - OK receiver but too heavy to take with you when you move!
ICOM PCR-1000 Computer controlled receiver. (10 kHz to 1300 MHz) - Still have three of them!
OTHER:
Teaberry CB's - Always loved Teaberry! I recently acquired a Teaberry "Stalker XX Export" radio with a CRC100 frequency counter that was added inside where the digital clock used to be. Don't know who had it before, but they did a lot of mods to this radio and it is amazing!
Teaberry "T"-Scout mobile. Just bought one off fleabay for $10. It works! In my museum...
Cobra CB's - 148FGTL (with Freq counter). Have had ths for at least twenty years. Very rare mobile radio and I still own it!
(Here it is with a custom faceplate and blue LED's. It is mounted above my FT-991)
I recently (a year ago) acquired a Cobra 2000GTL with dual speakers. It is also amazing and works great! (Just replaced meter bulbs with blue LED's. Looks cool). I don't really talk on CB anymore but I have always loved listening to the various "personalities".
E.F. Johnson "White-Face" - My first rig along with a Turner +2 base mic. Wish I still had it!
Lafayette HB-444 Tube CB. This was recently purchased (a year ago) from a "Antiques & Oddities" store in Bingen, Washington, a sleepy little town across the Columbia river from Hood River, Oregon. You never know what you may find in those "little town" stores!
It's really not that rare, but it is in MINT condition! - an AMAZING find!
I also bought a broken Galaxy Saturn export multi-band (10-11M) base radio (see pic below).
One 1N4148 diode (and 10 hours of searching for it) fixed it! - Great deal!
MY ANTENNAS:
Rain Gutter Antenna
Since I live in a HOA, I have to be "creative" and not use anything that the typical human eye recognizes as an "antenna".
I recently attached a cable from my LDG AT-1000 Pro II antenna tuner to my aluminum rain gutter on one side of our two-story house. The "counter-poise" wire is run along the ground to the other side of the house. 
It does have a little more "noise" on receive than my G5RV but that is to be expected since it is both horizontal and vertical (with the downspouts). It "loads up" on most ham bands (thanks to the AT-1000).
What's REALLY amazing is that it works AT ALL !!! - A little more fine tuning with the counterpoise and maybe even try connecting to the gutter on the OTHER SIDE of the house as well! (when I get time).
MFJ G5RV for HF
http://www.mfjenterprises.com/Product.php?productid=MFJ-1778
Cushcraft AR-270B Dual-Band Ringo Vertical. 7' tall each. I have two of them stuffed into my attic for VHF/UHF. It is a tight fit!
https://www.dxengineering.com/parts/csh-ar270b?seid=dxese1&cm_mmc=pla-google-_-shopping-_-dxese1-_-cushcraft&gclid=Cj0KEQiAxeTFBRCGmIq_7rGt_r8BEiQANdPqUuYVbgtKXFDpFMDickYW2yySiPlIOVbzPAhM8beBveUaAszE8P8HAQ
PORTABLE
Chameleon CHA-MPAS portable HF antenna system (with additional CHA MIL Whip EXT) - My main antenna in my HOA. Would love to have a tower and stacked beams, but for now, it's all I have. I use it for 10M/11M/HF.
http://chameleonantenna.com/PORTABLE%20ANTENNA/page29/CHA%20MPAS.html
MOBILE
I use multiple LARSEN NMO 2/70B antennas on my mobile for VHF-UHF.
https://www.dxengineering.com/parts/lsn-nmo2-70b
I use a single LARSEN NMO27B antenna for 10/11M.
https://www.dxengineering.com/parts/lsn-nmo27b
I also have another G5RV in my "Go Box" just in case.
---
I used to be very active on FM VHF/UHF repeaters and the TRASH linked repeater system (10 repeaters/sites) that the El Paso TRASH group and I built, but all sites/repeaters have been shut down and sold due to my recent career move. Just can't move all that stuff across the country!
(T.R.A.S.H. = This Represents A Serious Hobby!)
---
START SOAPBOX
Ham Radio is BUILDING STUFF (like your own RADIO RECEIVER and/or TRANSMITTER!)
or how about some RaspberryPi or Arduino projects?
The ARRL has a nice "Arduino for Amateur Radio" book. BUY IT!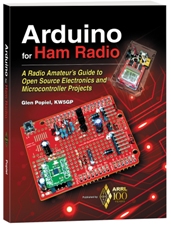 And of course the
great
"

ARRL Handbook

"
.
BUY IT!
END SOAPBOX
---
RECENT HAPPENINGS
I enjoy the ALLSTARLINK radio system. 
I have a node on now (27051) and others in development.
Limited RF coverage in Seattle, WA (mostly low power simplex UHF 445.875 with 103.5 PL)
My node is also connected to ECHOLINK world-wide with my call of W7FED-R
Check out the node list at;
https://allstarlink.org/nodelist.php
---------------------------------------------------------------------------------------------------
I am a memeber of the Mike & Key Amateur Radio Club K7LED. I love to go to the "Mike & Key Electronics and Ham Radio swapmeet" each year at the Puyallup Fair Grounds, Puyallup, WA. (Near Seattle, WA) - Amazing how many people attend this event! I always have a great time selling and talking with everyone and I am glad I get rid of some stuff that I no longer need and that others can now enjoy it. I always try make time to walk around and look at other tables, which is probably not a good thing because I come home with more stuff than I sold. HaHa.
Check it out at;
http://www.mikeandkey.org/flea.htm
Take a look at some of the photographs posted so you can see how BIG it is!
---
WORK
I currently support Motorola ASTRO P25 trunking radio systems.
73 de W7FED (ex WA5JXY) Neil
Hope you enjoyed reading my "Bio"
---