1960s Playing with radio, xtal sets, Tubed CB sets and converted car radios.  Also interested in emergency power for camping.  Wound first 60 Hz generator using an old car generator with new windings and lawnmower engine..
1963   Novice: WN4APR with ARC-5 Command sets on 40/80m
1970  Senior project at GaTech was building an Electric car using an old VW and WWII aircraft starter motor.  Began 20 year Naval career.  http://aprs.org/EV-at-tech.html
1973  Playing with VHF FM in Japan and building radios.  Built a 1kW wind generator (destroyed in high winds)
1975  Wrote first RTTY BBS, later added phone, then RF ASCII
1978   Worked with AMRAD group developing AX.25 in USA.
1980  Restored an old 1978 Vanguard Electric City Car (20 mile range)
1982 wrote first data map program plotting navy ship positions on APPLE2 in Japan.
1983, wrote VIC-20 VHF/HF BBS and Gateway and defined 200 Hz shift due to development of mods to dozens of surplus VADCG bell 103 modems with cross-county links to W0RPK, W9TD, and K7PYK on 10.149 MHz.  Remained on the air 5 years through 1989 under the FCC STA for automatic packet HF operations.  Developed larger system on the Commodore C-64 for BBS's used around the world through the 90's.
1984 Developed CETS (Connectionless Emergency Traffic System) on Vic-20 and C-64 for digital packet comms in support of 100 mile cross country endurence run for AMRAD.
1986 or so, used CETS for amateur packet radio support of the FEMA National Disaster Medical System exercises in DC area.
1988 or so, ported CETS over to the new IBM AT PC and began to add maps and position plotting of stations.
1990 or so. Retired from USN.  Began hand making maps of the USA for CETS use.
1992 Changed name of CETS to APRS and presented paper at DCC in Teaneck NJ where I first met Sproul Brothers who later wrote Mac and WinAPRS.
1994 Developed MIM Module with N3MIM and Mic-E protocol.  Proposed WIDEn-N digipeating
1996 or so worked with TAPR to produce Mic-Encoder and Paccomm to indroduce callsign-substitution RELAY, WIDE, TRACE digipeating
1998 Worked with Kantronics to introduced WIDEn-N digipeating and Kenwood to introduce the TH-D7 APRS walkie Talkie
2000 Worked with Kenwood who introduced the D700 APRS mobile radio
2001 Introduced APRS touch-tone, APRS reporting of IRLP and Echolink. Developed PCSAT-1.
2004 Began the New-N Paradigm to rid APRS of all old legacy digipeating algorithms and focuse on user education for one standard
2005 Began initiative to include operating Frequency in all APRS packets.  Developed PCSAT2 APRS Relay Transponder- Flew on outside of ISS for 1 year and then returned to Earth
2007 Developed ANDE, RAFT and MARScom APRS amateur 5" cubesats - Deployed from ISS, Dec 06 - Raft and Marscom lasted 5 months before de-orbit.  Ande lasted 51 weeks before de-orbit.
2008 Yaesu introduced the VX-8R APRS walkie-Talkie.  Finally returned to Electric Cars  after 38 year hiatus and converted a salvage Prius to solar and Electric drive.  See http://aprs.org/my-EVs.html
2008 Introduced the Universal Ham Radio Text Messaging Initiative to tie together the two-dozen or more existing amateur radio text messaging capabilities.
2009 Recycled two more salvage Prius for family use, one that was rear-ended into a woodie and the other with solar to cover crushed roof..  See http://aprs.org/my-EVs.html 
2010 Born-again awakening to Solar energy when I realized Grid-Tie eliminates the cost, hassle, frustration and replacement of batteries!  Initial 8 kW installed.  See http://aprs.org/alternative-energy.html
2011 Continued evangelizing Solar and now Electric Vehicles (see http://aprs.org/EV-misinformation.html
2014 Converted from Heating oil to GroundSource Heatpump and added another 8 kW solar to complete conversion from my 3000 gallon per year fossil fuel addiction down to only about 200 gallons a year (for visiting grandma with the Prius)... See http://aprs.org/geothermal.html  Got my wife's church to go solar, and support EV's: http://aprs.org/AFM-environment.html
2015 Completed another APRS satellite called PSAT.  Launched May 2015 which also includes PSK31 transponder.  See http://aprs.org/psat.html
2016, Mentoring PSAT2 and HFSAT construction for launch Dec 2016.  http://aprs.org/psat2.html, and http://aprs.org/hfsat.html.   Finally got THINK EV working and am driving on all Electric charged frm my home solar.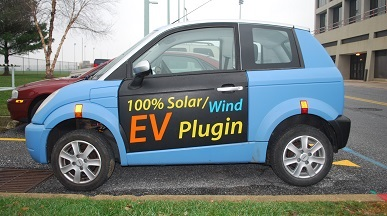 2016 Dayton Hamvention (May) - Met Pilot Andre Borschberg of the Solar Impulse when they stopped in Dayton on their historic around-the-world flight.
See www.aprs.org