WD8GEO IS NOW ON D-STAR!!
Now you can catch me on D-STAR. I am usually connected to

XRF038A, REF030C, and REF001C

via my Raspberry Pi and DVAP Hotspot (WD8GEO C).
ICOM ID-880H
Raspberry Pi (512MB RAM)
Raspberry Pi (w/clear cover)
_________________________________________________________________________________________________________________________
PLEASE JOIN US ON THE:
"ROUND THE WORLD QSO" Thursday Evenings at 9:30pm (eastern) on the following connections: DSTAR: XRF038D,  IRLP Micro-Node Reflector: 9669, Echolink "U-NODE" Conference (node number 412778), AllStar: 29234. We now have Yaesu's Fusion system checking in by way of those that have the new WiresX box.
You can also join the "Round-the-World QSO" Yahoo Group at:
http://groups.yahoo.com/group/roundtheworldqso/

ATTENTION ECHOLINK USERS ONLY!!! You can use the Echo-IRLP conference server (U-NODE) to connect to me on IRLP. How??? Use node number: 412778. That echolink node will connect to Micro-Node's IRLP Reflector: 9669.
___________________________________________________________________________________________________________
ABOUT WD8GEO:

My name is George and I became a HAM on 2/11/2010. I've always been interested in amateur radio, but was really into CB radio at the time. A friend of mine, Bob (N8ORC), explained in detail, the amateur radio hobby, and my interest sparked even more, to the point that I went and took my test, passed, and got my license (I am a technician, but will be upgrading shortly).
Now I am on the air speaking to many different people all over the Cleveland Ohio area, as well as the WORLD!!!!!
I enjoy checking-in to various local nets such as: LEARA 2m NET: 146.760Mhz, Tri-County Traffic and Training Net: 147.015Mhz (I am net control on Tuesday evenings), Tony's Swap-n-Shop: 147.015Mhz, THE GROUPIE GATHERING: 443.700Mhz, and most recently the OHIO WIDE D-STAR NET (Sunday evenings at 8:01pm on XRF038A)
I am very interested in, and active on: the IRLP and Echolink aspect of the hobby. I set-up my own micro-node (www.micro-node.com) to make world-wide contacts (that are crystal clear, and NO BIG ANTENNA OR TOWERS NEEDED!!!). I also enjoy checking-in to various IRLP nets such as: The 53.310 Swap and Ragchew Net: Tuesdays at 9:00pm on IRLP node 9669, The North American Handshakers Net: Tuesdays at 10:00pm on IRLP node 9250, The 220Mhz Rag Chewers Net: Wednesdays at 10:30pm on IRLP node 9221, The Thursday Night Swap Net: Thursdays at 11:00pm on IRLP node 9873, The Alaskan Morning Net: Everyday at 1:00pm (est) on IRLP node 9070, and The Worldwide Friendship Net: Every morning at 10:00am (est) on IRLP node 9611. And, as stated above, I started the "Round-the-World QSO net that meets every Thursday evening on IRLP reflector 9669 (echolink U-NODE conference 412778) at 9:30pm (est) which is 01:30 (UTC).
I also speak frequently with Richard (M6RTM), Sharon (M6SLT), Martin (M6ATJ), and Darryl (M3ZDZ), in Barnsley, South Yorkshire, England. Join us for tea, crumpet's, biscuits, and maybe even some Twinkies, on IRLP node 5100. Also, VK3ANT (Ron), in Australia, join us for a vegemite sandwich or kangaroo tail on IRLP node 6705. Also, Merle (KB8ENV,on node number: 3425) on the west side of Cleveland, as well as: Dave (K2XI) in Arkansas, Larry (N3VSI) in Maryland, and Dave (W8DMM) and his wife Susan (W8SUE), in Mentor, Ohio. I sometimes use the micro-node reflector: 9669 to link us all together, so join us for an international QSO!!!!
To reach me on IRLP, my node number is 7117. To reach me on Echolink, my node number is 44119. This is a simplex frequency, and I have my node active usually at 5:00pm (eastern time) or very shortly thereafter. So please don't get upset if I dont answer. I can check my IRLP log, see who attempted to contact me, and contact them back.
I am also involved with APRS (automatic packet/position reporting system). It is really neat to track stations that emit an APRS beacon, and even see their location on my GPS. Visit my website: www.wd8geo.com and when you click on the "where am I now" tab, you will be able to see my exact location and even what frequency I am using at that time. A few APRS SSID's that I am using are:
WD8GEO-9 (for mobile)
WD8GEO-C (DSTAR)
WD8GEO-1 (for home)
Affiliations:
Member: ARRL (American Radio Relay League)
Member: Lake Erie Amateur Radio Association (LEARA)
Certified: Skywarn Storm-Spotter
Radios include: Two Kenwood TM-D710A's. One for mobile and APRS use (along with the new Avmap G6 APRS GPS).The other for a 2m /70cm home base and APRS. Yaesu FT-7900 (as a spare for mobile use) Yaesu FT-60 for HT use, as well as a pair of Wouxun HT's (pronounced: Oh-Shang).And when a little "fire in the wire" is needed,the TE Systems 1412G amplifier. For an antenna:a Diamond x50 dual band antenna with LMR-400 coax.
I use the Micro-Node for Echolink / IRLP access.
Echo/IRLP Node set-up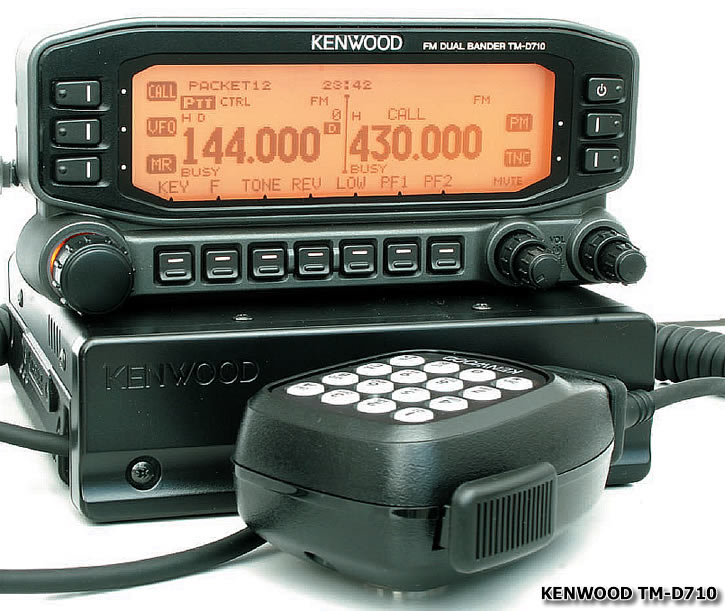 (Kenwood TM-D710A)
AvMap Geosat 6 (for APRS use)
(Wouxun KG-UVD1P)


(FT-60)
(Yaesu FT-7900)

(ICOM ID-880H D-STAR)
(ICOM ID-51 D-STAR)
T
TE Systems 1412G: 2 Meter Amplifier (www.tesystems.com)

WD8GEO