---
---
The Shack

Top:  Kenwood TL-922, RS RCA Switch, Alpha 374
Middle: Motorola Modem, SDR Play (hidden) VOIP Phone, Nye Viking RF Power Monitor, Nye Viking MB-V-A
Bottom: Yaesu FTdx3000, SCS PTCIIpro, 2X RCS-8V Remote Coax switches, Yaesu FT-991, WiresX
Mic's: Heil PR-40 (on the arm)  Desk mic MD100
 Monitor: Viewsonic 28 inch
---
Remote Software.... Currently using RCForb Client/Server
The other remote software (iPhone/iPad) I used to use.
CommCat by Howard Nurse W6HN
Remote control using the iPhone/iPad
---
DC Power from my shop.
I use a remote control to turn the power supply On and Off from the shack (upstairs)
ICT 60 amp rack mount supply 
---
Some of my current pets...
"Tears & her fawns" and "BL"(Broken Leg)
 Tears has brought us a couple of new fawns!
Some critters on the way to our repeater site on Mt. McDonald....
---
THE MOBILE 1998 Jeep Grand Cherokee...
New picture coming of the next project... 2002 Jeep Grand Cherokee Limited "Overland"
Antenna - Tarheel M200A with Capacity hat, 6 - 80 meters
Radios - HF  Kenwood TS-480HX (200 watt) & VHF/UHF Yaesu FTM-400DR System Fusion
Mobile I use a 6 ft whip and capacitance hat and portable I use a 17 ft whip on the capacitance hat.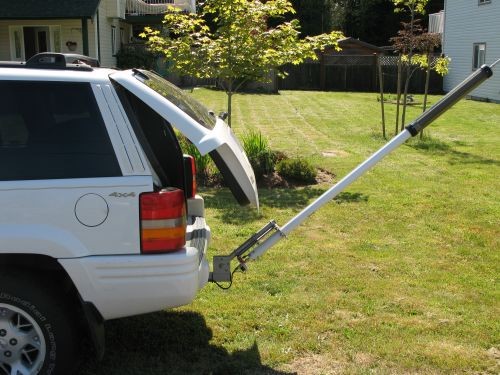 Tarheel - MT3FB Layback mount
Trailer - I welded another receiver on the trailer tounge.
The "Just in case" portable station.
Antenna: Hi Sierra HF/VHF/UHF
Radio: Kenwood TS480
Power supply: ICT 40 amp
Genset: Honda EU1000