Notice to all,
Unfortunately, the last time I get back a lot of cards with the tag is not a member of the Bureau and these maps throw.
In order to avoid destroying and paid QSL cards so I decided to answer all the
ONLY RECEIVED QSL cards.
Thank you for your understanding.
| | | |
| --- | --- | --- |
| | 9 A 3 S M | DIG - 4740 |
I am member of several CW clubs : AGCW-DL#1947,9ACWG#003,SPCWC#129,RTC#149,HSC-#1643,VHSC#351,HACWG#084,
Also member of DIG#4740 and IPA, HH#2301,FISTS#7785,CC#1100 ... etc.etc ...
I collect QSL cards and please send to me your QSL via bureau or direct. My QSL is sure 100 %.
PLEASE NO eQSL CARD - I do not reply eQSL cards.
I have NEVER USED QSL service from I1YRL .
Please DELETE any information about any manager. QSL is only via bureau or direct to my address.
My another hobby is collecting police and military patches,hat badges, breast badges and ranks ... If you have "DONATION" for my collection you are WELCOME.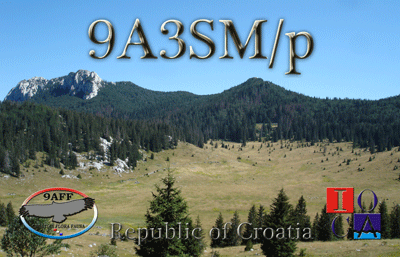 Web site : http://www.9a3sm.com