Hi there ,thanks for the look up,or better still if I had the pleasure of a QSO with you.
Please no paper QSL cards, only by Eqsl.cc or QRZ Logbook.
Tks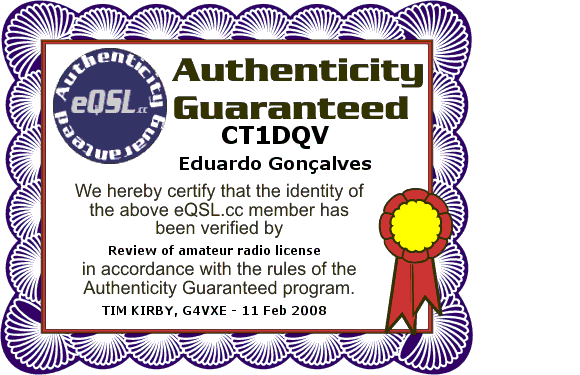 My Station
- Kenwood  TS 990
- Icom 7700
- FT 1000 Mark v
- TS 870S
                                               Audio equipment
- Audio by ART ,  EQplus( W2IHY)  and  RODE Microphones (to  ESSB Hi-Fi Audio) / HEIL Pro-Set Plus ( to DX)
                                                   RF  Power
- Acom 2000 ( For lazy... Tecnology at the service of the ham radio... the best)
- Ameritron AL 1500   ( The Hercules...the BIG BOY...Birds get out of the way)
-
        * Life  is too short to work QRP *
                                                                             Antennas
- Antenna : SteppIR 3 elements                           
- Dipole inverted Vee for 7 Mhz
                                                                                        Digital  Comunications
- DSTAR - CQ0DCH B or C local repeater
- DMR -  ID (268) 1002 -  TG 268 - Nacional TG ,  or  directly -  Local DMR Repeaters  ( CQ0DBO ,CQ0DPD,CQ0VMI) - Cluster TG 268903
- Sysop  CQ0DBO , CQ0DPD and CQ0VMI  ( any  comments are welcome)
                                              More  information
- Local Radio Club      www.arat.org
- Locator IN 61 GR
My favorite Band 14 MHZ , every Saturday/Sunday morning 14.200 Mhz to 14.220 Mhz depends QRM.
- Sometimes, not many, in the 18 Mhz.
A.R.A.T. Member and Founder -http://www.arat.org/
Station operator - CS5RAT
REP Member nº   No more  Member
Thank You all for our QSO and for looking me up on qrz.com
Hope we can work again as soon possible
See you on HF bands Good DX"ing
Wish you all the best with my warm regards
I  have a ticket to go to Mars, I hope to make a DX with you from this distant Planet !!!!!!!
NOT  MEMBER  QSL  BUREAU
" QSL: ONLY  EQSL  or  QRZ LOGBOOK  -   NOT IARU QSL OFFICIAL BUREAU - TKS "
Please do not send QSL cards in respect of the Evironment ! Save Tress , save the Planet  !
 PLEASE CONFIRM CONTACT VIA QRZ LOG BOOK  - THANK  YOU.
                                                              JAMBOREE  2016
                                                            JAMBOREE 2017
73 ED
      My Log  - last activity