Thank you for looking up my ca
ll. I can be QSL'ed Direct or via F5KKD.
At the time I was very active on 20m and 10m. Lately I am active on 10m, 15m,17 and 20m DX.
I enjoy DX in all it's forms but especially enjoy the longer QSO's more than the quick exchange of calls and RST.
There are so many interesting people out there and getting to know them is a big part of the hobby for me.
My HF station consists of a ICOM-IC756 PRO3 with sm50 and sp23 running 100W into a STEPPIR 3 element 20m-17m-15m-12m-10m-6m.
Yaesu FT2000 with SP2000 and MD 100.
Dipole 40/80m and Diamond x200 for VHF/UHF. I also have an Kenwood TL922 and Icom IC-706mk2G which i use for 2m and as a backup.
The IC-706MK2G is a fantastic transceiver.           
             
Mes antennes  -
Steppir 3 elements - 
Dipole rotatif 40m -
Doublet 40/80 m
                                                    Antenne Verticale bi-bande VHF-UHF
                         
                                                      
                                                               Mes QSL
Les copains du Radio-club F5KKD

La team F5KKD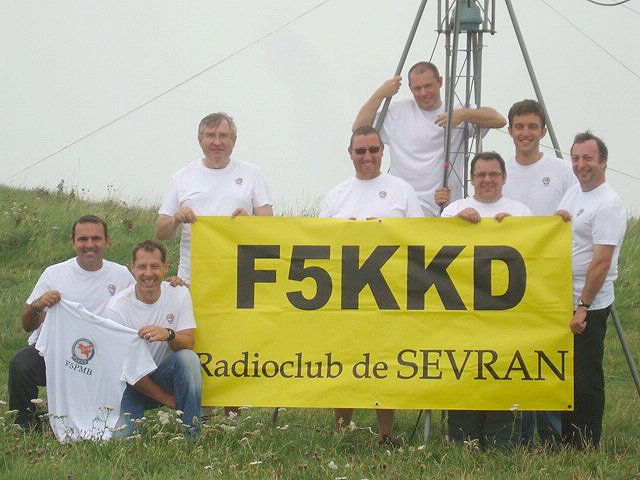 F4DVT - F5OZK - F1BGY - F0GDS - F5SLD - SWL PATRICK - F4EYQ - F0GYN                
Au fond F0GYN - F4DVT  et    F5OZK                         F5LLE                F4DVT             F5OZK
F0GDS Philippe en plein pile up !   F8HJV Christian Residant sur l'ile du LEVANT (83) http://www.f8hjv.fr
 F8GGO  Christian  (dept 95)  http://f8ggo.free.fr    F8GGV Misho (dept93)
                                                    Misho a l'examen classe 1
                                         Les copains lors du salon de Freidrischafen
                                                                  Les copines !
                                                       Suzuki 1300 gsxr Hayabusa