Update;  The Bike is gone, and enjoying nice roads and sunshine in Florida. I gave it to my son Adam who honorably served our country in the "STAN" with the "screaming Eagles". I wish him good luck and hope he rides it in good health.
"GARRYOWEN" is the spirit of the 7th Cavalry.
 Well,radio for me started in about  of when my parents gave me a Lafayette Micro 66 cb,a ground plane and a strange thing called a matching unit. We lived on the ground floor and put the antenna 6 stories up on the roof. I had lots of fun talking to people in the Bronx and from then on I was hooked on radio communication.
Four years later I entered the Army and went to the U.S.Army Signal School at FT. Gorden,GA. as a O5B10A4 radio operator. The "A4" meant code qualified. I am proud of the A4 because we were probably some of the last to learn cw at the signal school. I held many positions during my 6 year hitch including; communications security,Battalion maintenence and dispatcher for the 7th Air Cavalry in Uijongbu,Korea. Some of the military radios I used are; An/GRC 106, Urc 101,RT 524,RT 841/PRC77,TT-76,KYB-6,and KY 57 Vinson.
SKCC 6539T 10,12,15,17,20,30,40,80M /K3Y SWEEP 2011,12,14,15,16/ SKCC WAS,WAC
Update; Just passed general and looking forward to work some other bands. Mosty CW but I do have a hand Mic.
Update 02/11/13; Equipment is FT 897/DX SR8T/FT 101ee/MFJ 969/80m dipole.  I love the warc bands and like working DX. *****If you want a QSL card just send it direct...do not send any money.....stamps,ect. Just send the card and ill send one back*****
Update 08/30/14; Purchased some new equipment. FTDX 1200/AT2K, FT 897/AT-1000,W2IHY gear and a Heil head set. I plan to work more SSB in the future.
Update 3/1/17 After about 16k CW qso's and about 190 countries i've finally decided to persue other modes in Ham radio. I will still work countries that I need with CW and occational DX., I now have started to enjoy the Digital modes and a new bunch of ops. 
I would like to thank the SKCC and all the very generous folks who run the club.Because of you my ham radio experience has been enhanced to a level that I cannot discribe in words.
Thanks, to all my friends I have made in this wonderful hobby.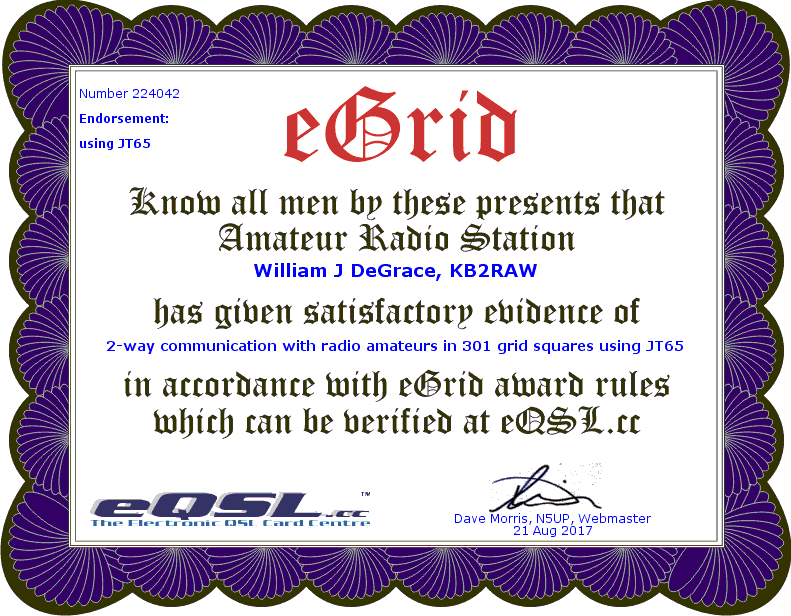 CW 4ever !!

                                                                                                                                                                                                                                                                                                          Some other Army  units I was in
3/19 Infantry(MECH) FT. Stewart,GA
4/27 Field  Artillary(MLRS) Peden Barracks, Germany
  9th Cav Brigade Air Attack FT Lewis ,WA
    Also worked on DARCOM  missions while in Korea but never officially attached.    
ECM is your problem. Send a MIJI Report. ( Meaconing,Intrusion,Jaming,Interference) Hi Hi