Sunrise in LY2BMX QTH, 2017.05.07, 01:24
East direction in LY2BMX QTH,  2017.05.10, 15:50
LY2BMX signal recorded in CQ WW 2015 CW, from Latvia,

Ventspilis

. Only 5W, QRP
LY2BMX setup (CQ WW 2015 CW) in brick bungalow

, there where near the unused water tower

LY2BMX QSL PDF (6.7Mb)
About me
My amateur radio story has started at the age of 13 years (~1979) in Anyksciai town, Lithuania.
My first elmer was UP2BAI, Danielius BINKYS (anykstenai.lt info in LT). I have learned Morse code from him during a couple of months. So I was joined into ham radio in 1980, at local UK2BBF and UP1BXF club station.
My first personal callsign - EZ2BAZ (1980-1983 license only 160m band). EZ2B prefixes from 01 November 1979 through 30 April 1984 is Lithuania, LY (change). My first QSL :). In 1983 I got my personal call UP2BMX (license on all bands). Later upgraded to LY2BMX. Operated/operating as LY7A, UP1BZO, LY2ZO, LY2XW, UK2BAM, UP1BYK, UK2BBF, UK2BBC and others Callsigns...
The main intent - contesting, DX'ing (CW/SSB).
Elmers: LY2NK Algis Kregždė, LY9A (LY3BA) Gediminas Lučinskas, LY2BAI Danielius Binkys.
Member of Kaunas University of Technology Radio Club since 1984. KTU RC (LY7A): http://dxnews.com/ly7a-amateurradioclub-kaunas-university/
First my very personal step: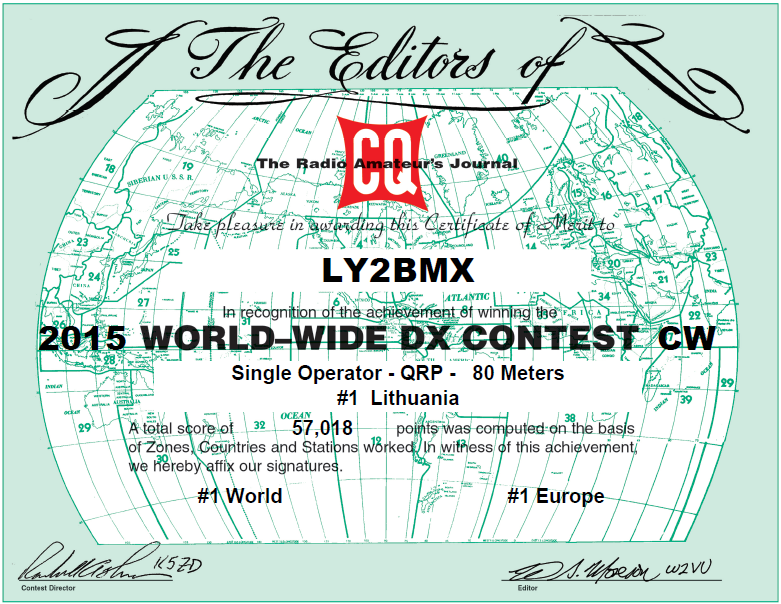 Just link: Ham radio maps