I log every contact direct on QRZ, HRDLog and send you my EQSL. I upload my contacts daily to LoTW !
Welcome and thanks for visiting my page,
my name is Ger and I was born, raised and still living in Schiedam, a city close to Rotterdam in the western part of The Netherlands. In 1980, at the age of 14, I bought my first CB-transceiver and made my first QSO's. In March 2013 I decided to make my old dream come true and I started studying for a license. Since October 2013 I now have my Novice license, so I can be active on 40m (7.050-7.100 MHz), 20m (14.000-14.250 MHz), 10m (28.000-29.700 Mhz), 2m (144.000-146.000 MHz) and 70cm (430.000-440.000 MHz).
I'm using the Yaesu FT-950 with MD-100a8x microphone for HF with a vertical antenna on my balcony. I use my Yaesu FT-897D for 2/70 with my Diamond X50 antenna and sometimes in the field with the HyEndFed multiband 10-20-40 antenna. I enjoy to make QRP contacts with my 10 meter handheld radio, the Albrecht AE-2990 AFS with the LRD-1012 rubber duck 27 inch whip antenna or with my Yaesu FT-817ND and MFJ-1899t multiband portable antenna. Sometimes you can hear me on DMR, I have a TYT MD-390. I love to play with my Yaesu FT1XD handheld radio with Wires-X System Fusion and on HF I like the digital modes FT8, JT65 and SSTV too.
You can find more information about me on Facebook, Twitter and my website: http://pd1evp.simpsite.nl
I also manage the QRZ-page of my clubstation PI4CQ.
---
My little shack with the Yaesu FT-950 & FT-897D & the old Yaesu FRG-8800 receiver.
My Diamond BB7V vertical antenna, 2-30 MHz, 250 watts PEP, 50 ohms, 22 feet fully extended.
CQ 20 CQ 20, QRP with my Yaesu FT-817ND and MFJ-1899T portable antenna, 2,5 watt.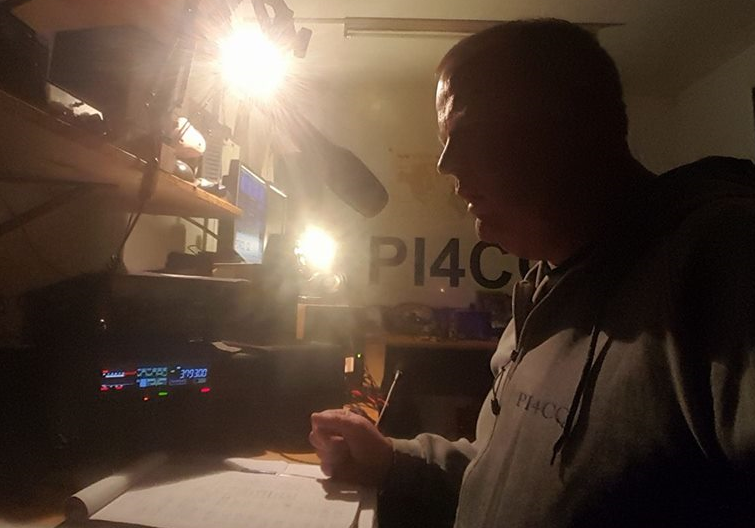 Nightshift at the PACC 2017 for my clubstation PI4CQ, calling on the 80 meter band.
This is me during an outdoor event with PI4CQ in Lemele June 2014.
PD1EVP supports the DX Code of Conduct
I will listen, and listen, and then listen again before calling.
I will only call if I can copy the DX station properly.
I will not trust the DX cluster and will be sure of the DX station's call sign before calling.
I will not interfere with the DX station nor anyone calling and will never tune up on the DX frequency or in the QSX slot.
I will wait for the DX station to end a contact before I call.
I will always send my full call sign.
I will call and then listen for a reasonable interval, and not call continuously.
I will not transmit when the DX operator calls another call sign, not mine.
I will not transmit when the DX operator queries a call sign not like mine.
I will not transmit when the DX station requests geographic areas other than mine.
I will not repeat my call sign when the DX operator calls me, unless I think he has copied it incorrectly.
I will be thankful if and when I do make a contact.
I will respect my fellow hams and conduct myself so as to earn their respect.
---