I enjoy contesting, hunting WFF and SOTA stations. You can often meet me on the waterfall while working JT65/JT9 and PSK31 modes.
I'm active from 160m to 70cm bands. When you are near Lodz, you can call me in FM mode on the following local repeaters SR7PA and SR7LD and ocassionally on Echolink (node 373840). I'm also on DMR - ID: 2607055 on TalkGroup 260, 92 or 26071.
Please email me if you need my direct postal address!
My current rig:

1. YAESU FT-450D

2. YAESU FT-7900E

3. DigiMode interface by SP3NYR

4. Behringer XM8500 mic

My antennas:

1. Horizontal Delta Loop (80-40-20-17-15-12-10-6) at 14m

2. Inverted-L 160/80 m

3. Vertical 40m

4. 2 x EndFeds 21m long (40-20-15-10) and 1 x 12m long (40-20-10)

5. Vertical Delta Loop Monoband for 40m

6. 2m/70cm Yagi DK7ZB 2+2 el. manufactured by VPA Systems

7. HM SlimJim for 2m
For 2016/2017 winter season I have recently put up combo quarter wave Inverted-L antena for 160m, 80m and vertical for 40m. The antenna is fed in single point with one feeder and 1:1 balun at the height of 1,5m. Then two parralel wires separated by 80cm PVC tubes go vertically up to height of 14m and then horizontally in opposite directions to nearby trees. In between, there is 1/4 wave vertical wire for 40m. There are two elevated tuned quarter wave radials for each band about 3m high.
More radials are to be added later.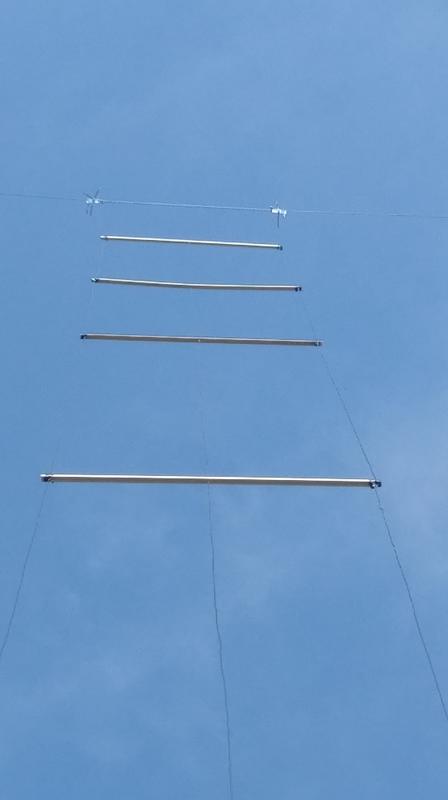 Below you can see one of transformers for my shorter 12m EndFed antenna.
The core is FT140-43 toroid from Amidon and has 1:56 ratio as this antenna is only 5m above ground and is used for 40m-10m bands thus needs less inductance .