Icarus, t
he son of Daed
al
us, is commonly known for his attempt to escape Crete island by flight, which ended in a fall to his deat
h.
Daedalus fashioned two pairs of wings out of wax a
nd feat hers for himself and  his son. Before they took off from the island, Daedalus wared his son not to fly too close to the sun, nor too close to the sea.
    Overcome by the giddiness that flying lent him, Icarus so ared through the sky curiously, but in the process he came too close to the sun, which melted the wax. Icarus kept flapping his wings but soon realized that he had no feathers left and  that he was only flapping his bare arms.
    And so, Icarus fell into the sea in the area which bears his name, the Icarian Sea near Ikaria island,
which
was before named
Dolihi
and
Anemoessa
.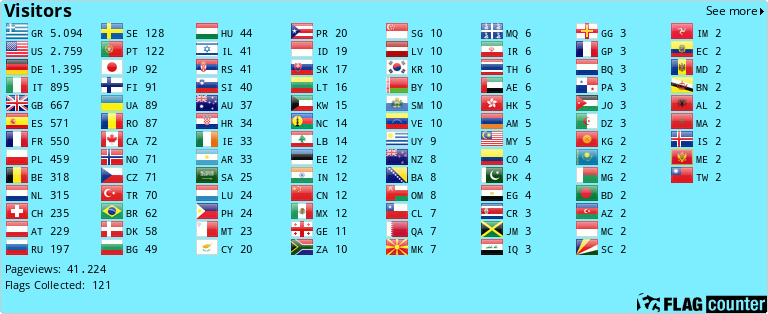 UTC                                    LOCAL
THE ICARUS' FALL
"THE LAMENT FOR ICARUS" (Herbert James Draper 1898)
OTHER VIEWS OF THE PORT EVDILOS (S.E)
REGATA 2009 IN EVDILOS
THE SHIP "NISSOS MIKONOS" AS SOON AS IT LEFT FROM PORT EVDILOS
AMAZING BALCONY ABOVE THE SEA IN EVDILOS
GIALISKARI
WATER DAM "PEZI"
LIGHTHOUSE "PAPAS"
RUINS OF AN OLD WATERMILL
AND ITS RESTORATION
RUINS OF THE ANCIENT TEMPLE "ARTEMIS TAYROPOLOS"
AND RUINS OF PALACES IN ANCIENT "ENOE" (CURRENT KAMPOS VILLAGE)
SMALL WATERFALL IN "HALARIS" RIVER
MUSICIAN PLAYS ISLANDER AIMS WITH TRADITIONAL "TSAMPOUNOFILAKA" (BAGPIPE)
ANNUAL MEETING OF TRADITIONAL MUSICIANS OF AEGEAN SEA IN EVDILOS - SUMMER 2016
Because Ikaria seems to exist beyond the normal confines of time, the Ikarians tend to live at their own pace and visitors to the island must be aware of this. For example, if a shop owner happens to wake up at 15:00 and open his/her store at 18:00, so be it. Their mentality goes, it's their life, and their store, and there is no need to live life bounded by the 'anchos' (stress) that obeying and serving others is one's prime purpose.
The slow and moderate development of tourism on Ikaria has indeed created a slight shift in this area, so one can now find essential services like pharmacies and minimarkets open from maybe around 10am, but most Ikarians are not reliant on tourists (in contrast to the rest of Greece that thirsts for visitors with thick wallets). This is not due to the "Ikariotes" being unfriendly - quite the opposite. Ikarians are open, relaxed, down to earth and passionate people who greet you with a genuine smile and say hello to you when you drive or walk past them.
Ikarians have always been self-sufficient people, mainly shepherds, farmers, fisherman, shop owners and craftsmen. They farm their own land - with most households growing their own supply of organic fruit, vegetables and herbs. Youths start learning to harvest the land and herd goats and other animals, as well as other traditional labour, as early as their adolescent years. Young men and women work hard and see it as a way to carry on their heritage, rather than a nuisance that prevents them from spending hours on the internet or in cafes in Athens. A small but growing percentage of the population is employed in tourism, and the tourist services of the island are low key, evolving and improving yearly. Ikaria has a permanent population of approximately 8,500 inhabitants and the majority of them lead a traditional way of life.
TRADITIONAL DANCES
ARISTOPHANES "NEFELES" A PERFORMANCE BY "AEGEAN THEATRICAL EXODUS"
"PROMITHEUS" ANOTHER PERFORMANCE ON THE TOP OF A MOUNTAIN
IKARIAN FESTIVAL (PANIGIRI)
JUNIOR'S CARNIVAL FEST IN EVDILOS
IKARIANS WEARING TRADITIONAL COSTUMS
"SLOW FOOD" RESTAURANT IN MARATHO VILLAGE!
IKARIAN TASTY FLAVOURS
ALL BELOW, THEY DO NOT FIND IN THE LAND, BUT IN THE BOTTOM OF IKARIAN SEAS
IKARIA, THE ISLAND WHERE PEOPLE FORGET TO DIE!
Recently Ikaria became internationally noted through an ongoing health project called Blue Zones (www.bluezones.com), run by Dan Buettner. Buettner visited the island to research why it is one of the few exemplary locations in the entire world where people live such long, balanced lives. In his reports he attributes longevity on Ikaria mainly to diet and lifestyle, as well as owning rather than being owned by time, as most stress-ridden people around the world are today. He writes: "our team has discovered that over one-third of everyone living in the northeastern end of the island reaches age 90."
God Dionysus loved this island, not only because it was his mother country, but mainly, because his residents resembled very much in his character: witty, revellers, draft-evaders.
For this reason, he gave them the "pramneus vine", which gives the "pramneus wine", the deep red wine with the high content in alcohols (16%) and perfect flavor. From then, this wine it accompanies the Ikarians in their daily life, associations, the amusements and in their fests. For many centuries, the mountainsides of "Pramnos" they were covered by vineyards and the "pramneus wine" that they produced there, they was sending it from the harbour "Enoe" of the northern Ikaria to all of the important cities of antiquity.
VINEYARDS AND VINTAGE WINE-PRESS
  FARMERS, CATTLE BREEDERS, VINE GROWERS, FISHERMEN, APIARISTS, CRAFTSMEN, ARTISANS, WERE ALWAYS THE PROFESSIONS OF IKARIANS
AN OLD WHEEL-WELL
HOME MADE OVEN
TRADITIONAL HOUSES
MOUNTAINEERING & HIKING ASSOCIATION OF IKARIA
HIKING GUIDE OF IKARIA
ARMENISTIS
SHELTER FOR YACHTS (MARINA) IN AYIOS KIRIKOS (under construction)
MESSACHTI BEACH
From the antiquity Ikaria was acquaintance for her hot therapeutical waters and crowd of patients from other regions visited him, hoping they are cured from their diseases. Today, function in the village Therma and the wider region of Saint Kirikos simultaneously spas, for many types of diseases.
THERMA VILLAGE: HOT MINERAL SPRINGS & THERMAL SPAS
THERMAL SPA "APOLLO"
                   CAVE JACUZZI                          SWIMMING IN THE HOT SPRING AT THERMA
MINERAL SPRINGS "IMMORTAL WATER" NEAR XYLOSYRTIS VILLAGE
THE CHURCH AND MONASTERY OF SAINT THEOKTISTI
 MAGANITIS TUNNEL
THE AIRPORT
CHRISTOS RACHES
THE BELOW POSTER  EXPLAINS WHY  ICARUS FELL...
HAM ACTIVITIES
HOME MADE ANTENNAS ON THE TERRACE
SMALL PART OF A LARGE QSL COLLECTION
WIRE H.F. ANTENNAS FOR USE IN LIMITED SPACE
THANK YOU VERY MUCH FOR VISITING MY PAGE
HOPE TO MEET YOU ON AIR
JOIN TO GREEK ISLANDS ON THE AIR (GIOTA)
BE FREE AS ICARUS