New Call Sign  VE3EB  (Also known as my first call sign, VE3OIC but I answer to both)
Thank you for taking the time to visit my QRZ page.
My name is Matthew (Eric) Brown and I reside in Newmarket, Ontario with my family.
http://newmarket.ca/en/lifestyle/historicnewmarket.asp
Newmarket is located approximately 35 kilometers directly to the north of the City of Toronto border or just over 55 kilometers from Toronto City Hall. The overall area surrounding Toronto is referred to as the Greater Toronto Area or GTA
I was licensed for Amateur Radio in 2004 as VE3OIC and received my advanced ticket in 2005. So you are not confused I own three Canadian Call Signs,VE3OIC, VA3OIC and as of May 2, 2014 I use the preferred call  VE3EB my new two letter vanity call sign!
My interests include HF phone, digital modes but specifically PSK on 10, 12, 15, 17, 20, 30 and 40 meters and  D-Star radio, DV Dongles and D-RATS, APRS and more recently APRX (Linux version) technology.
My latest D-Star purchase is an ICOM ID5100A mobile radio and so far it has been one of the best
mobile radio that I have owned or operated!
Me and my Tape Measure Yagi!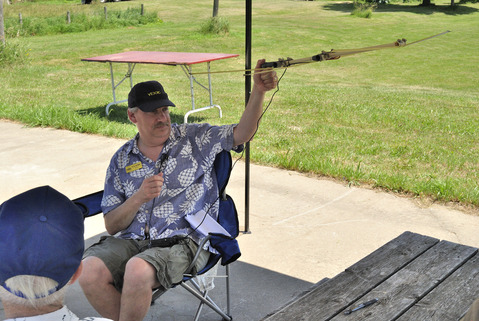 The Shack (Moved to a telecom 2 post rack, a work in progress Dec2017)
2m/70cm
Radio 1: Yaesu FT 8800R
Antenna: Arrow OSJ 146/440 (Home Brew) J-Pole (#1)
Metering: DAIWA CN-103L

Power Supply: Alinco DM330-MV (#1) 
D-Star
Radio 2: ICOM ID880H 
Shack: DV Dongle 
HT:  ICOM ID51A D-Star/Analog (Portable)
APRS
APRS Radio: Motorola Radius x2
Tracker Argent Data Open Tracker 2 (OT2) x 2
Antennas: Arrow OSJ 146/440 (Home Brew) J-Pole (#2 & #3)
Power Supply: Alinco DM330-MV (#1) 
HF
Radio: Yaesu FT857D (All Band)
Antenna: G5RV, 30feet HAAT
Tuner: LDG Z-11 Pro
PSK via Signalink USB
Metering: DAIWA CN101L/LDG FT-Meter & RF Monitoring Meter
Audio: Wohler AMP2A
Power Supply: Alinco DM330-MV (#2)
Mobile 
Radio 1:  ICOM ID5100A
Radio 2:  Motorola SM1200 Radius (APRS)
APRS: Argent Data Open Tracker (OT) 2
GPS: Garmin Nuvi 350 w/Fleet Management Firmware
Miscellaneous:
RF Patching: Home Brew SO-239 Patch Panels
Power Distribution: Power Pole patch Panel (Homebrew)
Radio Control: AMP/TE 24 Port Network Patch Panel (SL RJ 45 Jacks)
Scanners: Radio Shack Pro-44, Pro-94, Pro-95, Pro-96,  Pro-106
Radio Club
I am an avid supporter of community events through Amateur Radio, a volunteer with the local police agency and I am an active club member and currently sit on the Board of Directors of the York Region Amateur Radio Club. www.yrarc.org as the  Director of Public Service Events, Past Vice (2013-2014) and Past President 2007-2012. 

While President I Project Managed a successful Ontario Trillium Grant Application. The radio club was awarded $39,600.00 for a) the purchase of a new complete D-STAR system  (VE3YRK) that consisted of UHF and VHF repeaters and both hand helds and mobile radios for members use b) materials to outfit the radio club's new communications trailer.
Memberships include:
Radio Amateurs of Canada (Maple Leaf Operator Membership)
ARRL
European Phase Shifting Keying Club (EPC) Member # 21908
Digital Modes Club (DMC) Member #06715
Please feel free to contact me at VE3EB.CA@GMAIL.COM.
73,
Eric
VE3EB/VE3OIC/VA3OIC