GMT
---

Philadelphia
---

California
---

Italy
---

Japan
Large Visitor Globe
Last Visitors
Worldwide Visitors

U.S.A. Visitors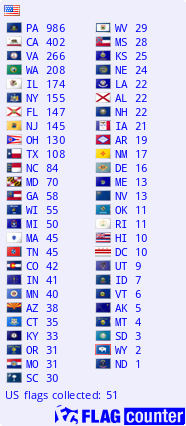 Canadian Visitors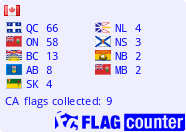 Solar Data
Weather
   " Hello and thanks for visiting my QRZ page"  
My name is John, But the locals call me "Charlie", my middle name.
I'm located in the NW/corner of Pennsylvania, about 55mi. South of Erie, &  65mi. North of Pittsburgh, in the small village of "Reno", on Rt.8 between Oil City & Franklin, in Venango Co.
I'm not into contesting, but I like to work a little "DX", but mostly good old rag chewing on, 160,75,& 40m. I also enjoy the Digital Modes, PSK & RTTY. I do QSL, and most certainly will send one to you, if needed. I use "LoTW", Club Log,& eQSL(AG).
| | |
| --- | --- |
| | My Pal Ollie |
My Rigs consist of: Ten Tec Orion II, Elecraft K-3, Kenwood TS-2000, Yaesu FT-950, & an Yaesu FT-450 AT, (just for Digital). I use the
Palstar HF-Auto Tuner & the AT4K Manual Tuner, & an LDG AT-1000 Pro, for back-up. (Kinda noisy, like a 2 cycle)  My Amplifiers are
the: Ameritron AL-82, & ALS-600.
My antenna's are, a 160m Full Wave Loop, 525'fed with, 600 OHm Ladder Line, a Double Bazooka,160m Inverted-L, Buckmaster DX-OCF 80-10m
Windom, & a 2m Hustler Vertical, for local repeaters...The tower is a Tri-Ex LM-354, 54' Crank-up, with a 2m, Cushcraft 26B2 Boomer up top.
A Mosley TA-34XL WARC w/40m add on, & a Hy-Gain T2X rotor with a DCU-3 Digital Controller.
I'm a member of the, Fort Venango Mike & Key Club,(W3ZIC) club call, & also the Venango Co. "RACES" Group...I use WinLink's,
"RMS Express", for HF eMail & messaging....Now, for a Tour around the Shack..
| | |
| --- | --- |
| The Control Room | My Main Area |
| Kwd. TS-2000 & Elecraft K3 | Orion II & Yaesu FT-450 |
| Yaesu FT-950 & AL- 82, ALS-600, Tuners | 160m loop fed w/600 ohm Ladder line |
| Mosley 5 ele. yagi & C.C. 26B2 Boomer | Local hawk inspecting my work |