News Flash !!!! News Flash !!! News Flash.!!!!!!
THE "2016 CERTICATES"  HAVE BEEN PRINTED AND MAILED TO THOSE THAT SENT A REQUEST,      I WILL POST A PICTURE OF IT HERE AND ON W1G  WEBSITE  THANKS BOB
       WE HAVE DESIGNED A NEW CERTIFICATE FOR 2015   152 ND ANNIVERSARY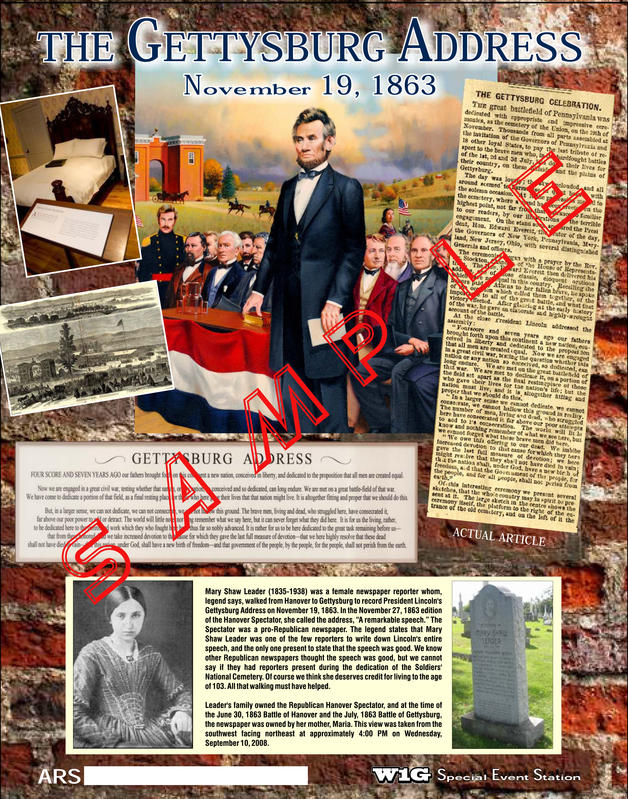 IF YOU WANT THE 2013,2014,2015,2016  PLEASE LET ME KNOW WHEN YOU SEND  YOUR QSL ....
      CERTIFICATES FOR THE "BATTLE OF GETTYS BURG" AND THE    "GETTYSBURG ADDRESS"FOR 2013, 2014, 2015  ARE STILL AVAILABLE
THANK YOU EVERYONE FOR YOUR PATIENCE 
WO4L BOB
W1G SPECIAL EVENT STATIONS FOR THE "BATTLE OF GETTYSBURG" AND "THE LINCOLN GETTYSBURG ADDRESS" QSL INFO:
The Special Event Certificates for BOTH W1G Events will be available for everyone that worked our stations 2013  2014  2015  2016 
Please follow the instructions here for receiving your QSL card or 11 X 14 CERTIFICATE or both.
The Certificates are a Full Color 11 X 14 size and the QSL is a regular size QSL card same photo only smaller
" No" Envelopes or Stamps needed for the Certificates or QSL card as we provide them as part of the Event and we will TRY to provide Civil War Stamps  and hand carry to the Gettysburg Post Office for a Special Cancellation depending on when we get your QSL 
To receive your CERTIFICATE or QSL Card please send the following amounts:
For the CERTIFICATE ONLY send $ 4.00 and a good return address label only
For the QSL Card Only send $ 2.00 and a good return address label only.(Note an SASE IS ALSO WELCOME BUT NEEDS TO BE #10 SIZE ENVELOPE SELF SEALING TYPE IS BEST
For BOTH the CERIFICATE and the QSL Card send $ 6.00 and a good return address label
DX or outside the U S   please send $8 to cover airmail postage for CERTIFICATE AND QSL CARD    (or send via buro for: QSL  card ONLY)  or send $2 US for airmailing  back to you..no envelopes
I WILL ACCEPT CASH, PERSONAL CHECKS,POSTAL MONEYORDERS: I DEPOSIT CHECKS ELECTRONICALLY LET ME KNOW VIA EMAIL IFYOU NEED IT RETURNED
PLEASE NO EQSL, OR LOTW ,OR HRD, OR, CLUB LOG, "ONLY DIRECT" WITH PROPER AMOUNT OF FUNDS TO RECEIVE YOUR "SPECIAL EVENT QSL" !!
I WILL ACCEPT FOR PERSONAL CONTACTS ONLY !! LOTW, HRDLOG, ,CLUBLOG, MY QRZ LOG, EQSL AND I WILL ALWAYS ACCEPT A DIRECT CARD AND WILL RESPOND THE SAME WITH MY REGULAR QSL CARD
Below is a sample of what the Battle of Gettysburg Certificates look like.minus v cuts
Gettysburg, Pennsylvania November 19, 1863
President Abraham LIncoln at the Soldiers National Cemetary, before or after the Address ??
BIO: Born in the First Capitol of the United States, York PA in 1945 only 20 miles from Gettysburg, York was the First meeting place for the Continental Congress and met in the Horatio Gates House (one of General Washingtons generals) which is attached to what was known as the "Golden Plough Tavern" still standing and open for tours also where the Marquis de Lafayette pledged the allegience of the French during the Revolutionary War .
My family history starts as i know it, in Bartsweil Switzerlland, where being persecuted for their faith, my Great Grandfather in the late 1600's moved to Germany to avoid it. In Gemany is where my Gandafther Hans Hess and Hans Herr and a large group met with William Penn .
He gave them land in a place he called Penns Woods Now Pennsylvania so they immigrated to what is known as Conestoga( yes where the wagons were built) They built log cabins to live in immediately, then built the stone houses they eventually lived in.
You can visit the Hans Herr house in Willow Street Pa, and see where My Grandfather and His Wife Magdelena worshipped and the area that they settled in. My family received land from William Penn
I was a Professional Chef for 17yrs and was a COOK in the AIR FORCE and did a tour in Sembach Germany I also was in Basic Training at Lackland AFB in TX when President Kennedy was Assassainated.
i RETIRED from my wallpapering and painting business that i had in HOBE SOUND FL for 22 yrs . I have since moved back to PA
I also build, repair and sell computers as a sideline business and still paint for a contractor when he needs help.
I became Ham Operator in Gettysburg studying at the home or Walt Lane W3KGN SK. He hand carried my application to the FCC in Gettysburg on Sept 19 1979 and returned with my new call of KA3EDL
Finally acheived EXTRA Class in Jan 26 1993 and applied and received the Vanity Call of WO4L "Wireless Operator 4 Life " 10/14/1997
Current Radio and Antenna. I am using a Kenwood TS 440 SAT 100Watts and an OCF 282 ' up 35 ft in center. it will operate 160 Mtrs thru 2 Mtrs No Tuner needed.
I am also operating Mobile and can be found listening on the CHC Net 14.336 I also participate in the OMISS Nets MY OM # 977
Below are some pics of the other things I enjoy as well Riding the Bike Trails , Rail Trails, Kayaking and other outdoor activities
No Really !! The END