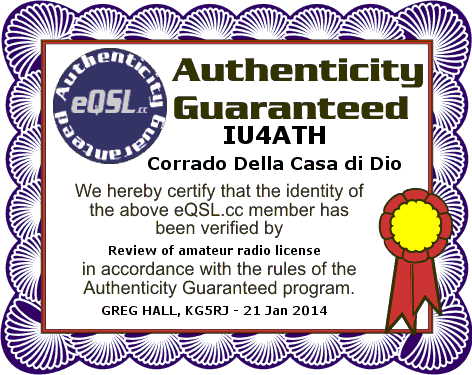 Since 1983 SWL754. After 30 years of radio listeners, the transition to a Class A license
A gift that I did.
I especially thank my friend Umberto (IZ4TOP) that helped me to become amateur radio.
My station
My radio are: Kenwood TS 440Sat, Kenwood TM-V71e and Superstar 2400 to make 1W QRP on 10 meters.
Icom,Baofeng and more.
My antenna Are:
-PKW Antenna System rigid dipole 10/15/20 meters - PKW Antenna System rigid dipole12/17meters                                
-Diamond Vertical KV-2 40/80 meters - Diamond Vertical X200 144/432 Mhz 
My key homebuilt
Weather in this moment in my QTH:
SSTV
My visit to ham radio                                                                  My hobby
My friends Lucky and Cleo
73 Corrado            http://www.swl754.it