Albert Einstein

, when asked to describe radio, replied:




"You see, wire telegraph is a kind of a very, very long cat. You pull his tail in New York and his head is meowing in Los

Angeles. Do you understand this? And radio operates exactly the same way: you send signals here, they receive them there. The only difference is that there is no cat."


 

 
           

BUBBA WA4DTS AND I AT THE RICHMOND FROSTFEST
"It is not the class of license the Amateur holds , but the class of the Amateur that holds the license."
Thomas Jefferson said dissension is the greatest form of patriotism. Because if you dont hold your Governments feet to the fire you will get bad government. If you hold their feet youll get better government. So dont ever let someone tell you if you question your government somehow youre unpatriotic.
"Let Your Fingers do the Talking Morse code"
WELCOME TO NORTH CAROLINA , YEE HAW!
( COME ON BOYS KEEP PICKING . )
YOU CAN'T EVER HAVE TO

MANY DANCING

CHICKENS

!
THE ONLY WAY TO QSL , IS SNAIL MAIL .
A QSO CAN BE SHORT , HOWEVER QSL CARDS ARE FOREVER!
I AM GUILTY OF KEEPING THE POSTMAN BUSY COLLECTING ALL OF MY QSL CARDS!
PLEASE KEEP THOSE DIRECT QSL'S COMING !
BEFORE HAM RADIO WE HAD TWO CANS AND A STRING !
" E-QSL IS A-OK " !
EVEN SNOOPY LIKES CHASING DX !
I LOG ALL QSO'S ON QRZ.COM .
"PLEASE CONFIRM "OUR QSO ON MY QRZ PAGE ,THANK YOU .
WATCH OUT FOR A "HAM" DRIVING IN THE PARKING LOT .
BUGS BUNNY POPS UP LIKE A DX STATION !
"PLEASE QSL DIRECT ", I LOVE SENDING AND RECEIVING QSL CARDS FROM EVERY HAM I WORK .
I LOVE GOING TO THE MAIL BOX AND FINDING LOADS OF QSL CARDS , AS FOR THE BILLS , I BOUGHT A SHREDDER .

40 M DUAL BAND HALF SQUARE
LISTED BELOW IS A 160M FULL-WAVE LOOP CUT FOR 1.900 mHz .
 A
ABOVE IS A MULTI-BAND PORTABLE ANTENNA
THIS IS THE
CLOTHESLINE ANTENNA
. IT IS VERY INTERESTING .
INVERTED-L ANTENNA FOR 160M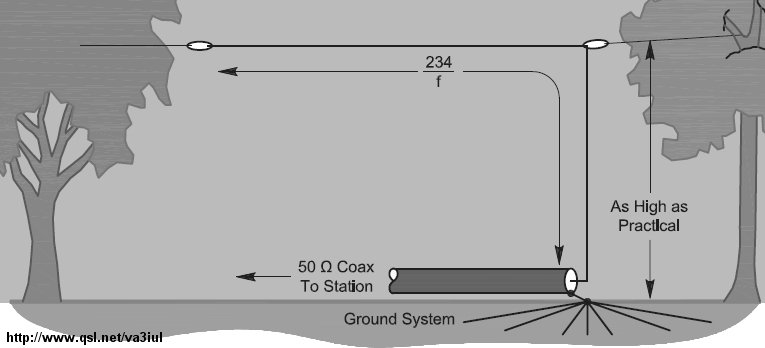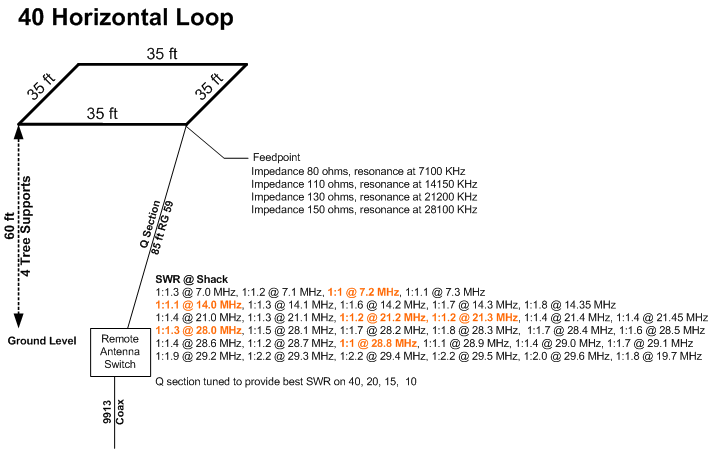 Double-L Antenna For 80/160
Don Toman, K2KQ
toman@ibm.net
A popular misconception about vertical antennas for the low bands is that they must have elaborate ground systems. Heres a vertical antenna for 80 and 160, fed with a single feed line that is simple, effective, and requires no ground system. You wont beat the 4-squares, but you will hold your own against a grounded quarter wave with ridiculous amounts of copper in the ground.
Rather than get into the theory of why this antenna works, I will simply describe it here and let results speak for themselves. If theres a demand, Ill do a follow-up article on the relevant theory.
The antenna is a center-fed half-wave vertical with about 70 feet of vertical length with the remainder of the top and bottom of the antenna bent horizontal and parallel to each other. The antenna looks like a squared-off letter "C" fed in the middle of the vertical part.
Thus, the 160-meter antenna is a 270-foot dipole fed in the center with the bottom antenna wire bent parallel to the ground about 10 feet off the ground and the top at 80 feet off the ground. The horizontal parts are 100 feet long and parallel to each other.
The 80-meter antenna is a 130-foot dipole, fed in the center with 70 feet vertical and 30 feet horizontal 10 feet off the ground and 80 feet off the ground.
Think of it as an inverted L fed against an L. The two Ls are balanced with respect to each other and because the currents in the horizontal sections are out of phase, the antenna has a minimum of horizontal radiation.
The 80 meter and 160 meter antennas are separate, fed from a common coaxial feed line.
In my case, the 80-meter and 160-meter horizontal sections are about 30 degrees apart. The 160 horizontal wires run east while the 80 wires run east-northeast.
On both bands, the bulk of the current flows symmetrically in the center of the antenna, with the current peak about 45 feet off the ground at the feed point. On 80, the current loop peak is about 0.16 wavelengths above ground and on 160, the current loop is about 0.08 wavelength above ground.
The accompanying figure illustrates the antenna.
You can adjust the resonance of the antenna by adjusting the lengths of lower horizontal sections. The small asymmetry doesnt bother anything. The center impedance of mine at resonance is very close to 50 ohms on 160 and close to 70 ohms on 80. The 160 antenna presents high impedance at 80 meters and the 80-meter antenna looks like a parallel capacitor across the 50-ohm 160 antenna. The 160 antenna covers 1800-1860 with under 2:1 SWR. I needed to take about 2 feet off the horizontal section to get mine resonant at 1830. If 80-meter current flows in the 160 antenna, it tends to flatten the current loop in the vertical section.
The 80 meter antenna is resonant at 3750 with the 130-foot length shown. The VSWR is under 2:1 over the DX part of the phone band. It needs to have some length added to cover the CW portion. I haven't tried to bring it to resonance in the CW band, but have chosen to feed it through a tuner.
I originally had this antenna hung from trees. This year I put up an 80-foot Rohn-25G with three sets of guys. I hung the wires from ropes attached to the tower so they are separated from it by about 3 feet. The coaxial feed line comes off perpendicular to the antenna and is then taped to the tower. The center conductor goes to the top and the shield goes to the lower part. Before the coax turns on to the tower, I?ve wrapped some 30 feet of it into a coil. I expected to see a lot of interaction, but the tower and guys seem well off resonance at the operating frequencies and I didn't see any to worry about.
The first QSO on 80 was VK6LK, long path on SSB at sunset on September 12. Ive worked a few ZSs, HF0POL, LU, and the usual Europeans. On 160, the first QSO was KP4SN on September 15. In the couple of weeks since hanging it from the tower, Ive worked ZS6UT, TU2MA, TL5A, VK6VZ, VK6LK, VK3ZL and NL7Z and the usual horde of Europeans on 160 with no fuss. I run about 800 watts out from a Ten-Tec Centurion.
Last January, I had about 200,000 points with 750 QSOs in the CQ WW CW 160 contest using the predecessor hung from trees.
FOR ALL YOU NON BELIEVERS, HAM RADIO IS LOTS OF FUN . JUST LOOK AT THESE YL'S !
THIS IS THE ZEPPELIN ANTENNA BELOW .
75 Meter Delta Loop Beam
This antenna is fixed in direction, roughly 25/205 degrees.
It is vertically polarized, take off angle is less than 30 degrees.
The half beam width is about 56 degrees.
It changes directions by adding tuning stubs that can switch in and out.
The antenna is tuned for 3.800 Mhz but also easy to modify!
The Driven element is a total length of 264.5 feet.
The Directors (2) are 256.5 feet in total length.
The Reflectors are selectable stubs, which can be switched manually or
automatically. 12vdc SPST relays can be used.
Below is a drawing of the antenna.
Note: The lower antenna corners tie off to the ground with rope at a distance away to
pull up the lower horizontal section and to stretch the antenna out.. PHOTO BELOW NOT DRAWN TO SCALE
"( Vertical "H" Dipole)
?
?
THE ANTENNA BELOW WORKS FIVE BANDS WITHOUT AN ANTENNA TUNER .
BELOW IS THE
9 BAND
DOUBLE WINDOM
.
BELOW IS A MULTIBAND

Z

ANTENNA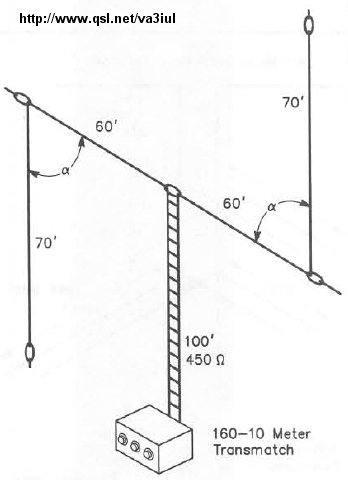 THIS IS THE DUALBAND FULL-WAVE LOOP ANTENNA FOR 80M-40M LISTED BELOW .
THIS IS A 40M DOUBLE DELTA SHOWN ABOVE .
SUPERLOOP 80 ANTENNA :
G5RV verses Superloop 80

Many operators with small lots, a G5RV is what can fit for the 80 and 40 meter bands. The G5RV is 102 feet long and has a 34 foot
section of twinlead followed by coax into the shack, possibly with some sort of RF choke on the coax. The ends are typically supported by ropes up in
the trees. An 80 meter dipole would be about 134 feet long.

A tiny lot is limited in antenna potential and zoning laws prevent real towers.

RadioWorks "Superloop III" designed by Jim, W4FTU, and refined over the years, is a good alternative


PHYSICAL VARIATIONS

The standard arrangement is shown in Fig. 1. It looks like an inverted delta loop and is 112 feet across the top. It fit on the same ropes as my G5RV used and the coax even started at about the same point in space. The wire is heavy 14 gauge copper. If your space doesn't quite allow this, the top corner insulators can be moved to shorten the 112 foot dimension; also additional insulators can be added to the diagonal wires to make a rectangular
shape and raise the bottom balun up in the air more. I also added 6 feet of wire to move the resonant freq closer to the band bottoms for digital work.
The loop can also be mounted upside down and slanted if you only have a single support available. As with all loops, the area enclosed is important and so is the average height; the standard inverted delta shape is a very good compromise.

ELECTRICAL CHARACTERISTICS

The "trick" to the Superloop is the 30' length of ladder line hanging down from the center insulator. This length has been tuned so that appears to be a open-circuit stub on 40 meters; thus the antenna becomes two full-wave wires (at 40 meters) and is commonly referred to as the Bi-Square antenna. On 80 meters, it appears to be a short and the antenna becomes a single wave vertical loop. This happens automatically and no switching is involved.
A special balun is provided which gives a match between the 50 ohm coax lead-in and the higher resistance of the loop. For best matching, a 1/2 wavelength coax is recommended (e.g. 99' of RG-8X); however mine is about 70 feet into my diff-T tuner and the SWR < 2 points are 3495 to 3787 but the short coax gives a minimum on 40 of 2.05 at 7090 KHz. If you need to run without a tuner, close attention to the coax length will help. The balun is the typical ferrite rod in a PVC pipe with foaming urethane inside. This has the effect of heat insulating; mine works fine on 500 RTTY watts contesting, but real high power may be a problem on RTTY; but those guys all have beams, right?


OPERATING RESULTS

The diagonal wires make it partially a vertical antenna with a nice reduction in polarization QSB. You can possibly double contacts on 80/40 over the G5RV. RITTY can help on the reception. The Superloop tunes up fine on the 20,15,10 bands.
FOR MORE GREAT INFORMATION ON ANTENNAS GO TO THE FOLLOWING ADDRESS:
: http://www.hamuniverse.com/basicantennas.pdf:
>
AS YOU CAN SEE ABOVE WE HAMS DO EXERCISE!
" MARCONI THE ORIGINAL HAM "
" PLEASE QSL DIRECT "
: I LOVE RECEIVING A QSL CARD FROM ANY HAM THAT I WORK :
: A QSL CARD IS THE BEST ENDING OF ANY GREAT QSO :
"PLEASE QSL DIRECT" AN "SASE" IS NOT NEEDED FROM ANY HAM FROM ANY WHERE IN THE WORLD.
ANY DX STATION THAT SENDS ME A QSL CARD DIRECT WILL RECEIVE ONE BACK DIRECT.
" SHORTWAVE LISTENER REPORTS ARE ALWAYS WELCOME. "
?
WHOMEVER SAID LOGGING ONLINE WAS EASY MUST HAVE KNOWN HOW TO TYPE !
( I have been a "RADIOACTIVE" HAM for over 30 YEAR'S , and boy am I having fun ! )
My wife YL , I dont like XYL ! is also a ham KE4VLB.
JUST BECAUSE YOU MARRY YOUR "YL", DOES THIS MEAN SHE GETS X'ed OUT AND BECOMES AN OLD DUST MOP?
We talked on repeaters years ago while she was away in college to save on the telephone bills.
GOD BLESS AMERICA !
" I am a member of the ARRL and the following QRP groups "SKCC# 4298 , FIST #13729 , QRP ARCI #13216 , NAQCC #2312 , FLYING PIGS# 1917 , NOR CAL , MICHIGAN QRP CLUB # M-1817, QCWA # 36142 , SECOND CLASS OPERATORS CW CLUB # 870 AND THE CROATIAN  TELEGRAPHY CLUB " CTC # 2389
I AM ALSO A MEMBER OF THE "RAG CHEWERS CLUB".
I WORK A LOT OF CW.
BACK IN 1988 I WAS SENT A CERTIFICATE FROM THE OLD SOCK.
HE ENROLLED ME INTO THE RCC.
I AM VERY PROUD TO BE NOMINATED TO THIS FINE GROUP OF PEOPLE.
Most of my years as a ham have been spent on the HF bands.
07-29-2012 I have found the 30 Meter band an enjoyable world wide band for me at night .
I have been working 30 Meters during the day , however I have been working 30 Metersmostly from 10pm EST to around 230am EST .
The 30 Meter band has been so smooth and enjoyable into Europe . The USA stations come in as well during the evening as well.
Hams on 30 Meters are a friendly bunch . The quick European hams slow down whenever I ask . The main thing I do is start a rag chew . Most hams on 30 Meters are used to a quick exchange . Just start talking about how long you have been a ham along with your age and you have broken the ice .
GO USA !
02-03-2012 >>>>
I AM ENJOYING CW MUCH MORE WITH MY VIBROPLEX IAMBIC PADDLES .
IT TAKES A WHILE ADJUSTING AND READJUSTING THE PADDLE FOR MY COMFORT .
I HAVE MET A LOT OF GOOD AND VERY INTERESTING HAMS ON CW .
CW IS AN ART FORM , MUCH MORE THAN SSB .
ANYONE CAN CONNECT A MICROPHONE TO A RADIO , HOWEVER SENDING CW AND RECEIVING IT TAKES TIME AND PRACTICE .
I HAVE NOT USED MY AMPLIFIER IN MONTHES .
JUST 100 WATTS OR LESS IS ALL ONE NEEDS ON CW .
ENJOY HAM RADIO THE WAY YOU WISH , ITS PLENTY OF ROOM FOR ALL OF US .
I JUST RECEIVED A TEN-TEC OMNI VII ON 02-20-2010.
I HAVE THE AUTO TUNER INSTALLED ALONG WITH THE 300HZ AND 500 HZ CW FILTER.
IF YOU WISH TO ADJUST ANYTHING ON YOUR OMNI VII, PRESS THE MENU KEY.
THE OMNI VII CAN BE OPERATED WITHOUT EVER USING THE MANUAL
I HAVE BEEN USING THE TEN-TEC OMNI VII FOR 13 MONTHS NOW.
IT DOES BY FAR A BETTER JOB THAT THE ICOM 7000 THAT I ALSO HAVE IN MY SHACK.
THE SSB AND CW FILTERS ON THE OMNI VII ARE WONDERFUL.
IT HAS A REAL 100 WATT ANTENNA TUNER.
IT WILL TUNE A 10/1 SWR WITHOUT ANY PROBLEM.
WHEN YOU WANT TO USE YOUR EXTERNAL TUNER JUST PRESS THE TUNE BUTTON AND YOU WILL HAVE A 20 WATT CARRIER TO GET YOUR BEST SWR.
I USED THE OMNI VII TODAY 02-23-2010 FOR THE FIRST TIME.
I WAS ABLE TO WORK TWO STATIONS FROM NORTHERN IRELAND.
ONE WAS RUNNING 25 WATTS TO A G5RV ONLY.
I WAS AMAZED AT HOW I COULD MOVE OTHER HAMS OFF TO THE SIDE.
THE FILTERS WORKED GREAT.
I WILL KEEP YOU UP TO DATE ON MY OMNI VII ADVENTURES.
I HAVE BEEN USING MY TEN-TEC OMNI VII ON CW ALMOST EVERY DAY.
HAVING THE 500HZ AND 300HZ CW FILTERS MAKES LIFE WONDERFUL ON CW.
I HAVE WORKED STATIONS THAT I COULD NOT EVEN HEAR ON MY ICOM IC-7000.
THIS TEN-TEC IS MY CW DREAM MACHINE
YOU CAN CATCH ME MOST OF THE TIME ON 40M CW AND 40 SSB.
THE OMNI VII HELPS WITH THE 75M QRM.
I AM NOT HAVING ANY COMPLAINTS USING THE HEIL HC-5 CONNECTED DIRECTLY TO THE OMNI VII.
I AM ABLE TO COPY ALMOST EVERYONE NO MATTER HOW WEAK , WITHOUT TROUBLE.
?
ON THE LAST SUNDAY IN SEPT, 2010 AT 301 PM EST, I WORKED GREENLAND ON 17 METERS.
I WAS SO EXCITED, THE FREQUENCY WAS 18.150.00.
I WAS RUNNING 100 WATTS USING MY 40M EXTENDED DOUBLE ZEPP AND RECEIVED A 5/7 REPORT ON SSB.
I RECEIVED MY QSL CARD INTHE MAIL FROM GREENLAND.
TO ME THIS WAS ONE OF THE MOST WONDERFUL AND EXCITING EXPERIENCES FOR ME IN HAM RADIO.
I HAVE BEEN RAG CHEWING ON 40M SSB MOSTLY FOR THE LAST 5 MONTHS.
LETS SAY STEADY SINCE JUNE.
ILL BE THE ONE CALLING CQ.
I AM WAITING UNTIL THE LEAVES FALL TO BUILD MY ANTENNA TO BE AIMED AT THE PACIFIC NORTHWEST.
I AM QUITE EXCITED ABOUT THIS.
I HAVE BEEN WORKING SO MANY HAM WITH INDOOR HOME MADE ANTENNAS.
THEIR SIGNAL IS SOLID.
I USED THEM MYSELF.
DONT BE AFRAID TO PLACE ONE IN YOUR ATTIC.
THEY ARE 100 TIMES LESS LIKELY TO CATCH A TREE LIMB.
I HAVE BEEN ENJOYING DX'ING ON 40M DURING THE GRAY LINE DURING THE EST COAST AFTERNOON AND LATE EVENING HOURS EST.
IT IS ALOT TO BE FOUND ON 40 M.
I JUST GOT ON PSK-31 ON 12-28-2010.
I HAVE BEEN USING IT ON 40M , 30M , 20M AND 80M.
I AM VERY HAPPY USING THE TIGER TRONICS SIGNALINK USB.
IT IS EASY TO CONNECT , HOWEVER LIKE ANY NEW HAM RADIO ITEM IT HAS A LEARNING CURB.
I HAVE FOUND THAT IT FOLLOWS THE SAME BAND CONDITIONS AS SSB AND CW ON THE SAME BANDS.
ITS NOT A WONDER MODE.
ITS JUST ANOTHER WAY TO USE ALL OF OUR VAST AREAS OF HAM RADIO.
I HAVE WORKED AUSTRALIA AND ALL OVER EUROPE , SOUTH AND CENTRAL AMERICA AND CANADA WITH 25 WATTS.
I AM FINDING THIS MODE TO BE PEACEFUL , AND NOISE FREE.
I WORKED SSB THE OTHER DAY AND MAN ITS A LOT OF NOISE.
IM NOT SURE HOW MANY BPSK31 QSO'S IVE WORKED SO FAR. I AM GOING TO LOG ALL OF THEM ON QRZ.COM.
SOME ARE ALREADY THEIR AND OTHERS WAIT IN THE MIST.
ENJOY PSK-31 , AND WE CAN WORK THE PEACEFUL MODE , THATS ALL FOR NOW 02-27-2011, GOOD DX.
I STOPPED WORKING PSK31 IN MARCH OF 2011 .
.................................... I JUST STARTED WORKING PSK31 AGAIN IN OCTOBER OF 2011 .
THE HIGHER BANDS ARE IN GREAT SHAPE AS OF THIS UPDATE 11-04-2011 .
I AM USING HAM RADIO DELUXE SOFTWARE WITH DM-780 AND THE LOGBOOK ALSO .
IT SEEMS THAT THE HAM RADIO DELUXE SOFTWARE HAS IMPROVED GREATLY OVER THE PAST FEW MONTHS .
I AM A MEMBER OF THE FOLLOWING DIGITAL GROUP 30MDG # 4542
I USUALLY RUN "5 WATTS" AND UNDER ON CW.
IHAVE"TWO HF RIGS" THE "TEN-TEC OMNI VII" AND THE "ICOM-IC-7000".
"QRP IS ADDICTIVE AND AS A PATROL LIEUTENANT I CAN TELL YOU, ITS BETTER THAN BEING ADDICTED TO CRACK COCAINE!"
I LOVED THROWING THOSE LOSER'S IN JAIL.
I purchased a ICOM IC-7000. This transceiver really has it all.
THERE IS ONE THING TO REMEMBER ABOUT THE ICOM IC-7000.
ONCE YOU GET YOUR NOISE BLANKER AND NOISE REDUCTION SET THEY WILL BE JUST FINE.
WHAT I ADJUST THE MOST ON MY ICOM IC-7000 IS THE MANUAL NOTCH.
YOU CAN ADJUST THESE VERY EASY.
IT MAKES THE DIFFERENCE IN PULLING THE WEAK SIGNAL OUT OR NOT.
THE AUTOMATIC NOTCH FILTER IS WONDERFUL.
SOMEONE CAN THROW A CARRIER ON YOUR FREQUENCY AND IT WILL REMOVE IT WITH THE ANF.
I LIKE ALSO THAT YOU CAN ADJUST AUDIO.
YOU CAN ADJUST IT WIDE,MEDIUM AND NARROW.
NOW THIS IS GREAT BECAUSE WE ALL HAVE DIFFERENT VOICES.
I WOULD FIRST SET THE MIC GAIN FOLLOWED BY THE COMPRESSION.
NEXT SET THE WIDE,MED AND NARROW SELECTION.
NOW YOU CAN ALSO ADJUST EACH OF THE THREE SETTINGS HOWEVER YOU WISH TO SOUND.
I PROTECT MY TWO RIGS FROM DUST USING "PYI CUSTOM MADE RADIO COVERS."
THE WEB SITE IS AS FOLLOWS:
THE PHONE NUMBERS FOR PYI RADIO COVERS IS 804-550-5182, 804-337-1978.
THESE ARE HIGH QUALITY AT LOW PRICES.
ALL ARE MADE BY HAND.
THE LADY THAT MAKES THE RADIO COVERSIS ALSO A HAM, HER CALL IS KI4RFT .
THE ICOM IC-7000 IS NOT A CHEAP LITTLE RIG.
THE IC-7000 CAN HOLD ITS OWN WITH THE 7,000 DOLLAR RIGS.
YOU CAN LISTEN TO YOUR AUDIO WITH HEADPHONES WHILE YOU ARE SETTING IT.
I WOULD STILL SUGGEST THAT YOU GET A HAM THAT KNOWS YOUR VOICE TO HELP YOU.
The first thing I did when I removed it from the box was send the microphone to AB5N to have him place his fantastic element inside.
I worked CW for a week and a half steady before the microphone came back.
WORKING CW IS A DREAM ON THE ICOM IC-7000.
YOU HAVE MANY FILTERS THAT YOU CAN ADJUST IN THE IF STAGE.
IT IS NICE TO BE ABLE TO MOVE PEOPLE OFF TO THE SIDE AS YOU CONTINUE YOUR CW QSO RAG CHEW.
I am still working CW with the ICOM IC-7000.
AB5N's microphone upgrade has surpassed and surprised me as well as other ham friends with the audio !
Please if you have any doubt's about the microphone upgrade don't worry.
It was the best $46.00 Dollars I have ever spent.
The filters are galore along with IF DSP. Once you have tryed IF DSP you will wonder how you survived without it.
I AM VERY HAPPY TO BE A
I AM USING THE HEIL HM-10 DUAL ELEMENT MICROPHONE ATTACHED TO THE W2IHY 8 BAND EQ AND NOISE GATE.
SO FAR THE REPORTS WITH THE HM-10 DUAL ARE POSITIVE.
I ORDERED THE HEIL PL2T BOOM FOR IT ALONG WITH THE HEIL FS-2 FOOT SWITCH.
THIS SHOULD GIVE THE SHACK A MORE PROFESSIONAL LOOKING DESIGN
THE NUMBER 4 ELEMENT MAKES ME SOUND AS THOUGH I HAVE A CLOTHES PIN ON MY NOISE.
UNDERSTAND I WAS USING THE HC-5 SETTINGS.
I USE THE W2IHY'S EQ AND ONLY THE DEFAULT MICROPHONE SETTING ON THE RIG.
THE GOLDLINE BY HEIL AND W2IHY'S 8 BAND EQ, WORK FANTASTIC WITH THE TEN-TEC OMNI VII.
I added an AMERITRON AL-1200 to my shack in December 2008.
I enjoy rag chewing on SSB on 40M.
The international broadcast starts here in NE NORTH CAROLINA at 3pm EST.
The eastern relay stations really do a number on my SSB activities.
That was my reason for working to find the antenna I could make for my target areas.
The amplifier does a great deal to help over come the broadcast QRM for the fellow HAM friend on the other end of my QSO.
Just remember without the proper antenna you may not hear the 100 watt station answering your CQ ( or ) he may be "QRP" like me at times.
The AL- 80A that I have enjoyed for 18yrs will be going to a good friend of mine CHARLES, KG4NVB.
CHARLES, KG4NVB was in IRAQ while we were here comfortable drinking cold water and and enjoying air conditioning..
If you really want to work DX try 40m CW DX'ING during the evening hours.
You will need less than 100 watts to enjoy great contacts.
I really enjoy working" Eastern Europe" "SOUNDS LIKE THE "COLD WAR" HUH during this time period.
I am active on APRS.
It is a great emergency tool.
Below is the good time I have had working QRP.
I have been enjoying the QRP scene since the 3rd of March 2008.
It is amazing what a few watts will do.
QRP is much more exciting and rewarding to me so please give it a try.
Now I'm looking to work all 50 States using 5 watts and below on CW.
I am using basic wire antennas.
I HAVE A 174 FOOT EXTENDED DOUBLE ZEPP FOR 40 METERS AT 80 FT.
THIS ZEPP GIVES 3 DB GAIN ON 40M AND DOES AMAZING FROM 75 TO 10M.
ONE ZEPP PLAYS WELL TO EUROPE , SOUTHERN , MID-ATLANTIC AND NEW ENGLAND STATES.
I HAVE ANOTHER EXTENED DOUBLE ZEPP THAT COVERS THE MID-WEST AND BEYOND.
They are fed in the center with 300 OHM ladder line.
The Zepps were cut for 40 METERS.
It is an approx 174 FT foot flat top.
This antenna plays fantastic from 40m through 10m.
THEY ARE VERYdirectional on 40-10 METERS
GIVE AN EXTENDED DOUBLE ZEPP A TRY YOU WILL BE VERY HAPPY.
We all know that when the received signal is stronger, the transmitted signal will be also.
I have been designing different wire antennas since I was first licensed.
My ham radio life started in a 2 story apartment in Wilmington , North Carolina.
The first antenna was a random wire out of the 2nd floor window to the only tree in the complex.
The tree was about 70 feet away,however even before I used the random wire I noticed how easy it was to see.
I never knew that I had a attic access because it was in one of the smallest closets that could ever have been made.
Lucky at time I weighed a whopping 140 LBS on a 5'11 frame.
After holding my breath and greasing my body up I made it through that trap door.
The first antenna I placed up there was 140 feet of # 14 gauge wire wrapped around the attic in a circle.
Hey it worked great on 40m and 80 m CW , however I was enemy number one in the apartment alarm system, baby monitors and alarm clocks.
The best thing was that I was never discovered.
This was during the time of the NOVICE ENHANCEMENT.
We novices had voice on part of the 10 meter band and I was ready for that SSB action.
Well the RF problem I developed running 100 watts with the Kenwood TS-140S was a television destroyer.
This is not to mention the RF burns I got to my lips while using the microphone.
This RF was do to my horrible grounding system.
A friend suggested I build a 10 meter dipole and attach radial wires for the other bands I intended on using with my 140 foot wire.
This worked a little better at least my lips were healing.
Well I tacked the 10 meter dipole "YES TACKED IT" to the attic rafters
It worked great because in 1988 the sunspot cycle was booming.
I read about a 3 element beam in the ARRL antenna book and decided to build one out of wire
Hey some wire and few thumb tacks later and I had a three element wire beam pointed to wards Europe
It was amazing how well that thing worked.
While working on my antennas in the attic one day I had a knock at the front door.
It was two of my female friends from next door.
They said they heard someone walking upstairs in their attic and they were extremely concerned to say the least.
Being a 21 yr old macho kid at that time I told them I would check things out up there for them.
Well this gave me valuable time to finish my antenna work.
I learned from then on to make sure the girls were not home while I was in the attic.
I had no idea I shared an attic access with them being that theirs was covered with insulation.
I got a good laugh out of it and later on so did the folks at the local ham club.
Lucky for me it was my last time up there before I moved.
When I moved I left everything up there except my 2 meter J- POLE.
I'm sure that when there was work to be done up there the poor guys were scratching their head at all that wire.
Ive been reading so much about portable operation that I am going to give it a try this summer.
I am just waiting for the for this sunspot cycle to rise.
I know my QRP fun will grow like a weed.
I am making head way on my WAS using QRP.
I STILL NEED ALASKA ON CW WORKING QRP .
IF YOU READ THIS AND ARE IN ALASKA PLEASE E-MAIL ME SO WE CAN WORK PLEASE.
All of my contacts to wards WAS are being made only on CW QRP.
It takes alot of time and patience on the other hams behalf trying to copy a peanut whistle through the QRM.
I AM PROUD TO KNOW CODE !
I WOULD LIKE TO MENTION TO THOSE THAT READ THE FOLLOWING BELOW INFORMATION TAKE IT TO HEART PLEASE.
WHEN TALKING ON VHF OR HF PLEASE ASK THE PERSON THEIR NAME.
HAMS DO NOT HAVE PERSONALS OR FIRST PERSONALS.
ALSO IF YOU HEAR A QSO ON HF , PLEASE DON'T SAY BREAK.
THAT MEANS YOU HAVE AN EMERGENCY. JUST GIVE YOUR CALL SIGN AND YOU WILL BE PICKED UP.
Come on now,we are all HAMS and think highly of ourselves so we need to ELMER these new found no code generals.
Take the time to talk with them about antennas and baluns or anything they wish to know.
If we don't teach them who will ?
IT HURTS ME TO HEAR THAT SO MANY HAMS HAVE NEVER HAD AN ELMER !
I hope to catch all of you on CW. I MONITOR and call CQ BETWEEN 7.035 and 7.045 for my 40m QRP FUN.
This is unless someone starts using RTTYor PSK on the QRP calling frequencies.
Well folks thats all for now.
Until next time grab that straight key or paddle and tap away.
REMEMBER TALK IS CHEAP REAL HAMS BEEP !!
THANKS, CHUCK PRIDGEN, N4UED
This is DAH DIT - DIT DIT DIT DIT DAH - DIT DIT DAH - DIT - DAH DIT DIT. 73 all.
MY 1993 FOX TAIL .
THIS IS THE PADDLE I USE .
I USE THE TUCKER T-3000 ANTENNA TUNER.
MY AMERITRON AL-1200 & TEN-TEC OMNI VII .
THIS IS THE TEN-TEC 709A MICROPHONE THAT I USE .
I USE THE W2IHY 8 BAND EQ .THIS IS MY D-STAR PORTABLE . GREAT RADIO .
Raspberry Pi 2 & DV4MINI running BrandMaster DMR .
Icom ID-51AE & TYT MD-380 .
Dual-Band DV-MEGA and a Ardunio Board
Just received the ID-31 and I am enjoying this little D-STAR work horse .
THE ICOM ID51A IS A WONDERFUL ADDTION TO THE SHACK . I REALLY ENJOY D-STAR AS WELL AS CW . 10-01-13 .
THE ICOM IC-92AD IS THE TRUE ALL WEATHER RADIO FOR D-STAR AND ANALOG . I HAVE USED THIS BABY IN EVERY WEATHER SITUATION YOU COULD IMAGINE?.
I USE THE 70cm DVAP . THIS GETS ME AROUND THE WORLD ON D-STAR
BELOW IS MY DVRPTR V_1 BOARD ALONG WITH RASPBERRY PI . 
T
THIS IS MY TM-D710 THAT I USE MOBILE IN VEHICLE .
THIS AV MAP 6 WORKS WITH THE TM-D710 .
This IC-880H KEEPS ME IN TOUCH WITH THE WORLD WHILE DRIVING WITH AMATEUR RADIO REPEATERS CONNECTED THROUGH THE INTERNET AND THE D-STAR NETWORK .
THE IC-2820 IS MY LATEST EDITION . GREAT RIG FOR D-STAR .
THANKS FOR STOPPING BY , AND PLEASE DONT WAKE MY LOGGING COMPUTER CAT .
This is the County of Halifax that I live in .