New Clark scam 12 pump up mast. Thats me in the black shirt!
Basic Shack needs alot of work ready for the winter!
New renovated shack needs a tidy with my new Yeasu FTDX3000
View of Optibeam OB1-40 pumped up at 43 feet works like a champ! the black bag at the base is a Viar 300p 12V compressor!
I am very new to Ham radio got my licence 2/12/15. Formerly M6RLR
Been interested in radio since the CB craze in the late 70s but I was a bit too young to take my B licence as it was then.
I was doing a bit of research on radios in September and came across hamsphere and sparked the interest up again,
So here I am finally licenced I passed my intermediate exam on 17th May 16 now I am 2E0RLR
Working conditions are Yeasu FTDX 3000, 50Watts, Yeasu MD-100 desktop mike, OB1-40 Optibeam rotary dipole
fed with Ultraflex 10 coax.
Only QRV on 40M for the moment.
Recently downloaded WSJTX configured the radio to use it thanks to videos on youtube JT65 mode is fantastic. Been very active on JT65 got my E-Japan award from E-QSL!! and my Grid2, continents award from QRZ
Also been having a go on PSK31 still very new and a bit nervous my keyboarding skills are not that good but having fun thats the main thing!
As of 17/02/16 I made my first RTTY QSO with LA1PTA Arn in Norway, I was shaking like a leaf trying not to mess it up .. Hi Hi.
As of the 18/2/16 I have just joined LOTW uploaded my logbook from QRZ, but I made a mistake when I joined QRZ I got my grid reference wrong, so my first 250+ QSOs confirmed in LOTW have an invalid grid reference (facepalm)!
At the moment I am only a small station but I have every intention of becoming bigger and learning as I go on, so talk to me give me advice, I love to have a good ragchew!
We all make mistakes sometime and I am no exeption
So Best 73s and have a great 2017!
Best wishes to you and your family
Yours sincerely  "Rod" Roger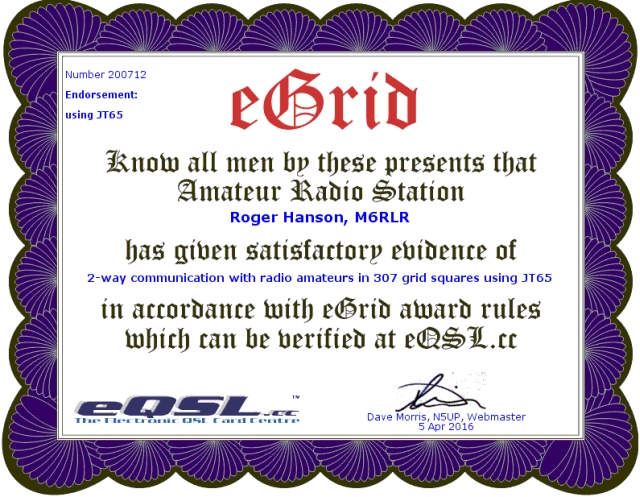 Visitor Globe

 

Last Visitors

 

Just added this flag counter 16/02/16