---
9H1AE QSL Information
***** I strongly advise you to use the LoTw QSL service provided by ARRL *****
"A QSL is the final courtesy of a QSO," so, I QSL.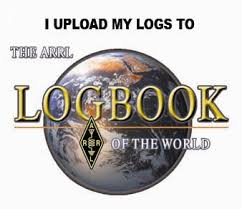 I have been licensed since 1984 with Greek callsign SV2AEL. From 2016 moved to Malta and got the callsign 9H1AE. I enjoy chasing DX and operating in contests, and county hunting. I prefer to confirm all my QSOs via ARRL's Logbook of The World (LoTW).  It is the quickest, easiest, cheapest, simplest and safest way to QSL, and all the confirmations COUNT.  Therefore I upload my log to LoTW at least every 1-2 days and encourage others to do the same. If you noticed that your QSO with me is missing in LOTW please email me...
For other methods of obtaining confirmation of QSOs with me, see below.
---
For Paper QSLs  Direct ---> via    SV2AEL    
---
If you would like a paper QSO confirmed, please send me your QSL card to the following address
(SASE or $$ appreciated, but not required).
SAVVAS PAVLIDIS
PO BOX 22013 - TRIANDRIA
THESSALONIKI - 55310
GREECE
---
or

You can verify that you are in my log and request a QSL card via the Club Log OQRS system form below. You don't need to send me your QSL for Clublog OQRS request. 
https://secure.clublog.org/logsearch/9H1AE
or
Via 9H Bureau with a delay 6-12 months. 
---
I DO NOT encourage use of eQSL, but, for those who have no other way to obtain a confirmation, I do upload my log there periodically.
---
9H1AE Online LogBooks - Active WebLogs :

Last update:

15 FEB 2018 
---
For any problem or QSL enquiries, do not hesitate to contact with me directly by email (you must login on QRZ.com to see my email).
I QSL 100% all cards received via  9H BUREAU, DIRECT  or LOTW and E-QSL (AT).
SWL Reports always welcomed and QSL always sent.
Tnxs and hope to work you all down the log sometime .... 73 - 88 de 9H1AE , Savas
---
9H1AE Search Logbook and last 10 QSO's
In my station i use the following equipment: 
Radio:
TX

1

: ICOM 7300 

(

firmware: ver 1.20)

TX 2: KENWOOD TS-2000 (mainly for VHF / UHF and also can be used on HF of course)

TX 3: KENWOOD TM V7E (VHF / UHF for mobile use)

TX 4: INTEK VHF/UHF Dual Band
Antenna:
ANT 1: HF9V Butternut Vertical (6-10-12-15-17-20-30-40-80m)

ANT 2: MFJ 1782X SUPER HIGH-Q MAGNETIC LOOP (10-12-15-17-20-30)

ANT 3: WIRE ANT. 40- 80MTR  G5RV  ANTENNA

ANT 4: WIRE ANT. 160 MTR MONO  

ANT 5: DIAMOND CR8900A VERTICAL (6m-2m-70cm)
Antenna Tuner:   MFJ - 989 D (1.8 - 30 MHZ)
| | | |
| --- | --- | --- |
| | Activities on HF Contest and Special Events | |
| | | | | | |
| --- | --- | --- | --- | --- | --- |
| | | | | | |
| | LZ DX 2016 | | TARA RTTY 2016 | | |
| | REF SSB 2017 | RSGB-BERU 2017 | EA PSK63 2017 | | BARTG 2017 |
| | | | SP RTTY 2017 | | ARI DX 2017 |
| CQ-M DX 2017 | | | | | AEGEAN RTTY 2017 |
| | | DRCG WW 2017 | IARU R1 50MHz | ALL ASIAN CW 2017 | RSGB 50M TRHOPHY |
| UKRAINE DX DIGI | | | | | |
| DL DX RTTY | AEGEAN VHF CONTEST | IARU HF Championship | | RSGB IOTA 2017 (as part of J49A) | |
| CQ WW RTTY2017 | | JARTS RTTY 2017 | | CQ WW DX SSB (as part of 9H6A) | CQ WW 160M CW 2018 |
---
So ....where is Malta ?
Malta's location, bang in the middle of the Mediterranean Sea, has proved to be the building blocks of its culture and tradition. Its position has sculpted the entire history and social development of a Nation.
The distance between Malta and the nearest point in Sicily is just 93 km, while the distance from the nearest point on the North African mainland (Tunisia) is 288 km. Gibraltar is 1,826 km to the west and Alexandria is 1,510 km to the east. Looking at the attached you can quickly understand why it is often dubbed "the gem in the heart of the Mediterranean."
After the Bronze Age tribes, the next inhabitants of the Maltese Islands were first the Ancient Greeks in 700 BC, then the Phoenician traders who were followed by the Romans. The Ancient Greeks chose to settle around the current capital Valletta, as well as the Phoenicians, who sailed to Malta a century later. Romans settled instead around the old capital Mdina and Rabat.
The persistent tradition of a Greek colonization of the Maltese Islands in ancient times was inspired mainly by ancient literary allusions. These are basically:
1) The identification of the Homeric island of Ogygia, Calypso's refuge , with Malta
2) The reference in the Greek poet Lycophron to the settlement in Malta of a group of Greeks warriors on their return home from Trojan war
3) The ties of friendship between the Maltese and Phalaris, the Greek tyrant of Agrigento, revealed in three of a group of letters attributed to him
4) the mythical reign of a king of Malta , named Battus, homonymous of another Greek king historically associated with the foundation of the Greek colony of Cyrene in North Africa
5) Thucydides inclusion of the "small islands" with the part of Sicily which  after an alleged Phoenician domination, was colonized by the Greeks.
Its strategic position has led Malta to become an important trading post in the Mediterranean, especially since its Grand Harbour, with the capital Valletta on one side and the Three Cities on the other, is one of the greatest natural harbours in the world, allowing visitors safe shelter from the open seas. In ancient times, seafaring merchants from the eastern Mediterranean, such as the Greeks and after the Phoenicians and Carthaginians, used Malta as a convenient landing place for exchanging merchandise with the western Europeans. Even in modern times, the Malta Freeport has become one of the Mediterranean's leading ports for container transhipments.
During mounting political movement in Europe, Malta has always been considered a strategic piece of land to possess. It changed hands continuously, having been ruled by the Punics, the Arabs, the Normans, the Knights, the French under Napoleon and, subsequently, the British. Each rule brought with it an influence which can still be traced not only in historic buildings but also in the language, customs and traditions to this present day.
It is intriguing to linguists how the unique Maltese language, belonging to less than half a million people, is the only Semitic language written in the Latin alphabet. Maltese has definite Semitic roots; however a large portion of the vocabulary is borrowed from Italian, Sicilian, English, French and Spanish, a living witness to the major influences by these neighbouring or colonial countries.
Perhaps the most pivotal role played by Malta's geographical position was during World War II, when it provided the Allies with a winning card against the Axis forces. Its strategic position and important role during the war was acknowledged when the entire Maltese Nation was awarded the George Cross, to "bear witness to the heroism and devotion of its people."
Today Malta's location is best known for its ideal climate, crystal clear waters and beaches, making it a prime tourist destination. Rich with a history of 7,000 years, a unique melange of cultures, and a hub of entertainment, Malta may be small in size but is definitely great in character.
The Maltese Islands fall within the following co-ordinates: Northern Latitude 36o00'00"  ,  Eastern Longitude 14o36'00"
The area of the Maltese Islands is 316 km². The length of the shoreline round Malta is 136 km and 43km round Gozo.
Physical Features: Malta has no mountains, rivers or lakes but is characterised by terraced hills and rocky features. The coastline of Malta is rugged, with steep cliffs on the western side. There are numerous natural harbours, bays, creeks, sandy beaches and rocky coves.
THANK YOU FOR VISITING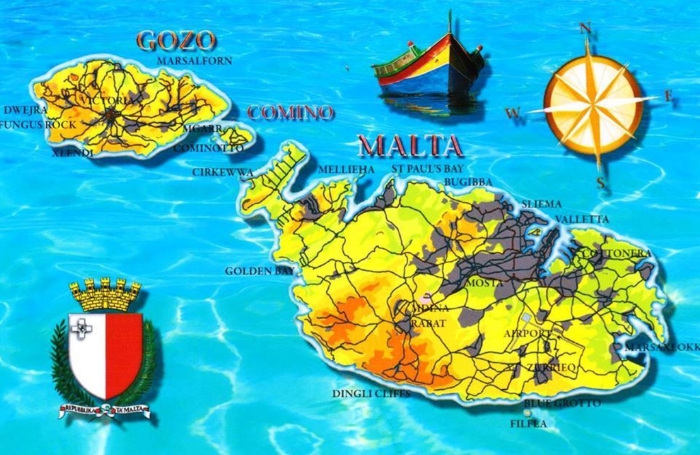 Large Visitor Map

---
Feel free to chat online with me or leave your message ...
---