¡Hola! Gracias por visitar mi página Web.
Las personas no valen por lo que tienen sino por lo que son.
Soy Radioaficionado desde 1978 y con licencia desde 1981. Otros indicativos EC8EY y EA8AHG.
Hi! Thanks for visit my Webpage.
I´m Radioamateur since 1978 and licensed since 1981. Other callsigns: EC8EY and EA8AHG.
QTH: Peligros (Granada) - SPAIN. Grid LOCATOR: IM87EF
Mi estación / My Satation
TX/RX
Mis antenas / My antennas

TS-830S

IC-706MKIIG

FT-7800

Delta loop for 40m band

(homemade)

HF log periodic antenna for 10m to 20m.

LFA 6 elemnts for 50 MHz.

Yagi 17 elements for 144 MHz.

Yagi 18 elements for 432 Mhz

Vertical antenna for 144 and 432 MHz.

X-Quad for 70cm and 2m bands for SAT contacts

(RHCP)

Long wire
Desde marzo de 2013 estoy activo en los satélites VO-52 y FO-29
Since March 2013 I am active on VO-52 and FO-29 satellites
Para preservar el medio ambiente, normalmente, confirmo los contactos vía LOTW o eQSL. No envío Cartulinas vía Buro o directas. Ahora bien si alguno de mis contactos precisa una confirmación en papel me lo debe hacer saber. Gracias.
 In order to protect the environment  I only send electronics cards. Sorry! I also upload my log to URE Log.
  I  NORMALLY CONFIRM VIA   LOTW (preferred)  OR  eQSL
 NO PAPER CARD  VIA BURO or DIRECT!
IF YOU NEED ADDITIONALLY A PAPER CARD  VIA BURO LET ME KNOW, PLEASE .
Please use QRZ.com, EQsl.cc or LOTW for Confirmation

 (SWL reports Welcomed)
Website: http://sites.google.com/site/ea7ahg/
Visita mi Website. Estoy trabajando en él estoy introduciendo información constantemente.
Podrás encontrar información escrita, esquemas y gráficos, ejemplos y vídeos.
Por ahora, sólo en español.
If you want to visit my Ham Website, please clic here!. I'm working on my Website and I´m adding new contents continuously. On it, you can find written information, drawings, samples, and videos ABT antenas, propagation, radios, CW, digital modes, sotfware, Ham utilities, etc. In Spanish for now.
If you want to tanslate one or more of my webpages into English you can use this free translator www.microsofttranslator.com/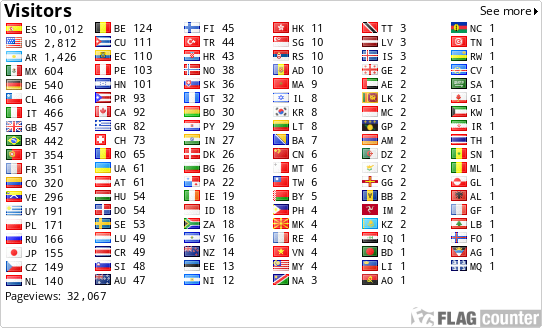 ">
Si eres un manitas y te gusta experiemntar, te recomiendo que visites la sección de


Taller de mi página Web, donde podrás encontrar los siguientes contenidos:
En el Mapa de mi sitioweb podrás encontrar una amplia información sobre temas diversos relacionados con la radio como / On the map of my WebSite you will find extensive information on various topics related to:
https://www.hrdlog.net/Map2.aspx?user=EA7AHG
__________________________________________________________________________________________________________________
El nombre del municipio de PELIGROS tiene una clara raíz latina, al proceder del térrmino Paluculum que significa lugar donde existe una laguna de aguas estancadas y peligrosas. Aunque según el historiador y arabista Luis Seco de Lucena Escalada, el topónimo Peligros procede del latín Periculum ("peligro" en singular) y que fueron los romanos los que dieron el nombre a este lugar situado a unos ocho kilómetros al Noroeste respecto de la antigua Ilíberis (Granada).
Más tarde serian los árabes quienes, en su avance hacia el Norte, convirtieron el lugar en alquería del alfoz granadino, transformando igualmente el anterior topónimo en garyat biriquius o Bericulos. Finalmente el nombre deriva en Peligros por influjo de la nueva lengua castellana que confundió la desinencia en "os" del término árabe por una forma del plural.
The name of the PELIGROS town has a Latin root. iT Comes from the term "Paluculum". Paliculum means place where there is a lagoon with stagnant and dangerous waters.
Peligros name comes from the Latin Periculum ("peligro" in singular) and Roman people gave the name to this place about five miles west on the old Ilíberis (Granada).
Later the Arabs who would, in their advance towards the north, turned the place into farmstead administrative district of Granada, also transforming the former toponym in "garyat biriquius" or "Bericulos".
Finally the name of Peligro changed in the Spanish language to a plural form.
 
If you translate Peligros into English , you get words like Danger and other synonyms, but this town is not really dangerous.
____________________________________________________________________________________________________
Visita mi libro de guardia / My logbook