Salut, je suis n? en 1976 et j'ai commenc? a faire de la radio en 1989/1990, premiere licence en juin 2006 je d?couvre la vhf et dire que j'avais peur de m' ennuyer ce n'est pas le cas il y a vraiment de belles choses a faire sur la vhf!!
Avril 2009 je me pr?sente a la classe 2 apr?s 2 mois d'apprentissage intensif, suite au passage de la licence classe 2, je me suis donc lan?? dans la realisation et essais de differente antennes hf/vhf/uhf a gain, c'est la partie la plus abordable pour un debutant!
Maintenant je pratique la telegraphie aussi bien a la pioche qu'au double contacts !!
Hi, I was born in 1976 and I started doing radio in 1989/1990, the first license in June 2006 I discovered the vhf and say that I m afraid to annoy this is not the case are really great things to do on vhf!
April 2009 I presented a class 2 after 2 months of intensive learning, following the passage of the Class 2 license, so I embarked on the realization and testing of different antennas hf / vhf / uhf is part most affordable for a beginner!
Now I work telegraphie, with straight keys and keyers
QRA station consists:
TRX:FT-2000/ rockmit 20m cw 2.5w / pigrig 40m cw 5w / heatkit hw-8 / youkits HB-1B 5W

Antenne hf: Yagi KLM KT36XA  for10/15/20m at 17m;rotative dipole for 40m at 20m; delta for 80m.30m and warc
Antenne vhf: VERTICALE FOR LOCAL
Antenne 6m: STANDING BY
In portable activities i use often YOUKITS HB-1B 5W, little TRX made my self, antenna verticale HFP1/ mini G5RV/Dipole

aujourd'hui je me r?gale, pas un jours sans que je d?couvre de nouvelles choses dans le monde de la radio!

salutations
I enjoy today, not one day without me discover new things in the world of radio!
greetings
QSL CARD INFO:
-Via Bureau
-Via Eqsl
-Via Direct, no necessary contribution only your qsl card " its a pleasure contact you, it's pleasure send my qsl card" !!!
FOR STATIONS STANDING BY MY QSL CARD: THIS ONE IS READING (updated 18/JULLY/2015)
New arrived 13 JULLY 2015 antenna KLM KT36XA  6EL 10M  5EL 15M   5EL 20M
youha!!! juste arrived 10 september 2014 very nice RX, good for portable !!!
outside activities QRP funny
New arrived since few months july 2014 Heatkit HW-8 qrp very nice job
new project PIGRIG 40m CW 5W, all info on http://www.kitsandparts.com/fprb-7030.7.php , this picture is exacly conditions of first QSO with OH1KB
in little box good for portables activities
nice face ;)
My new toy Rockmite 20m Pwr nr 0.2w, first qso G4LJU 01/01/2014 HNY....
in box
used box
last mod PA construct
on table during tune and testing.
first QSO in this conditions with G0BAI
PA inside, in 200mW out 2w== ROCKMITE QRO hi
Now if you listen me on 40m ssb, probably i'm with my home made trx "SAVOY", all informations on?http://mdumonal.free.fr/radio/montages/montages.htm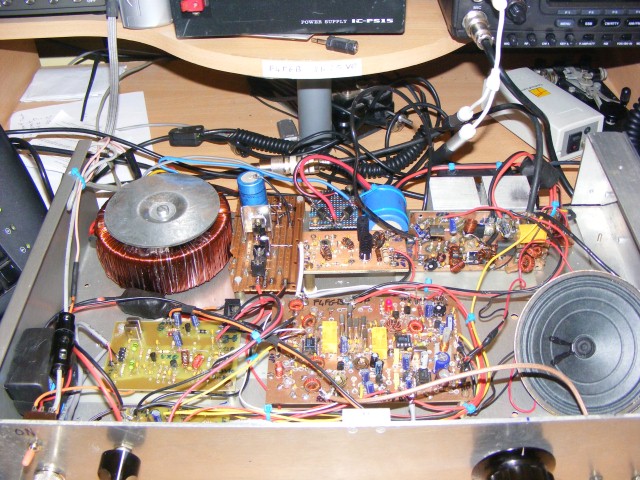 last update 25.03.14 DDS inside transceiver full the 40m, vfo a/b/split, 25w 40m yesss, and new face!
during sota
31/03/2012
02/06/2012
15/08/2012
DURING ARRL 10M SSB MOXON OM