You can request your buro QSL card here. I send OQRS/buro  requests  twice  a year. My last posting was 1st August 2017, my next one will be early 2018.
From 2018 I will no longer reply to buro QSLs. I have sent and replied to over 40000 cards via the buro in the last 35 years. I will still send a card via the buro if you make the request via OQRS below. ALL QSOs are on LOTW & Club Log
DXCC #1 Honor Roll 339/339 (350).
Honoured to be the recipient of the prestigious RSGB Royal Order of Transatlantic Brass Pounders trophy for 2010. It is awarded for "outstanding and consistent DX work."
The trophy was first awarded in 1924 and original Members of the Order were from those who operated transatlantic tests in 1921 to 1924.
I run 2 stations, a modest one from home and a 2nd QTH covering the low bands from an adjacent  farm. My main interests are currently 4m, 160m, and IOTA.
My Station is (highest Frequency 1st)
4m (70MHz)
Icom 7300
4 element NBS at 50ft, HA8ET pre-amp. Ecoflex  10 coax.
Converted 6m amp to 4m. 3CX800a7. 20w drive for 230w o/p. 1.5dB feeder loss 160w at antenna.  **50 DXCC worked on 4m. July 2017.
6m (50MHz)
Yaesu FT2000
3 ele inside SteppIR HF Beam. HA8ET pre-amp. Ecoflex 15 coax.
GS35B Amplifier.
I have now "retired" from 6m after 30 yrs QRV and 225 DXCC later.
10m-20m (28MHz-14MHz)
Yaesu FT2000
2 ele SteppIR HF Beam + 30/40 homebrew vertical.  Ecoflex 15 coax.
Alpha 91b
Pictures below of  4m-40m in a 12m x 12m plot!
80m (3.5MHz)
Kenwood 590s on Receive and an old Yaesu FT920 on Transmit
1/4 wave 66ft Vertical & 66 1/4 radials
15-20 receive antenna. Loops, EWE, DHDL, Beverages (up to 1000ft).
160m (1.8MHz)
Inverted L. 60ft Vertical, 80ft top
I have limited free time to operate due to a busy work schedule but try and get on at weekends and for major DXpeditions.
If we have QSO'd, it was my pleasure. I upload to LOTW.
I have included a log search and some pictures below of low band receive antennas and some Awards. You can request your buro QSL card here. I send OQRS/buro  requests once or twice  a year. My last posting was 1st August 2017, my next one will be early 2018.
Some awards.....
Harold Rose Trophy 1995
To the person making an outstanding contribution to 50MHz
Winter and summer view of two 1000ft Beverages. This one points  60 deg (upper) with another 240 deg (lower). My receive farm has taken around 10 years to perfect and 1000's of hours hard labour. There was a time this would provide you with a great advantage. Now its seems the short cut is to log into an SDR local to the DX and use that as your receiver. :-)
There is  1500m of coax running 8 RX antenna, covering 360 deg.
The shack is kept tidy by all Beverages/EWEs & Pre-amp terminating at a remote 8 way switching network in the garage (picture below) this is controlled by a PC USB switch. Beverage switching is a "mouse click" on the screen.
LF Receiver antenna's as well as the Bev's include
(low noise preamp in line with all RX antenna's when required)
4 x EWE N/S/E/W - 12.5m x 5m
DHDL
Mass production of 9:1 Beverage feed transformers for 6 Bev system.
It took 2-3 winters to install the radial mat, dont try this in summer when the ground is bone dry. Notice the spike on the end of the digger arm which digs the radial trenches.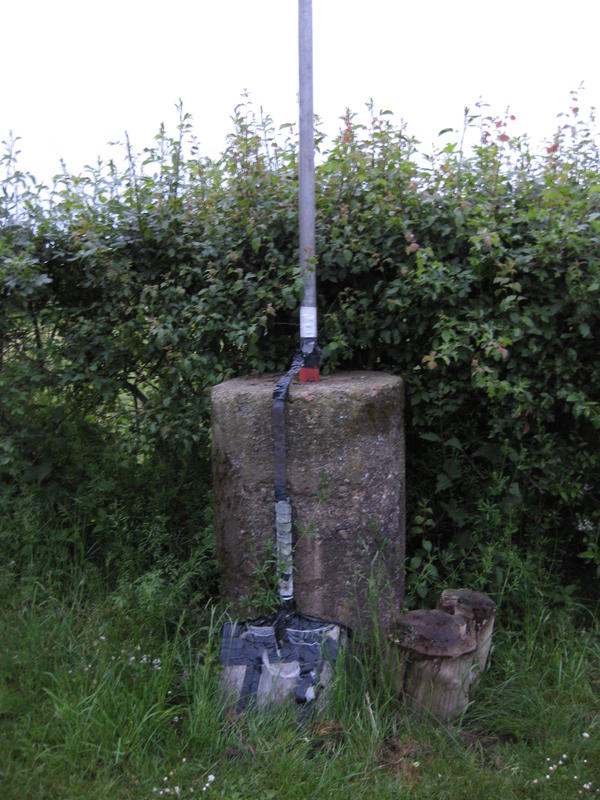 QSL Policy
My preferred QSL route is via Log Book Of The World (LOTW) and all QSOs are uploaded there every week or two. I am happy to QSL direct. $2(no IRCs). You can also request a buro card via my online log and OQRS. Buro cards are fine too!
I have operated in recent years as JY8JH, C56/G0JHC, 3A/G0JHC, VU2DPG, XE1/G0JHC and usually air my US call W2JHC once a year.
73 Neil G0JHC