Hi from ITALY, my name is Diego.
Thanks for looking me up on the QRZ.com website.
I'm an Electronic Engineer and I trust in

QRP & SOTA

Philosophy.
Since October 21, 2013 I am 
U.S. Amateur Radio Operator
(
Extra Class
). My US callsign is
AG6WJ
.
I'm member  #669 of telegrafia.it
I'm member  #819 of 

I-QRP CLUB

.
I'm member  #628 of INORC (Italian Naval Old Rhythmers Club)
I'm member  
#1021
of 
GRA (Gruppo Radioamatori Alpini)
I'm member  
#244
of 
VCA (Vibroplex Collector's Association)
I'm member  
#16672 
of 
FISTS CW Club (The International Morse Preservation Society)
Life is too short for QRP ???
It's vane to do with more, what can be done with less (William of Occum 1920 - 1350)
PSE Note and respect bandplan about
QRP-CW
frequencies !
Thank you very much to take care about us.
My Station: Elecraft K3 + P3 10W Ant. EFHWA (80m 40m 30m 20m)
Visit my Website :

http://www.iw2mxe.jimdo.com/

select language on the right side before FLAG Counter
Only CW please !!
......
GPO Web Site :http://iw2mxe.jimdo.com/gpo-team/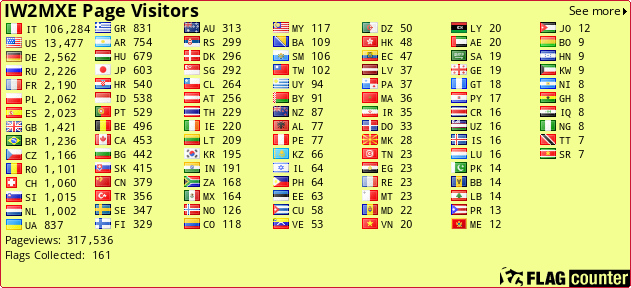 My CW keys
My Straight Key (Vertical):Begali Spark (serial #0223), Junker Vertical (1976), Marconi 213 (serial #67) By Alberto Frattini (I1QOD)
My Automatic keys: Begali HST Mark II (serial #0274), Begali Magnetic Traveller (serial # L318), Scheunemann Dirigent
My BUG keys:VIBROPLEX Champion 1954 (serial #185176) e Alberto Frattini J-36 (serial #39) e VIBROPLEX 100th (serial #111297) e McElroy P-500 year 1941
My Homebrew CW keys
My Homebrew VHF 4EL YAGI Antenna (28 Ohm DK7ZB project) in a field-day QRP 500mW !??
My BuddiStick Homebrew 40m to 6mfor outdoor activities project page here:http://iw2mxe.jimdo.com/autocostruzione/antenna-buddistick-mxe/
My End Fed Herz Half Wave Antenna (EFHWA) for 80m Homebrew (CW only)
with L-network match remoted circuit (40m in second harmonic) and another EFHWA for 30m band.
My End Fed Half Wave Project :
http://iw2mxe.jimdo.com/autocostruzione/antenna-efhwa/
My YAGI 2+3 VHF/UHF Antenna Project :http://iw2mxe.jimdo.com/autocostruzione/antenna-vhf-uhf-yagi-2-2-3/
My ON-LINE Log :
http://www.hamlog.eu/mylog/IW2MXE
My YouTube Channel :
http://www.youtube.com/user/IW2MXE
So far I've worked 110 DXCCs Countries. I'm having fun with K3 and only 10W in CW.
'73, thanks for reading and hopefully speak to you on the air! Take care Diego CIAO . .